AAdvantage loyalty program in 2015
During the second quarter of 2015, we'll bring the Dividend Miles program into the AAdvantage loyalty program. The AAdvantage program will continue to offer three elite status levels – AAdvantage Executive Platinum, Platinum and Gold – and you'll still have three ways to qualify with elite-qualifying miles, points and segments. On January 1, 2015, the segment qualification requirement for Executive Platinum will move to 120, and the current 100 segment threshold will continue until December 31, 2014.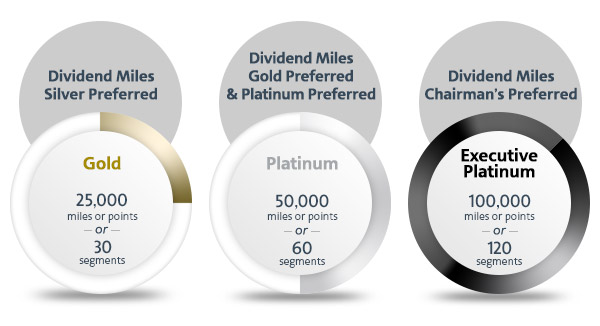 Combine your accounts
When we combine programs, we'll move your Dividend Miles elite-qualifying activity, award mileage balance and million mile balance into your existing AAdvantage account on a one-to-one ratio. We'll add your 2014 elite-qualifying activity and separately, your 2015 year-to-date elite-qualifying activity to determine your elites status level.Learn how we'll combine your accounts
Earn and redeem miles easily
Earning miles is as easy as ever. Just be sure to include your AAdvantage number or Dividend Miles number when you book flights or shop with our partners. Plus, redeem your miles with American, US Airways and our oneworld® alliance partners to nearly 1,000 destinations.
Enjoy elite status benefits
AAdvantage elite status members receive select reciprocal benefits to enrich their travel journey when flying on US Airways.
This includes upgrades on US Airways on the day of departure when available, First/Business Class check-in, priority through security checkpoints, priority boarding, complimentary checked bags, access to preferred seats, and priority baggage delivery for Executive Platinum and Platinum members.
Upgrades will still be different on American and US Airways flights until we have a single reservation system at the end of next year. For now, continue flying and enjoying reciprocal benefits and the ability to earn and redeem miles on both carriers. We'll keep you updated as we move forward with other important integration milestones.
Your Citi® card remains rewarding
Your Citi® / AAdvantage® credit card benefits will remain the same, and you'll continue to earn AAdvantage miles for purchases on your Citi® / AAdvantage® card without disruption.
More lounge access
Admirals Club® members (including Citi Executive® / AAdvantage® World Elite MasterCardTM cardmembers) now have access to more than 50 club locations across our combined network.
As we continue to integrate our combined network of lounges, we are renaming US Airways Club locations to Admirals Club lounges.
One-Day Passes can be used to visit any Admirals Club lounges worldwide across our network of more than 50 clubs.
Stay in the know
We'll continue to share information on the status of our integration.
View a full timeline of events
To ensure you're getting the latest updates: