Redeem AAdvantage Miles
Use AAdvantage miles to book award travel on Air Tahiti Nui flights with the AAdvantage participating airlines awards. These awards allow travel on any combination of AAdvantage participating carriers.
All awards are valid for one-way travel - unless otherwise specified - and may be combined to create round-trip or multi-city travel. These awards are MileSAAver awards and as such are subject to special seating limitations and to certain travel embargo dates.
There are no Travel Embargo Dates on Air Tahiti Nui.
To book award travel on one of our AAdvantage participating carriers, contact Reservations at 1-800-882-8880 (or your local American Airlines office). An award service charge applies to AAdvantage award reservations ticketed by our reservations office, Travel Centers or airport agents. View complete details on making award reservations.
View oneworld & Other Airline Awards
Contact Information
Air Tahiti Nui — 1-877-824-4846 or online at www.airtahitinui-usa.com.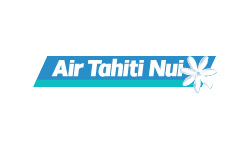 Air Tahiti Nui has service eligible for AAdvantage mileage redemption between Tahiti and the U.S., Japan, New Zealand and France.