Earn Miles
Earn miles when flying on Jet Airways marketed and operated flights for travel on an eligible published fare ticket. Miles are also earned on Jet Airways codeshare flights operated by American Airlines, Jet Airways Konnect and Konnect Select.
Jet Airways flights between the U.S. and Brussels are not eligible for mileage accrual
Flights operated by JetLite, are not eligible for mileage accrual
| Class of Service | Purchased Fares Booked in:* | Base Miles | Class of Service Bonus Miles |
| --- | --- | --- | --- |
| First Class | F, A | 100% | 50% |
| Business Class | C, J, I, P, Z | 100% | 25% |
| Economy Class | Y, M, T, U | 100% | |
| Discount Economy Class | N, L, Q, S | 50% | |
| No Mileage Credit* | B, H, K, V, O, G, W | 0% | |
*Note - Travel ticketed as an AA marketed flight (booked as an AA flight number) and operated by Jet Airways will earn AAdvantage base miles and elite qualifying miles, points and segments according to the AA mileage accrual chart.
Redeem AAdvantage Miles
Use AAdvantage miles to book award travel on Jet Airways, Jet Airways Konnect and Konnect Select with AAdvantage participating airline awards. These awards allow travel on any combination of AAdvantage participating carriers.
All awards are valid for one-way travel — unless otherwise specified — and may be combined to create a round-trip or muti-city trip. These awards are MileSAAver awards and as such are subject to special seating limitations and to certain travel embargo dates.
There are no Travel Embargo Dates on Jet Airways.
To book award travel on one of our AAdvantage participating carriers, contact Reservations at
1-800-882-8880 (or your local American Airlines office). An award service charge applies to AAdvantage award reservations ticketed by our reservations office, Travel Centers or airport agents. View complete details on making award reservations.
View oneworld & Other Airline Awards
Contact Information
Jet Airways — (877) 835-9538 or online at www.jetairways.com.
Missing Mileage Credit
Please allow up to 30 days for AAdvantage mileage to automatically post to your account.
To request missing mileage credit for flights flown on Jet Airways, complete an online mileage request form. When completing this form, choose Jet Airways from the "Select Airline Flown" drop-down menu.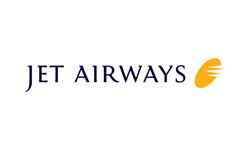 Earn and redeem AAdvantage miles on
Jet Airways for travel within India and between India and the U.S., Asia and Europe.