Earn Miles
Earn 1 mile for every eligible $1, or local currency equivalent, spent on qualifying room rates
To earn your AAdvantage miles please join the IHG® Rewards program at ihgrewardsclub.com and update the earning preference on your Account Status page to American Airlines.
Phone Number: 1-888 CANDLEWOOD (888-226-3539)
Redeem Miles
To redeem AAdvantage miles for hotel stays, visit www.aa.com/carandhotelawards.
Request Mileage Credit
Allow eight weeks for AAdvantage miles to post to your account. For questions regarding your mileage credit, please use the contact information below. Be prepared to provide your AAdvantage number and receipt copies.
PO Box 30320
Salt Lake City, UT 84130-0320
Phone Number: 1-888-211-9874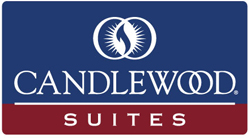 We invite you to consider us home for your extended stay travel. Our spacious suites with fully-equipped kitchens and signature amenities make life on the road a little easier. We're committed to providing an atmosphere where you can feel free to live, work and relax on your own schedule.
Comforts of HomeTM Bedding Collection
Free High-Speed Internet Access
24-hour Candlewood Cupboard®
24-hour Candlewood Gym
Free 24-hour Laundry Facilities
Outdoor Gazebo Grill
Movie and Music Lending Library
Pet Friendly