Earn Miles
Earn 250 miles per eligible stay. Book at www.choicehotels.com*
Phone Number: 1-800-4CHOICE (1-800-424-6423)
Convert Choice Privileges® Points to AAdvantage Miles
To transfer your Choice Privileges points into AAdvantage miles, visit www.choiceprivileges.com for details.
Request Mileage Credit
Allow eight weeks for AAdvantage miles to post to your account. For questions regarding your mileage credit, please use the contact information below. Be prepared to provide your AAdvantage number and receipt copies.
Choice Service Center
6811 E. Mayo Blvd, #100
Phoenix, AZ 85054
Phone: 888.770.6800

Terms and Conditions
*A stay is defined as any number of consecutive nights at any one hotel regardless of check-ins or check-outs. Earn AAdvantage miles when paying eligible rates. Guest name must match the name on the AAdvantage account to earn miles. Please allow six to eight weeks after hotel stay for miles to post. Earn miles in the U.S., Canada, Europe (Excluding Denmark, Estonia, Finland, Latvia, Lithuania, Norway, and Sweden), Middle East, Mexico, Central America, Australasia (including Australia, New Zealand, Singapore, Papua New Guinea and Fiji) and the Caribbean.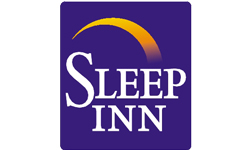 Dream Better Here®
You'll have sweet dreams every time you choose Sleep Inn®. Modern rooms, cozy beds and large signature showers leave you energized for the day ahead. Our friendly staff will take good care of you with a bountiful array of free amenities like the Morning Medley hot breakfast buffet, high-speed Internet, pool or exercise room and morning newspaper.