See the world with the oneworld alliance
Be Rewarded as You Explore the World
The oneworld® member airlines and their affiliate airlines extend our network to more than 840 destinations in 156 countries. When you choose to fly with oneworld, you can rest assured that your AAdvantage® elite status will be recognized as you explore some of the world's top destinations. Recently named the best alliance for on-time flights by FlightStats, we're making it easier than ever for you to enjoy a seamless and rewarding global travel experience.
Enjoy the Benefits of oneworld
The oneworld airlines work together to provide you with:
The ability to earn and redeem miles on all eligible oneworld member airline flights worldwide
More opportunities to earn AAdvantage elite status – miles earned on oneworld member flights are elite–qualifying
Recognition of your AAdvantage elite status, including special benefits when you travel on all oneworld member airline flights
More seamless transfers at major airports across the alliance network
The option for Emerald frequent flyers to check one additional bag for free, or if your ticket mentions a weight allowance, an extra 44 lbs. when you fly on oneworld airlines on eligible flights*
*This benefit is not available on British Airways 'Hand Baggage Only' fares.
Elite Member Benefits
As an elite member of the AAdvantage program, your status is recognized across the alliance, no matter the cabin class in which you fly.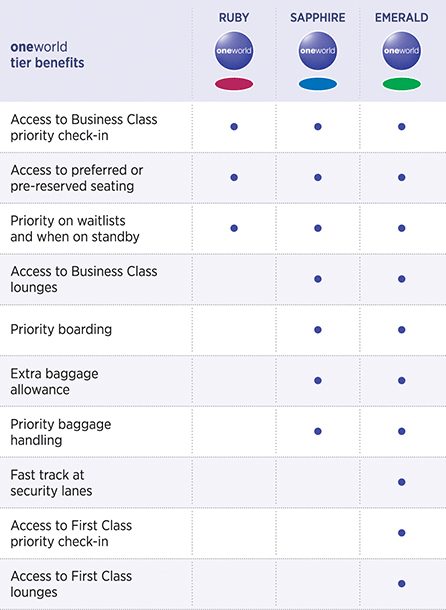 Earn AAdvantage Miles
The number of AAdvantage miles you can earn when flying on oneworld member airlines depends on your fare class and which airline you're traveling on. To find out how many miles you can earn with each airline, view the individual airline pages.
When flying on oneworld member airlines, you can:
Earn base miles counting toward AAdvantage elite status
Earn class of service bonus miles
Earn Elite Status Bonus
Redeem AAdvantage Miles
When you're ready to redeem your miles for a travel award, oneworld brings you more options. In addition to the oneworld & Other Airline Award which allow travel on all oneworld airlines as well as other AAdvantage participant airlines, customers needing to travel to multiple destinations with multiple stopovers on one trip can redeem an Explorer Award.
More Premium Lounges Around the World
To help you make the most out of your precious time, the oneworld airlines allow you to relax or catch up with work in comfort and style before departure. Regardless of which oneworld member airline you choose to fly, you can have access to more than 550 airport lounges throughout the world.
When you are travelling internationally on oneworld airlines, you will have access to the premium lounges based on your elite status or your cabin class:
| Elite status or cabin flown | Lounge |
| --- | --- |
| AAdvantage Executive Platinum (oneworld Emerald) | First or Business Class Lounges |
| AAdvantage Platinum (oneworld Sapphire) | Business Class Lounges |
| First Class traveler | First or Business Class Lounges |
| Business Class traveler | Business Class Lounges |
Find oneworld lounges on oneworld.com
Admirals Club Lounge Access
*AAdvantage® Executive Platinum and AAdvantage® Platinum members must be traveling on a same day itinerary that includes international segment. Excludes AAdvantage Executive Platinum and AAdvantage Platinum members traveling on solely North American itineraries. North America is defined as U.S. (including Hawaii and Alaska), Canada, Mexico, (except Mexico City), Bermuda, the Bahamas and the Caribbean.
Support Throughout Your Journey
Rely on oneworld Global Support when the unexpected happens. We'll work together to ensure your connections go as smoothly as possible by:
Meeting you on arrival to fast-track you through customs, immigration and security
Taking special care that your baggage is transferred
Giving you up-to-date travel information, new boarding passes, and even overnight accommodations if you miss your flight
oneworld Global Support is available in Chicago, Dallas/Fort Worth, London Heathrow, Los Angeles, Madrid Barajas, Miami, Tokyo Narita, New York Kennedy (JFK), Sydney and Hong Kong, and will be coming later this year to Lima.
oneworld Global Products
Whether you are flying to a single destination or embarking on a round-the-world adventure, oneworld offers you ultimate choice and flexibility when booking your flights.
Round-the-world - Travel in style with a oneworld round-the-world fare. Choose oneworld Explorer for a straightforward continent-based fare or Global Explorer, now also available on oneworld members elect Qatar Airways and SriLankan Airlines, for a flexible distance-based fare. Visit oneworld.com to book your oneworld Explorer journey.
Multi-continent - Visit multiple continents with a oneworld Circle Fare.
Single continent - Explore several destinations within one continent using a oneworld Visit Pass.
Learn more here or to book your flight call 800-247-3247
News
Malaysia Airlines, one of aviation's more frequent award winners, joined oneworld on February 1, 2013.
Qatar Airways, SkyTrax Airline of the Year in both 2011 and 2012, is set to join oneworld in late 2013.
SriLankan Airlines, one of Asia's fastest growing airlines, is set to join oneworld in 2013.
Awards
oneworld gained three of the leading five international 2012 awards for alliances, including:
Best Airline Alliance by Global Traveler in its GT Tested Reader Survey 2012 Awards for the third year running.
World's Leading Airline Alliance in the 2012 World Travel Awards for the 10th year running.
Australian Business Traveller Best Airline Alliance in 2012 for the second year running.
oneworld also currently holds two awards for Best Alliance for in-flight wines - retaining the Cellars in the Sky title presented by Business Traveller magazine for four years running and the Wines on the Wing honor from Global Traveler for the second consecutive year.
Contact Information
For more information about the oneworld alliance, visit the oneworld website at www.oneworld.com.