Building a stronger American
Creating a stronger airline for you
We're working hard to become the greatest airline in the world, and through our integration we're offering you more convenient schedule options, the most modern fleet of any U.S.-based airline and access to more destinations around the world with American, US Airways and our oneworld® alliance partners.
Here's what's happening now
AAdvantage loyalty program in 2015
We've moved to a single loyalty program by bringing Dividend Miles® members into the AAdvantage® program.
As an AAdvantage member, you'll earn miles when you fly on American, US Airways, oneworld® and partner airlines. You'll also earn miles when you shop or stay with over 1,000 other partners. Then, redeem your miles for award travel, upgrades, car rentals, hotel stays and much more. And you'll enjoy new elite upgrade benefits on both airlines.
Our single operating certificate – one step closer to integration
The Federal Aviation Administration has awarded us our single operating certificate (SOC) and given approval to combine American Airlines and US Airways operations. This puts us one step closer to integration. Although this is a very important milestone, we'll continue to operate as two separate airlines for some time.
Continue to book travel on aa.com and usairways.com as usual and check in with the airline operating your flight.
Your travel experience
We're excited to enhance your travel experience; together we'll bring you new planes, an expanded global network with the most nonstop routes of any airline and a more comfortable trip. You'll enjoy a more consistent experience when flying American Airlines and US Airways now that we've aligned fare classes, meal windows and baggage policies, including checked baggage fees and exemptions.
Keep in mind that for now, each airline will follow its current policies on standby travel, pets, preferred seating and some ticketing policies.
Before you travel
Check-in with the airline operating your first flight

Use 'Find your way' to get helpful day-of-travel information
More lounge access
Admirals Club members (including Citi Executive® / AAdvantage® World Elite MasterCardTM cardmembers) have access to more than 50 club locations around the world. We're also enhancing the services and amenities across our network to increase your comfort and productivity.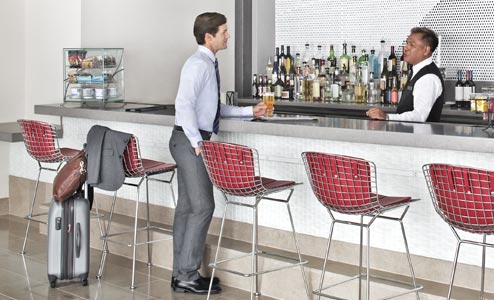 More destinations, more choices with the world's largest airline
Through our codeshare you can easily combine American and US Airways flights with other partner airlines to create a single itinerary when you book.
More destinations with oneworld

As part of the oneworld alliance, you'll enjoy convenient access to nearly 1,000 destinations in more than 150 countries. Plus, you'll have even more opportunities to earn and redeem miles while you travel.
More access through our hubs

Greater options for travel between our nine hubs:

Charlotte Douglas International (CLT)

Chicago O'Hare International (ORD)

Dallas/Fort Worth International (DFW)

Los Angeles International (LAX)

Miami International (MIA)

New York Kennedy (JFK)

Philadelphia International (PHL)

Phoenix International (PHX)

Washington Reagan (DCA)

Better East Coast access on US Airways Shuttle with hourly departures between:

Boston Logan (BOS)

Washington Reagan (DCA)

New York LaGuardia (LGA)
Our regional carriers

We expect that the regional carriers we own – American Eagle and US Airways Express – will continue to operate as distinct entities, providing seamless connection service to the new American Airlines. Although they'll operate separately for now, all regional carriers for the new American are expected to eventually fly under the American Eagle name and livery.
Learn more and read our FAQs

Single operating certificate

What is a single operating certificate (SOC)?

SOC is a regulatory certificate granted by the Federal Aviation Administration (FAA) that recognizes American Airlines and US Airways as a single airline operator. Although some of our processes for American and US Airways will still be separate at SOC, such as our reservations systems, we will be one step closer to integration.

What changes for me?

Nothing changes. Continue to book flights on aa.com and usairways.com as you have in the past.

Now that American and US Airways have received a SOC, are you one airline?

Although the FAA recognizes us as a single airline operator, we will still continue to operate as two separate airlines for some time. SOC puts us one step closer to integration. This is yet another milestone toward our integration.

Can I book travel on either aa.com or usairways.com?

Yes, you can continue booking travel on either website as you have in the past. Remember to check-in with the carrier that's operating the first flight in your itinerary.

General

If I need to make changes to a Dividend Miles award reservation, which program's rules will apply?

Minor changes such as date/time can be made provided seats are available without requiring a new award to be claimed. More substantive changes such as changes to stopovers or origin/destination may result in the need to reinstate the previously claimed Dividend Miles award, then claiming a new AAdvantage award under the existing AAdvantage program rules.

My account

Why doesn't my username work on usairways.com and why can't I add it back to my profile on aa.com?

If your username matched an account number, was all numeric or matched an email address of an existing AAdvantage member, we did not bring it over. You can now create a new unique username from your profile on aa.com.

If I had expired miles in the Dividend Miles program, but have activity in the AAdvantage program, will those Dividend Miles reactivate automatically when my accounts are merged?

Only Dividend Miles that expired between January 2013 and February 2015 with no activity between these dates could potentially be unexpired. If your AAdvantage activity from January 2012 - March 2015 prevented the miles in your Dividend Miles account from expiring, then those miles were automatically re-instated when we merged your accounts. If you have not had activity on your AAdvantage account within 18 months prior to the Dividend Miles expired date, these miles will continue to be expired.

Elite status

Can I still call the Dividend Miles elite desk for assistance or do I call the AAdvantage elite desk?

The Dividend Miles elite reservations phone numbers are still available.

Complimentary and 500-mile upgrades

I'm a non-elite status member and requested an upgrade on a Y/B fare prior to this new policy taking effect. Will you honor my request?

No. Non-elite status members are no longer eligible to upgrade unless they are the companion of an elite status member. Upgrade requests that are not in line with the new policy will not be processed.

Why can a member upgrade using the complimentary and 500-mile upgrade product on flights to Hawaii on American, but not on US Airways?

For now, American and US Airways are still operating as two separate airlines and, as a result, some of the policies will differ until we have a single reservation system in late 2015.

American previously allowed me to use only one 500-mile upgrade to upgrade on a flight up to 551 miles. Is that changing?

With our new upgrade policy that affords complimentary upgrades for flights 500 miles and under, we simplified our pricing structure to remove the 51 mile buffer. If your flight is 1,051 miles, it requires three 500-mile upgrades.

Why are you discontinuing the thru flight designation for upgrade requests on American Airlines on the airport upgrade standby list?

For some time, we have received requests from our elite status members to re-evaluate the policy which gave an added bump to customers with an upgrade request who originated outside of a hub city. In the interest of providing a level playing field to all members, we have decided to discontinue the thru flight designation for upgrade requests and will only use elite status and the date/time of the original request to determine a customer's priority on the upgrade standby list going forward.

Why don't I see anything about my elite upgrade being requested on usairways.com?

Since upgrades for elite status members are automatically requested for all eligible US Airways flights, this information is not displayed on usairways.com, but rest assured that your upgrade has been requested. In the case when an upgrade could not be automatically requested, you will receive an email advising you of the situation.

Mileage and systemwide upgrades

US Airways doesn't allow mileage upgrade requests to be waitlisted in advance. Will that policy change to align with American when the programs combine?

No. You will not be able to waitlist for an upgrade on a US Airways flight, nor can you standby for an upgrade at the airport using a mileage award or systemwide upgrade. You will, however, be able to waitlist or standby for an upgrade on an American flight. This policy will remain different until we have a single reservations system in late 2015.

US Airways allowed Chairman's Preferred members to waitlist for their electronic upgrade certificates. As an Executive Platinum member, will that apply to me if I wish to use my systemwide upgrades on US Airways flights?

No. You will not be able to waitlist for an upgrade on a US Airways flight, nor can you standby for an upgrade at the airport using a mileage award or systemwide upgrade. You will, however, still be able to waitlist or standby for an upgrade on an American flight. This policy will remain different until we have a single reservations system in late 2015.

I need to make a change to a reservation that was upgraded using my Chairman's Preferred upgrade certificates. Who do I call to make a change?

Call US Airways to make a change to reservations upgraded with Chairman's Preferred upgrade certificates.

I have an upgrade confirmed with one of my Chairman's Preferred electronic upgrades certificates on a US Airways flight and need to make a change. Will my upgrade certificate be forfeit?

That depends. If we can confirm your upgrade on the new flight, then your electronic upgrade certificate is still valid. If, however, no upgrade seats are available on the new flight, your electronic upgrade will be forfeit.

Combining balances

If I had an AAdvantage account and a Dividend Miles account, and my combined Million Miler balances allowed me to reach a new million mile threshold, what benefits do I receive?

All members who reached one million miles will receive AAdvantage Gold status for the life of the program; members who reached two million miles and above will receive AAdvantage Platinum status for the life of the program.

Will I receive AAdvantage program rewards for prior million mile thresholds that I achieved in Dividend Miles before my million mile balances were combined together?

If the combination of your Million Miler balances allowed you to reach a new million mile level when the programs combined you will receive the benefits of that level. Any benefits you would have received for prior million mile levels will not be awarded. For example, if the combination of your million mile balances allows you to reach three million miles, you will receive AAdvantage Platinum status for the life of the program along with four systemwide upgrades. Any benefits you would have received for achieving one million and two million miles in the Dividend Miles program will not be awarded.

Same-day flight change

What are the policies for same-day flight change?

The policies for same-day flight change are different for American and US Airways flights, learn more:

Credit cards

Are the benefits for the American or US Airways credit cards changing?

Yes, some of your cardmember benefits might be changing, learn more: