American Airlines - Japan Airlines Codeshare Service
American Airlines codeshares on Japan Airlines flights between North America and Japan, plus connecting flights within Japan and throughout Asia.
Airport Connections
Additional Information
For additional information not listed above, go to www.jal.com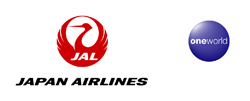 Japan Airlines is a member of the oneworld alliance, an alliance formed among twelve of the world's leading airlines - American Airlines, British Airways, Cathay Pacific Airways, Finnair, Iberia, Japan Airlines, LAN, Malév Hungarian Airlines, Mexicana, Qantas Airways, Royal Jordanian and S7. The oneworld network offers service to nearly 750 destinations in almost 150 countries. For more information, visit www.aa.com/oneworld.