Replacing 40 Pounds Of Paper With An iPad On Every Flight

To pilots used to lugging 40 pounds of operating manuals, navigational charts and other documents onboard every flight, the idea of a paperless cockpit sounded pretty good. And the potential fuel savings were as attractive to airline finance departments as they were to ardent environmentalists.
Capitalizing on the promising fuel-saving benefits and flexibility offered by an "Electronic Flight Bag," in 2011 American Airlines became the first airline to receive FAA approval to use an Apple iPad in the cockpit during flights. American pilots began testing this tablet-based system in June, with the requisite equipment weighing in at less than two pounds.
The digital solution was developed jointly by the Allied Pilots Association and by American Pilots working under the auspices of the airline's Flight Department. So it was only fitting that it went into testing on American's Boeing 777 flights from Los Angeles and Tokyo Narita and Shanghai, respectively, gate to gate.
The solution will be expanded to other tablet devices as they're approved for cockpit use by the FAA. American estimates that if all paper can be removed from cockpits across the fleet, it could save half a million gallons of fuel annually — not to mention plenty of trees.
American And Boeing Team Up To "ecoDemonstrate" Advanced Noise And Fuel Technologies
In June 2011, American was named the "launch customer" for Boeing's evolutionary ecoDemonstrator Program, designed to test and accelerate the market readiness of new fuel- efficiency, carbon reduction and noise abatement technologies.
When the program begins in 2012, an American crew will fly a Boeing-built Next-Generation 737-800 aircraft equipped with:
Adaptable trailing edge technology that reduces noise and emissions during all phases of flight
Variable-area fan nozzles that cut noise levels over airport-adjacent communities while enhancing engine efficiency
Inflight planning and optimization that enables more fuel-efficient routes and rerouting for weather conditions
Regenerative fuel cells for onboard power, potentially reducing weight, fuel burn and carbon emissions
The American 737-800 and a twin-aisle plane yet to be announced will also conduct flight tests for the FAA's Continuous Lower Energy Emissions Noise (CLEEN) program, a long-range effort to identify and develop aircraft technologies and design considerations to help meet the noise and emissions compliance standards of the future.
"American Airlines recognizes our responsibility to minimize our impact on the environment as much as possible, and we look for every opportunity to do so," said Captain John Hale, American's Vice President – Flight. "Our partnership with Boeing allows us to make significant strides in putting more fuel-efficient planes in the air, which is the most effective way to reduce our carbon footprint. We remain committed to identifying and implementing new technologies and programs that further our environmental performance."
American Airlines Admirals Club® And Trinity Oaks Plant A Forest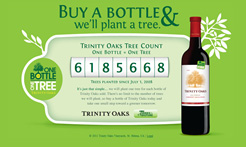 In December 2011, American Airlines, in partnership with Trinity Oaks winery of St. Helena, CA., marked a milestone in sustainability and airport hospitality with the planting of the 100,000th tree in the Trinity Oaks One Bottle One Tree program (www.trinityoaks.com/environmental). In the program, Trinity Oaks sponsored the planting of one tree by Trees for the Future, a global sustainable agroforestry organization (www.plant-trees.org), for every bottle of wine purchased by American Airlines Premium Services for use in Admirals Club lounges. American celebrated the milestone by giving Admirals Club visitors drink coasters containing wildflower seeds that can be taken home and planted.