Contemporary Comfort: Upgrading Our Fleet For An Enhanced Customer Experience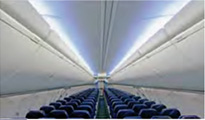 In May 2011, American took delivery of the first of its Next-Generation 737-800 aircraft, complete with the all-new Boeing Sky Interior. The new aircraft marks a major milestone in American's commitment to improving and modernizing the customer experience through investment in the Company's fleet.
Designed to enhance every customer's flight, the new planes feature more-upright, contoured walls and angled overhead bins that make it easier for customers to get into and out of their seats. The overhead bins feature an assist lever that enables a person of any height to close them with the touch of a button. The bins are bigger too, to accommodate more bags onboard.
Other new conveniences include Main Cabin seats that pivot forward when reclined, so they don't crowd the space of passengers in the row behind, more convenient light switch and call button placement, and two regular electric plugs in every row. Customers will no longer need special adapters to use these plugs to power their electronic devices inflight.
But it's the revolutionary Boeing Sky Interior that transforms the experience of flight in these new 737s. Sculpted sidewalls and updated windows create a feeling of spaciousness unexpected in a narrowbody aircraft. Brighter, longer-lasting LED lights illuminate the ceiling and can be programmed to create different effects, such as a clear, blue sky overhead.
American plans to receive 39 more of the new 737-800 aircraft over the next two years. Additionally, we are updating our existing fleet of 737s to provide consistency within the travel experience and further elevate customer comfort onboard.
Helping Small And Midsize Businesses
Because Enterprises Prosper Face-to-Face, American Partners With Small And Midsize Businesses
In 2011, American conducted a survey of more than 2,600 small and midsize business employees nationwide to learn about their companies' economic outlook for the next 12 to 18 months and to understand how business travel figures into their plans. The results validated the value of our small and midsize business (SMB) travel programs — and inspired us to launch an innovative new program to support SMBs. Hearteningly, nearly three-quarters of survey respondents saw improved prospects for their firms in the near future, and more than half of those expect to travel more on business going forward. Even more interestingly, 64 percent of the SMB employees surveyed said that face-to-face meetings requiring airline travel are crucial to the success of their business.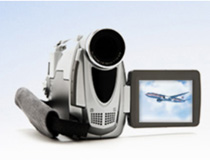 Thus was born "Flights.Camera.Action," a business contest launched in June 2011 to support the growth of SMBs. Co-sponsored by SCORE (originally the Service Corps of Retired Executives), a nonprofit organization dedicated to helping entrepreneurs and SMBs succeed through mentoring and training, the contest provided a unique opportunity for SMBs to grow their businesses through face-to-face relationship building and media exposure.
Entrants submitted interactive videos to the contest website between June 8 and July 15, 2011, explaining how free travel and heightened media exposure would impact their business prospects. The top 50 entrants, as selected by public voting, received 10,000 Business ExtrAA® points and two tickets to the SCORE Awards Gala held September 15 in Washington, D.C. The top five received 20,000 extra points, plus recognition at the Gala and broad exposure to American Airlines customers on AA.com. And the Grand Prize Winner announced at the Gala, Hope Force International of Brentwood, Tenn., received 80,000 additional Business ExtrAA points (the equivalent of 50 domestic round-trip Plan AAhead® tickets), and a package of broad exposure to American customers, including a full-page ad in one of our magazines, banner ads on AA.com and an inflight video testimonial.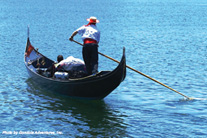 But the "Flights.Camera.Action" contest produced many, many winners. Among the top five entrants was Gondola Adventures of Newport Beach, CA., which offers Venice-style gondola cruises — complete with gourmet foods and beverages and serenading gondoliers — in Newport Harbor. The contest voting process alone opened up a world of new opportunities for the company to connect with customers and business contacts, including local convention and visitor bureaus and chambers of commerce.
Another winner was Dallas-based PonyUp Technologies, Inc., which invented a wearable, wireless diagnostic cuff for horses that owners and veterinarians can use to monitor the animal's well-being, from body heat to blood pressure to hydration, in real-time, under any circumstances, from stabling to exercising to racing. Though not among the top five finalists, PonyUp's participation in the contest garnered attention from major equestrian and equine organizations — and investors — around the country, and the business has taken off at a thoroughbred's pace.
Meet the "Flights.Camera.Action" finalists and Grand Prize Winner.