It is essential that everyone at American is able to work in a safe environment and lead a healthy lifestyle. We provide robust safety training and comprehensive health resources, and maintain a culture that promotes conscientious work practices.
Employee safety systems and performance
Our employee safety initiatives in 2012 included an effort to unify safety systems and personnel. Prior to 2012, several employee safety teams operated independently throughout our organization. As part of our restructuring process, we coordinated these teams under our Safety, Security and Environmental department. Additionally, we consolidated five of our safety investigation tools into a single platform using a common software system. The result, once the system is fully operational, will be a one-stop shop for safety analytics, Occupational Safety and Health Administration (OSHA) audit data, and investigations into injuries, near misses, ground damages and other incidents.
Record employee safety performance at American Eagle
On March 7, 2012, the American Eagle Flight Attendants at LAX broke their injury-free record of 257 days set in 2004, and moved into second place on American Eagle's all-time injury-free list as they reached 300 days on April 19th. The accomplishment was recognized at a gala celebration held on April 26, 2012. The current all-time Eagle injury-free record is held by the Executive Airlines base at DFW with 539 days.
In 2012, we saw a slight uptick in U.S. OSHA defined Injury Rates at American and American Eagle as well as a minor increase in the Lost Day Rate at American. We are confident that our investigations of related incidents, as well as the greater equilibrium of our company in 2013 once our people are past the restructuring process, will yield improved safety performance over the next reporting cycle.
Engaged leadership
In 2012, we made safety refresh training available to all of our people and a requirement for all of our front-line managers. Additional safety training is being delivered in 2013 to ensure that managers who are new to their positions are well-informed and actively engaged in promoting safe and responsible work practices. We are also training people to work safely in and around the new planes being added to our fleet.
Recognizing that prevention is the easiest, most efficient and least disruptive way to maintain wellness, American has partnered with the Transport Workers Union to pilot an "Industrial Athlete" injury reduction initiative at airport facilities in Tulsa and Chicago. The voluntary initiative pairs front-line workers with strength trainers to identify exercises that help reduce work-related strain and injuries and shorten recovery periods if an injury does occur.
Assessing job hazards at Tulsa
In 2012, American launched the first stage of a Job Hazard Analysis (JHA) study at its Tulsa maintenance facility (TULE). The objectives of the JHA project are to:
Provide a baseline risk assessment and evaluation of actual personal workplace exposure to chemical, physical and biological agents at our TULE shops;
Incorporate engineering, administrative and personal protective equipment controls into our occupational safety and health system
Ensure we reduce physical and health risks to an acceptable level or eliminate risks to ensure OSHA standards are met
Health and wellbeing
At American we encourage our people to make positive, proactive decisions concerning their health and lifestyle. To ensure that they are making the best use of available health resources, our comprehensive Healthmatters program provides a complete suite of online tools and educational materials allowing employees to manage their health insurance and benefits options; schedule routine health screenings and assessments; and consult with nurses, dieticians and lifestyle coaches from American's Health Advocate team about issues including preventative health, chronic diseases, mental health and onsite ergonomics. Under American's Healthmatters Rewards system, employees may qualify for insurance premium reductions by completing screenings for common health indicators such as high/low blood pressure, cholesterol levels and diabetes.
American has also built a network of over 150 volunteer Wellness Champs whose goal is to inform, educate and inspire the American Airlines family to initiate and sustain better living through healthy choices. The Wellness Champs strive to make wellness an everyday activity through worksite wellness programs, system-wide campaigns and by promoting Healthmatters programs and resources.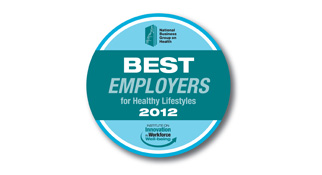 American was among 66 U.S. employers that received the 2012 Best Employers for Healthy Lifestyles Gold award. The award honored American Airlines for its commitment and dedication to promoting a healthy workplace and encouraging their workers and families to support and maintain healthy lifestyles.