Our People
Our Current Workforce
Our approach to work and wellbeing is centered around ongoing professional development, celebration of diversity and an unwavering focus on the health and safety of our people. We feel that continuously improving our performance in these areas is integral to our long-term success.
Although 2012 was a challenging, transitional year, we took great care to ensure that the outcomes of our restructuring process would create the most value in the long term for our people. While job loss is unfortunately a typical part of the restructuring process, we were able to reduce the number of involuntary reductions from 14,000 to 2,570 by offering voluntary separation packages for some workgroups, combined with additional mitigating factors such as natural attrition. At year-end, we were able to retain a workforce for American Airlines and American Eagle of nearly 81,000 people, while positioning our company more competitively in the airline industry.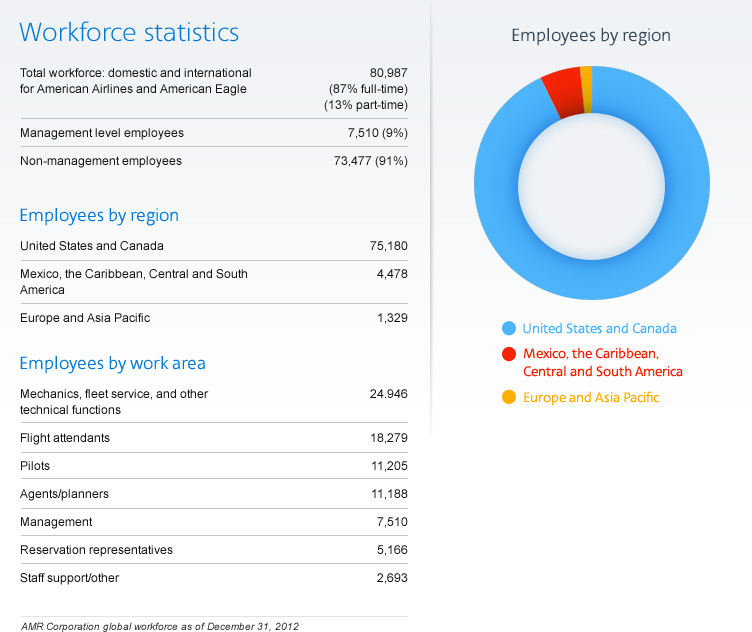 Labor representation
American—and the broader industry—has historically employed a high percentage of unionized professionals in its workforce. In 2012, 73 percent of American's domestic people were represented by one of three primary labor unions:
Allied Pilots Association (APA)
Association of Professional Flight Attendants (APFA)
Transport Workers Union (TWU)
Concurrently, 60 percent of American Eagle's domestic people were represented by:
Air Line Pilots Association (ALPA)
Association of Flight Attendants (AFA)
Transport Workers Union (TWU)
Supporting independent employees
American's Agents, Representatives and Planners, as well as American Eagle's Agents are not represented by a union. In January 2013, American's Agents and Representatives voted to remain independent. To protect the interests of our independent employee groups, we hold periodic Advisory Board and Committee meetings to provide forums where they can voice their issues and concerns. Advisory Board meetings bring together elected representatives from the Agent, Representative and Planner groups and management representatives at the local, regional and system level. The meetings offer an established system for independent employees to share information with their peers and provide input to management.