Our environmental impacts are not limited to flight operations. We also know that we need to be responsible stewards of all of our ground facilities, including offices, maintenance bases and airport infrastructure. Our goal is to minimize energy, water and waste wherever we operate around the world.
In pursuit of this goal, we established the Utility Management Council in 2005 to share best practices in environmental initiatives at American offices and facilities. The Utility Management Council is composed of Facilities Maintenance Managers from the 10 stations across the American Airlines network with the highest utility costs.
The Utilities Management Council meets several times a year, and includes participation by Transport Workers Union representatives. Together, Council members raise issues, discuss challenges, and share approaches to developing innovative solutions to minimize impacts. Since the Council was formed, it has identified $12.5 million in annual savings to the company. These savings have been realized through a mix of projects big and small, involving the participation of employees throughout our organization.
One of the more significant projects in 2011 was the replacement of computers throughout the company. The new computers and monitors help reduce electricity consumption and associated emissions by more than half. Old computers and monitors were also recycled through a certified recycler. We will continue to pursue energy, materials, water and waste reduction initiatives in the future through Council efforts.
Admirals Club Expected To Be Certified To LEED® Silver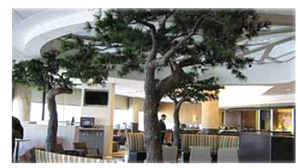 A refurbished Admirals Club lounge opened in April 2011 in conjunction with the renovation of Terminal 2 at San Francisco International Airport (SFO). This lounge is expected to be awarded Leadership in Energy and Environmental Design's (LEED) Silver certification by the U.S. Green Building Council (USGBC). LEED is a rating system used by the USGBC to track and rate the "greenness" of a building. The LEED system recognizes performance in key sustainability areas including sustainable sites, water efficiency, energy and atmosphere, materials and resources, indoor environmental quality, innovation in design, and regional priority.
The SFO Admirals Club lounge is designed to mirror the charm of the San Francisco Bay Area and showcases views of Golden Gate Park and the Northern California landscape. Guests utilizing the lounge will experience natural color walls decorated with recessed panels of bamboo and reconstituted zebra wood, ample seating and free Wi-Fi. Other unique sustainability features include:
Water Use Reduction - Low-flow water fixtures were installed to reduce water use by 20 percent
Air Quality Improvement - No chlorofluorocarbon (CFC)-based refrigerants were used
Energy Reduction - The innovative design of the electrical and mechanical systems helps reduce environmental and economic impacts
Waste Reduction - Construction and demolition debris were redirected back into the manufacturing process, reducing disposal in landfills and incineration facilities by 75 percent
Recycled Content - Recycled content building products were used in construction and materials throughout the Club
Recyclables Collection - An on-going recycling program was established to reduce waste generated by customers and employees
Alternative Transportation - Travelers have convenient access to a pedestrian bridge to the AirTrain, which connects to Bay Area Rapid Transit (BART)
Minimizing Waste
Whether it is aluminum cans onboard our planes, copy paper in our offices or used parts in our maintenance facilities, we know it is our responsibility to reduce the amount of waste related to our operations. Just as our customers participate in recycling programs at home, we have launched important initiatives to reduce, recycle and repurpose materials across our organization — and to take a hard look at our processes and operations to identify where we can prevent waste at its source.
To deliver on our objectives to be responsible stewards with regard to materials and waste, we established a Waste Minimization Team in 2010. The team includes representatives from a broad range of operational departments and efforts are overseen by a Steering Committee of vice presidents.
Progress Toward Goals
Our initial efforts to minimize waste have been tremendously successful. In 2010, we had set a goal of recycling 326,800 pounds of waste — the weight of a Boeing 777 aircraft. In fact, by the end of 2011, we had surpassed this goal by nearly 1 million pounds!
Now that we have a year under our belt, we have expanded our 2012 waste minimization goal to 2 million pounds. We will also continue to refine our ability to measure and manage waste at American through the implementation of a new data collection system.
In all our waste minimization efforts, we seek to engage with and involve employees. One effort over the past year has been an initiative to broaden the scope of employee participation, especially with regard to the recycling of onboard magazines.
We have expanded inflight magazine recycling to 82 percent of our stations and have launched the collection of unused international customs forms so that they can be reused.
Other initiatives have focused on introducing the use of recycled and/or certified paper for magazines, menus and boarding passes; reusing pieces of equipment such as the dowels that hold paper in self-service boarding pass machines; and recycling wheels from baggage carts.
Read more about American's efforts to reduce, reuse and recycle.