Protecting The Environment
Updating The Fleet
We are transforming American on a fundamental level by investing in new aircraft. By retiring older, inefficient aircraft and replacing them with more fuel-efficient aircraft in a variety of sizes, we are reducing emissions and fuel costs while at the same time better serving our customers and meeting individual market demand.
Did you know?
In the fourth quarter of 2012, the size of American's fleet of Boeing 737-800s surpassed that of its McDonnell Douglas MD-80s. 737-800s can carry more passengers while using less fuel than MD-80 aircraft, resulting in a 35 percent improvement in fuel efficiency per seat.
Fleet facts
We're changing the way we fly as we build toward the youngest fleet in five years among the five largest U.S. airlines.
We are updating our fleet with cutting-edge aviation technology and design. Since May 2011, we've been adding up to three Boeing Next Generation 737-800 planes each month. In 2012, we took delivery of 28 737s and expect to take delivery of another 31 in 2013.
We plan to introduce 130 Airbus A319 and Airbus A321 aircraft beginning in July of 2013, with continued deliveries through 2017.
Beginning in 2018, we also plan to add new Boeing 737-800 MAX planes, which will offer a fresh, modern inflight experience as well as more environmentally friendly engines.
We will continue phasing out our least efficient aircraft fleet (the MD-80), and begin phasing out our second and third least efficient aircraft fleets, the 757 and 767-200.
For complete information, please visit our New Planes webpage.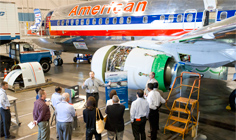 Boeing conducting a briefing of ecoDemonstrator technologies
Boeing-American's ecoDemonstrator project showcases new technologies for fuel efficiency and noise reduction
In July 2011, we committed one of our brand new 737-800s to our partners at Boeing to serve as a flying testbed to reduce fuel consumption and limit aircraft noise using environmentally progressive technologies. In 2012, the ecoDemonstrator plane underwent extensive flight-testing focused on evaluating specialized innovations such as:
Adaptive wing trailing edges that make the wing more aerodynamically efficient and reduce takeoff noise by improving the aircraft's climb performance.
A variable area fan nozzle that reduces fuel consumption by optimizing fan airflow during different phases of flight and reduces takeoff noise by quieting the engine.
Active engine vibration control to cancel vibrations and reduce noise for a more comfortable, quieter ride.
A regenerative hydrogen fuel cell to provide electricity for airplane systems as well as providing energy storage during periods of low electrical demand.
Flight trajectory optimization and information management for more fuel-efficient in-flight rerouting around weather and other constraints.
In support of the ecoDemonstrator environmental objectives, a biofuel made from recycled cooking oil was used during the ecoDemonstrator flights. This type of fuel generally results in a 60 - 80 percent reduction in life-cycle GHG emissions and, when economically viable, could contribute greatly to American's goal of reducing its carbon footprint.
For complete information, please visit the ecoDemonstrator webpage.