United States Of Adventure
50 States. 30 Days. 1 Airline.
Who Are We?
Our Adventure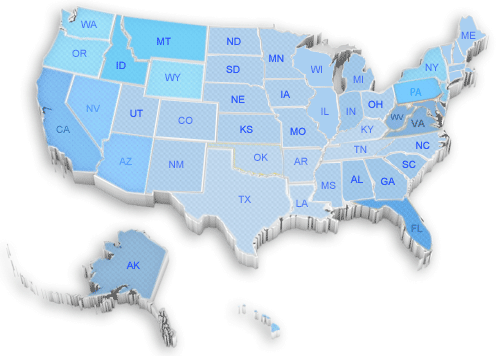 DALLAS, TEXAS: DAY 30
Words: Jonathan Thompson
Pictures: Mark Chilvers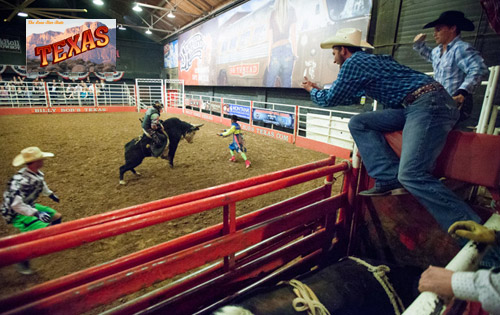 So this is it. The last stop on our American odyssey. Our 50th and final state: Texas. The sprawling spiritual home of the cowboy is a worthy conclusion to our mammoth journey. To put its humungous size into context, it could easily swallow England three times over - and still have room for a little nibble at France.
It's apt then, that our first evening here is spent at the world's largest honky tonk (that's a Country and Western bar to the uninitiated). Billy Bob's in Fort Worth covers no less than three acres of floor space, and even boasts a live bull riding arena.
As we toast the end of our journey, cowboys swagger around in leather chaps and body armour, awaiting their turn in the ring. The crowd cheer as each tries to ride a snorting, bucking steed - and is inevitably eating dust a few desperate, hectic seconds later.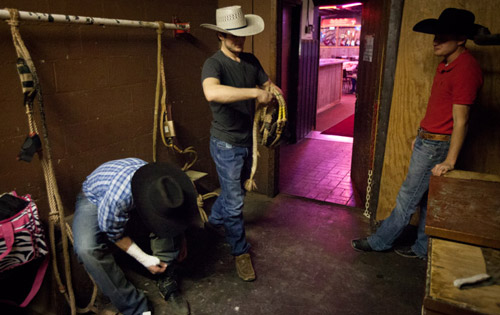 The bar is throbbing, with hundreds of people drinking, playing pool and dancing two-step. At least half the men are sporting cowboy hats, while the majority of both sexes have the boots to match.
Just 35 miles down the road, Dallas is an entirely different prospect. As we explore the downtown area the following morning, we get a clear impression of a sophisticated, forward-thinking city. The Arts District spans no less than 19 blocks, packed with museums, theatres and restaurants. There's world class shopping here too. Plus, of course, a chance to visit the most famous white house west of Washington DC: Southfork Ranch.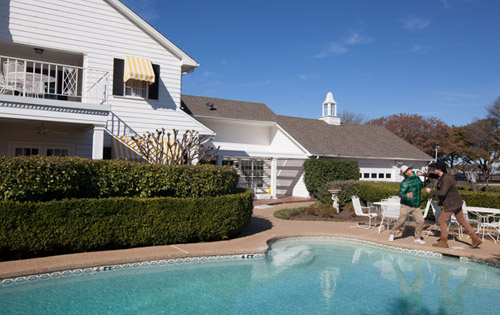 Home to the dysfunctional Ewing clan of the city's eponymous TV series, Southfork is a 30 minute drive out of downtown Dallas. We spend a happy hour exploring the house and nearby museum - admiring the gun that shot JR, trying on Stetsons and staging our own feuds by the iconic Ewing pool. It's like stepping into a sunny childhood photograph.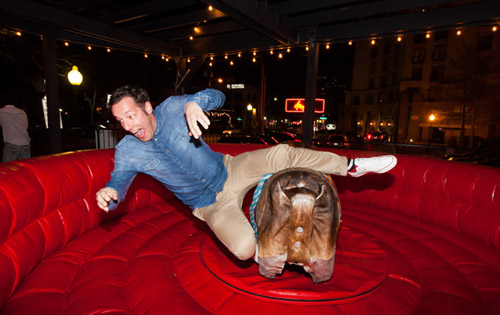 Back in Dallas, we decide to try some bull riding of our own. The real deal at Billy Bob's looked seriously dangerous - and nobody packed leather chaps - so we go for the next best thing: mechanical bull riding at uptown bar and restaurant The Trophy Room. Let's just say none of us won any trophies...
Over the last 30 days, we've driven thousands of miles and boarded dozens of planes. We've covered ground in everything from jet packs to Amish buggies, and tried sports we'd never dreamed of - from mountain coasting to roller skiing. But from the choppy swell of Hawaii to the shining skyscrapers of Dallas, one absolute constant (apart from large espressos and country music on the radio) has been the friendliness of the people here.
America is far too big to be considered a "country" in European terms, but in every corner - from snowy Seattle in the North West to the sweltering Florida Everglades in the south east - everybody found time to help us, to offer directions, to laugh at how mad we were, or just to chat about our challenge.
We were worried that this trip might put us off US 'vacations' for good, once we'd turned Uncle Sam's pockets inside out. But on the contrary, it's shown us just how much remains to be explored of this vast mega-nation. It's a whole new world out here.
App Of The Day
As the team moves around the US at breakneck speed, they're relying on a number of mobile apps to keep them in control and on schedule. Each day, one of them will recommend an app that's proved particularly useful or interesting, for travellers to download themselves from itunes.
The App:TRIP JOURNAL
Mark says: "Whether you're travelling around 50 states in 30 days or just nipping away for a weekend city break, creating a content rich online travel journal is a great way to share your experience with family and friends. As well as automatically tracking your itinerary, Trip Journal allows you to add photos and places you've visited using their geo-tagging integration. An easy way to keep your memories safe - and your neighbours jealous."
Create your own adventure in Dallas, Texas: Stay in the newly-renovated The Fairmont Dallas, the only hotel in the lovely Arts District where you are spoilt for choice with galleries, music venues and museums. There are a wide range of trendy food vans for a quick lunch before feeding the brain. The hotel itself has resident artists that work in a basement studio and exhibit in the lobby. Rooms cost from $95/per night.£64/per night. Fans of Dallas, the TV Show should opt for the Oil Baron Experience at The Fairmont which includes an excursion to Southfork, the famous set of the show and a working ranch. The experience costs $9.50/per adult & $8.50/per child (plus tax). £6.50/per adult & £5.50/per child (plus tax). If the ranch inspires you to try rodeo for yourself, ride a mechanical bull at The Trophy Room. However if watching the Wild West appeals more, Billy Bobs in Fort Worth – the biggest honky tonk in America - puts on a live show on Friday and Saturday Nights.
Fly with American to Dallas, Texas. Feel like a real cowboy for the day and visit Southfork Ranch; real life working ranch and set to world famous TV series Dallas. Book your flights today from £580
NEW ORLEANS, LOUISIANA: DAY 29
Words: Jonathan Thompson
Pictures: Mark Chilvers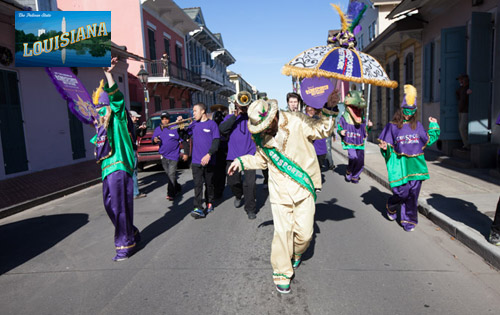 The voodoo priestess takes a good, long look at me. Her eyes are very bright in the gloomy altar room.
"Let's see shall we?" she says, carefully shaking the pile of tiny bones and precious stones cupped in her hands. After a few seconds, she releases them over the ageing astrological chart between us.
"Hmmm," she says. Then proceeds to plot my fortune for the next 12 months, linking point to point like an ethereal GPS.
Let's just say I hope she's right.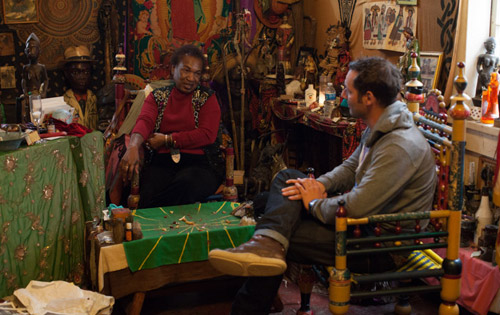 Priestess Miriam owns the Voodoo Spiritual and Cultural Center here in New Orleans, Louisiana. A resident of The Big Easy for nearly 25 years, she's something of a local celebrity.
More spiritual counsellor than witch doctor, Priestess Miriam helps the residents of America's enchanted city to solve personal problems and untangle their lives - rather than make dolls of their ex partners to lacerate at night. Her unique shop and adjoining altar room on Rampart Street, crammed with all kinds of potent paraphernalia, is well worth a visit.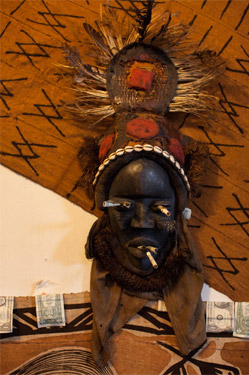 New Orleans - a place where people dance at funerals and hold parties during hurricanes - is one of the few places in America where you could find somebody like Priestess Miriam. A whirling melange of different styles, cultures and music, it's a city with a real whiff of old magic about it.
Among the peeling facades and cast iron balconies of the old French Quarter in particular, it still looks - and feels - like a lost outpost of the old French and Spanish empires.
The other thing this city is celebrated for, of course, is its Cajun food. We head over to a grand, Queen Anne-style 19th Century home on Bayou Road for a crash course in its preparation, courtesy of the New Orleans Cooking Experience - and another larger than life character.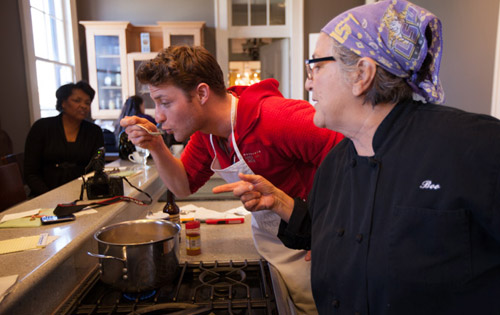 Janice "Boo" Macomber, our teaching chef for the session, introduces us to 'roux': a thick gravy forming the basis of almost all Cajun dishes. That includes our primary mission for today: a spicy duck and sausage gumbo.
"The roux is the soul of the gumbo" drawls Boo. "If you screw up the roux, you don't have nothin.'" Fortunately, she's on hand to stop us screwin' anything up, and somehow a delicious meal emerges from the carnage.
Refreshed both spiritually and physically, we mooch towards the packed, throbbing bars of Frenchman Street to undo all of our good work. New Orleans, with its maze of narrow streets, larger than life characters and rambunctious nightlife, is completely unlike anywhere else we've visited. I don't need Priestess Miriam to tell me that I'm coming back.
App Of The Day
As the team moves around the US at breakneck speed, they're relying on a number of mobile apps to keep them in control and on schedule. Each day, one of them will recommend an app that's proved particularly useful or interesting, for travellers to download themselves from itunes.
The App: NEW ORLEANS' BEST BARS
Mark says: "Finding a drink in the Big Easy is, well... easy: New Orleans boasts the most bars per capita of any city in North America. Finding the perfect dive bar with a bustling brass band, or a cocktail lounge staffed by nationally recognized mixologists can be a little more challenging. That's where this bar concierge service can point you in the right direction. With a map, photos and course direction from your current location, quality bar hopping just got a lot easier. There's also a taxi fare guide to help you get home afterwards..."
Create your own adventure in New Orleans, Louisiana: For good old-fashioned fun, New Orleans cannot be matched. The colour, culture, architecture and wonderful people make this city unlike any other in the USA. Hipsters stay at the stylish and minimalist International House Hotel, which is a few blocks away from the fun of Frenchmen street. Rooms cost from $169/per night. £114/per night. For more authentic and traditional New Orleans accommodation, The Marie is right in the midst of the French Quarter. While the rooms are fairly basic, the bar is friendly and they serve good light meals. Rooms cost from $87/per night. £58/per night. Because you will want to take a little piece of New Orleans home with you (everyone does), learn how to cook the Creole way at the New Orleans Cooking Experience. Based in a spectacular property on Carondelet Street, there are a number of chefs that will guide you through the process of making dishes such as barbecue shrimp, duck and sausage gumbo and Banannas Foster. Not only is the food excellent, but the stories and laughter shared by the group and the organisers is truly heart-warming. Classes last around 3 hours with a four-course meal served at the end with wine. They cost from $165/per class. £111/per class. If the mysterious world of voodoo interests you, visit The Voodoo Spiritual Temple where High Priestess Miriam will give you a snapshot of what it is all about. Go to neworleansinfo for great guides on restaurants and bars in New Orleans.
Fly to Louisiana, New Orleans from £541 and visit New Orleans Cooking Experience, cookery school to learn the art of cooking 'gumbo'. Book now!
TULSA, OKLAHOMA: DAY 28
Words: Jonathan Thompson
Pictures: Mark Chilvers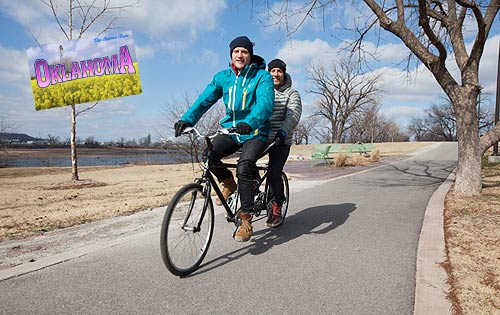 "This is Indian territory son."
It sounds like the kind of thing John Wayne might say to a young deputy, just before the shooting starts.
Sadly, I'm chatting to a middle aged man who's about to rent me a tandem.
Welcome to Tulsa, Oklahoma which – as my friend at 'Tom's Bicycles' quite rightly points out - is about as close to an Indian state as the US gets.
This is where the notorious 'Trail of Tears' ended in 1838, when the Cherokee were forced to relocate here in their thousands from Carolina, Tennessee and Georgia. They were joined by the rest of the Five Civilised Tribes (Choctaw, Chickasaw, Creek and Seminole), with the land divided between them.
Oklahoma (the Choctaw word for "red man") still boasts a large Native American population some 175 years later, with many of its towns hosting sizeable museums devoted to Native American history.
We've only got a few hours in Tulsa - the state's second largest city – so we've decided to view it from the saddle.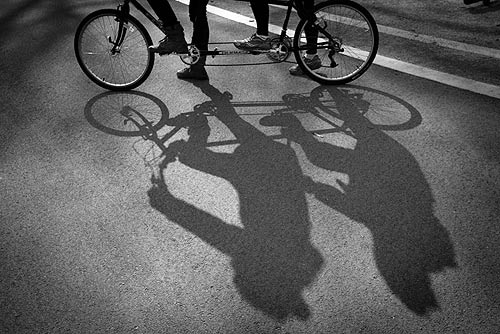 Somewhere along the line, bikes became tandems...
Our route takes us down the Arkansas River, along the pleasant Tulsa Riverwalk. We ride past pretty parks, enormous animal sculptures, boutique shops and enticing restaurants. It looks like the kind of place you could happily lose an entire summer weekend. Sadly for us, it's January, so we retreat to the Blue Rose pub to warm our frozen fingers over lunch.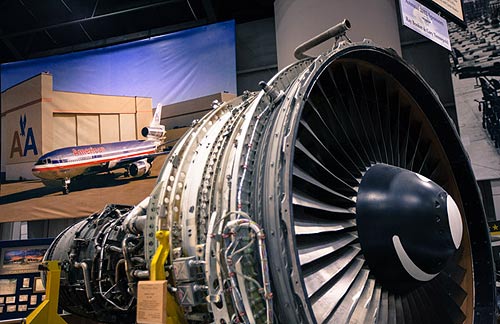 Afterwards, we have time for a brief visit to the impressive Tulsa Air and Space Museum which - even for three men who've spent an entire month on aeroplanes – has a pleasing number of flight simulators and hands on activities to enjoy. The guides are friendly and informed, and none of them accuse us of being Australian: all big ticks in our book.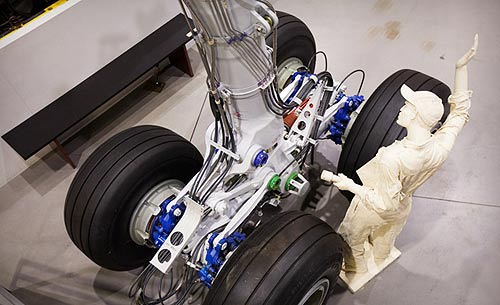 Sadly, all too soon we need to catch another real plane. With 48 states down, only Louisiana and Texas remain. What could possibly go wrong?
App Of The Day
As the team moves around the US at breakneck speed, they're relying on a number of mobile apps to keep them in control and on schedule. Each day, one of them will recommend an app that's proved particularly useful or interesting, for travellers to download themselves from itunes.
The App: ByPost
Mark says: "Forget email or Skype: one of the simple joys of travelling has always been sending postcards home. ByPost now makes that process a lot easier. Using your iPhone, you simply select your own photo, type a quick personalised message and then hit 'send'. ByPost does the rest. The unwitting recipient then receives your holiday gloating on their doormat just a few days later. Even the postman will be impressed."
Create your own adventure in Tulsa, Oklahoma: Heavily associated with the aviation industry, thanks to the large American Airlines Maintenance facility, this town is potty about planes. The charming Tulsa Air and Space Museum is well-put together with interactive aspects, photo opportunities and an imax theatre. In spring 2013, they will open a new exhibit – a retired MD-80 aircraft that will be used as a classroom and event space.
For an entertaining outdoor activity, try tandem cycling along the River Trail. Tandem bikes can be hired from Tom's Bicycles and cost $15/hr or $45/day. £10/hr or £30/day. They also have a wide selection of standard bikes and mountain mikes to tackle from $10/hr or $30/day. £7/hr or £20/day.
Go to oklatourism for more information about Oklahoma.
Fly to Oklahoma, Tulsa where you can relax riverside in the park, or if you love planes visit Tulsa Air and Space museum. Flights from £509. Book now!
ALBUQUERQUE, NEW MEXICO: DAY 27
Words: Jonathan Thompson
Pictures: Mark Chilvers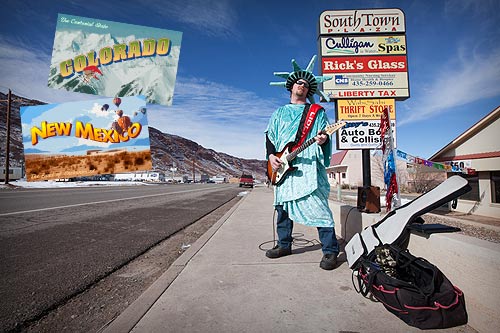 If there's one thing that's been seriously squeezed on this trip (apart from our belts), it's time.
We'd have liked to get stuck into Colorado – one of our favourite places from previous visits – but we had to get from Park City, Utah (still one of our favourite places in America, if not the world) to New Mexico, via Colorado in a single day.
The drive is a wonderful experience in itself. Seemingly endless desert parts on both sides of the car like a silent, frozen ocean. From time to time, outlandish rock formations lurch above the waves, like sea monsters petrified on contact with the air.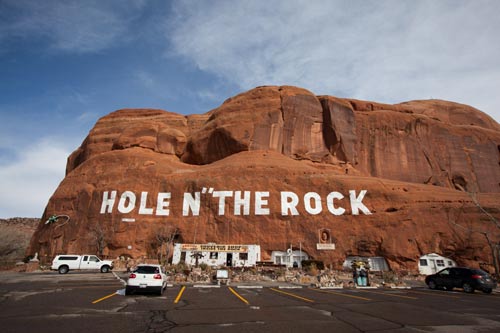 Situated along our route through Canyonland Country, Utah's famous 'Hole N" The Rock' applies an entirely new filter to "weird". A cluster of bizarre boutiques, statues and art installations forming a ragtag trading post around a fully decorated cave, it's road trip gold.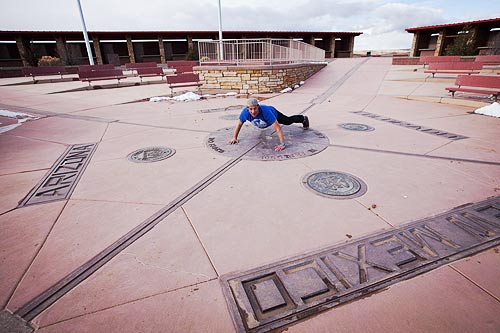 After crossing the Colorado border, we head straight for 'The Four Corners': the only place in the entire US where four states touch. Here, if you can contort your body well enough, you can exist in Colorado, Arizona, Utah and New Mexico simultaneously.
This is Native American Indian land, and we enjoy a traditional lunch with the locals on the Colorado side: fat Navajo pancakes served with delicious black beans and hot sauce.
After lunch, our road from The Four Corners takes us to one of the most difficult towns to spell in North America: Albuquerque.
New Mexico's biggest city, Albuquerque straddles the Rio Grande and also happens to be the hot air ballooning capital of the United States.
Sadly for us, the weather comes in hard as we cross New Mexico, and our hopes of taking to the skies are dashed.
We aren't deflated for long though. Instead, we're invited to popular local restaurant Sadie's for their 'Taste of Albuquerque' dinner experience.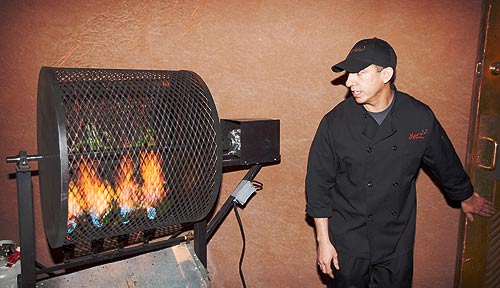 Jim Garcia, Sadie's wonderful, larger than life HMIC ('Head Mexican in Charge'), shows us a fantastic time. We learn about preparing, roasting and eating the hottest chillis in the world ("the only time you want to wash your hands before using the rest room") and the history of tequila cocktails ("one thing we definitely know is that there was a totally hot woman called Margarita in the room. After that, the stories diverge...").
Any disappointment we felt at the grounding of our balloon is more than compensated for by Jim's boundless enthusiasm – and the boundless plates of delicious New Mexican food served up by his colleagues. For desert, we're treated to bizcochitos – traditional New Mexican aniseed and cinnamon cookies.
Like Raleigh, Portland and Kansas City, you get the sense that Albuquerque is one of those towns criminally overlooked by Britons. With no less than 300 days of sunshine a year, it's almost impossible not to get a sun tan too. Unless you spend your entire visit in Sadie's restaurant. Which, actually, would be far from a bad thing...
App Of The Day
As the team moves around the US at breakneck speed, they're relying on a number of mobile apps to keep them in control and on schedule. Each day, one of them will recommend an app that's proved particularly useful or interesting, for travellers to download themselves from itunes.
The App: Tequila Matchmaker
Mark says: "If you're over 18 and a responsible drinker, this app is excellent fun. Tequila Matchmaker uses a clever algorithm to match your personal preferences with a tequila's "flavour fingerprint". You'll also receive tequila news, ratings and background notes, so you can impress whoever you're out with. Sadly it doesn't give you directions to Sadie's in Albuquerque, where you'll get one of the best Margarita's you will ever experience..."
Create your own adventure in Colorado and New Mexico: There is a surprising abundance of trendy, boutique hotels in Albuquerque, of which we sampled two good ones. Hotel Parq Central provides a modern, tranquil environment with an Apothecary Lounge, rooftop terrace, massage therapy room and outdoor hot tub. They also offer complimentary transport to the airport and to main local attractions. Rooms from $146/approx. £97 per night. By contrast, Hotel Andaluz is central to the area's social scene. With a smart restaurant, buzzy rooftop bar and Casbahs for private dining, your evening – as well as a good night's sleep – is taken care of. Rooms from $159/approx. £106 per night.
Albuquerque hosts the largest international balloon festival in the world. The festival takes place from 5 to 13 October 2013. For the rest of the year it is possible to take private hot air balloon rides at sunrise or sunset with http://www.worldballoon.com/ World Balloon. Rides cost from $145/£97 per person.
Known as Albuquerque's favourite family-run restaurant, Sadie's serves great food and a warm welcome. Understandably proud of their tequila menu, they mix delicious Margharita's by the pint! For more information about Albuquerque go to It's a Trip – the official tourist board website.
The Hole in the Rock can be found just beyond Moab in Utah. Another natural phenomenon, take in Four States at once at The Four Corners Monument. Entry is $3/approx. £1. During the summer and in good weather during the rest of the year there are food and craft stalls.
Go to 'Colorado – come to life' to find out more about what this state has to offer.
Fly to Albuquerque, New Mexico from £599, to visit the Hot Air ballooning capital of the US. If that's not enough, you can take a trip up to 'The Four Corners'. The only place in the US where you can be in 4 states at one time. Book now!
PARK CITY, UTAH: DAY 26
Words: Jonathan Thompson
Pictures: Mark Chilvers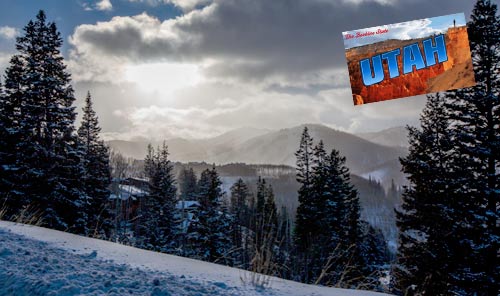 "Champagne powder". That's what they call the snow up here in Utah's Wasatch mountain range.
Its unique fluffiness – the fabric of skiers' dreams – is thanks to the Great Salt Lake's natural drying effect, as snow clouds pass overhead. As a result, the resorts here – chiefly Park City and Deer Valley – boast some of the finest skiing conditions anywhere in the world.
Today, however, we're thinking outside the box on the roof rack, and taking to the pristine powder on snowmobiles.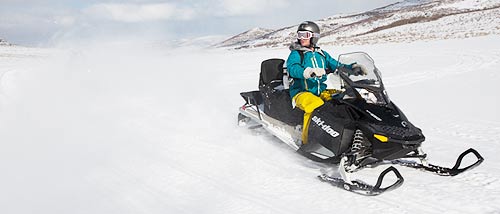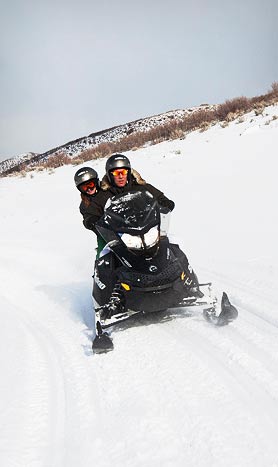 Garff Ranch, a 7,000 acre property on the outskirts of Deer Valley, is a working cattle ranch during the summer. But when the snow descends, so do the cowboys – to the valley below. They're replaced with a fleet of 35 state of the art snowmobiles, which visitors ride through the snow meadows, slicing through cloud-like powder drifts at speeds of up to 65mph. It almost feels like flying.
In neighbouring Park City, they're toasting more than just the champagne powder. It's the final night of the town's renowned Sundance Film Festival tonight.
We squeeze into a packed auditorium for a screening of the outstanding Fruitvale (winner of the festival's Grand Jury Prize and Audience Award), before following the crowd towards Park City's bustling Main Street.
Here we find a restaurant that appears entirely incongruous – an Asian Tapas and Sushi Bar up a snow caked mountain in Utah. But it rapidly becomes one of our stand-out picks of the entire trip.
Yuki Arashi, at 586 Main Street – a favourite of the actors and directors who take over the town during Sundance – is quite simply phenomenal. We eat and eat until we can barely stand up. Then we head towards the bustling High West Distillery, keeping our eyes peeled for celebrities en route (our final tally is a pitiful 0.5 – one unconfirmed sighting of Cyndi Lauper).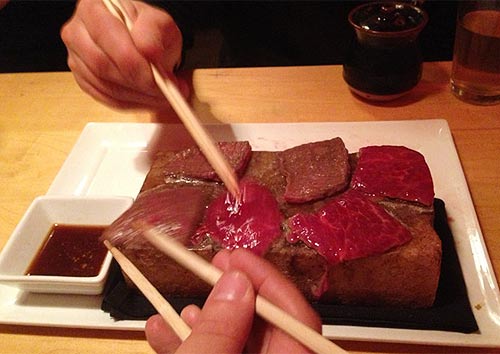 High West is the only ski-in, ski-out whiskey distillery anywhere in the world. And they really go to town on that whiskey. Not only can you sample enough malts to keep you busy for a year, you can also order all manner of whiskey dishes to go with them – from 'whiskey cheese fondue' to 'whiskey doughnuts'. Let's just say it's a place where most designated drivers will spend the evening cursing their luck.
By the time we head back to our hotel, we all agree we'd like to move to Park City permanently. Although that might be the whiskey – or a woman who looks just like Cyndi Lauper – doing the talking.
App Of The Day
As the team moves around the US at breakneck speed, they're relying on a number of mobile apps to keep them in control and on schedule. Each day, one of them will recommend an app that's proved particularly useful or interesting, for travellers to download themselves from itunes.
The App: Deer Valley Resort App
Mark says: "Downloading this app is incredibly useful - wherever you're staying in the greater Park City/Deer Valley ski area. Not only does it offer hourly and daily weather reports, you can also check snow conditions in specific parts of specific slopes, and learn which lifts are open before you even get out of bed. A must-have for life among the champagne powder of Utah."
Create your own adventure in Park City, Utah: the home of the Sundance Festival, Park City has a hybrid-mix of residents: snowsports fans, filmmakers and celebrities (including Will Smith and Robert Redford). This clientele means that while many of the hotels and restaurants are high-end, the general atmosphere is laid-back (even to the movie premieres they wear snow boots).
Stay at the sensational Stein Eriksen Lodge, the only five-star hotel in the resort. With inviting wood fires, alpine snacks in the bar (the best cheese fondue we've tasted outside France) and hot tubs on most balconies – this hotel is a winter wonderland. Rooms cost from $479/approx. £304 per night.
There is a wide range of restaurants covering all genres. Terrific Japanese fusion food is served at Yuki Arashi. The spicy miso soup and beef cooked on a salt-block are particularly memorable dishes. For Indian and Persian food, try Good Karma. For a stylish saloon bar with micro-brewery and whiskey tasting (paired with the food), visit High West. It is packed every night of the week, so ensure you book. Main courses cost from $20/approx. £13.
Fancy visiting Sundance 2014? Information is available at the official festival website.
This area is great for skiing and snowboarding, but Team USA tried snowmobiling is available in Deer Creek. It costs from $99/approx. £65 for a one-hour session. You can make the activity as high-octane as you like. For the fainter hearted, the staff will drive the snowmobiles while you hold on as a passenger taking you to see glorious scenery and through trees and meadows. As hosts to the 2002 Olympics there are other more unusual winter sports that you can try including figure skating and bobsleigh.
Go to Visit Park City for more activity ideas in the area.
Fly to Utah, Salt Lake from £633, to experience some of the finest skiing in the world. Book Now!
FARGO, NORTH DAKOTA: DAY 25
Words: Jonathan Thompson
Pictures: Mark Chilvers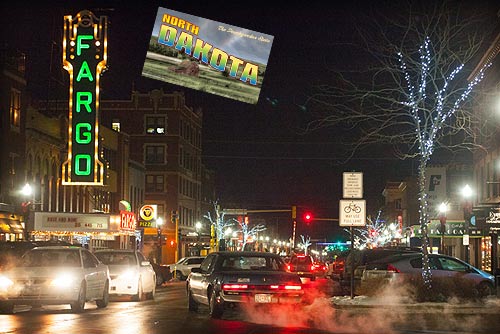 By anybody's standards, Fargo, North Dakota is a long way from Hollywood. But it does have one major cinematic feather in its (deerstalker) cap: the eponymous 1996 Cohen brothers film.
Nearly 20 years later, movie buffs are still descending on Fargo (the town) to get a little taste of Fargo (the film) for themselves. And that usually begins with a pilgrimage to the infamous wood chipper from the film's finale.
The machine itself – which finishes off Steve Buscemi in gruesome style – is now resident at the Fargo-Moorhead Visitor's Centre, along with other memorabilia from the film.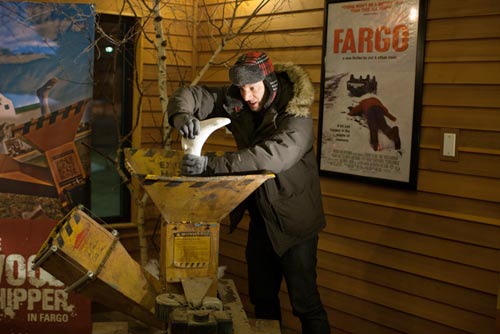 In fact, the 'chipper is quite possibly the best known piece of garden machinery on Earth. With more than 13,000 likes on Facebook, it's officially more popular than the town itself.
But that statistic does North Dakota's capital city a disservice. Fargo is also a major destination for foodies in this corner of the US, with the most restaurants per capita anywhere in the country: some 350 establishments serving a population of 100,000.
The area has its own unique cuisine too, from the Scandinavian settler-influenced 'lefse' (potato pancakes) and 'lutefisk' (pickled fish), to the …ahem… Cohen brothers-influenced 'chippers' (chocolate coated crisps).
We eat dinner at the stand-out HoDo restaurant in downtown Fargo, part of the pretty Hotel Donaldson. After the scrumptiously monstrous 'Upside-Down-Banana-Cream-Pie-Fried-Donut-Bread-Pudding', we then roll out onto Broadway to sample a slice of the local nightlife too.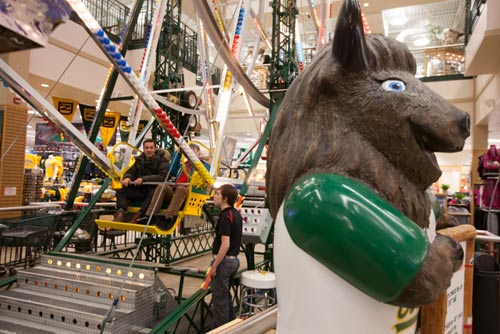 Somehow – as can happen on Saturday nights in these parts – we end up sitting on an enormous indoor Ferris Wheel surrounded by stuffed animals and waxworks of former US Presidents.
North Dakota is one of a handful of states – along with its Southern namesake – that other Americans often say they have never – and probably will never – visit when we tell them about our journey. In the case of Fargo, they're genuinely missing out. A great weekend destination with plenty of boutique hotels and outstanding restaurants, it's worth factoring into any journey through these parts, particularly en route from the US into Canada.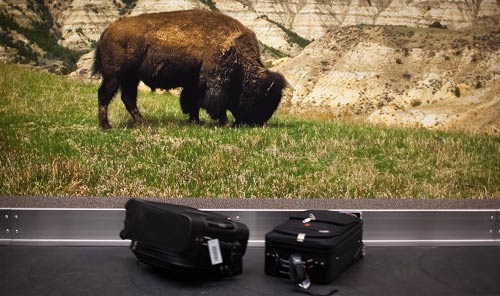 Our trip - like Steve Buscemi's torso – is cut disappointingly short in Fargo. It's an early start again tomorrow, and one of the standout highlights of the entire trip for me: Park City, Utah. Continuing the Hollywood theme, we're heading up the red carpet once we're up the mountain, and into the final night of the Sundance Film Festival…
App Of The Day
As the team moves around the US at breakneck speed, they're relying on a number of mobile apps to keep them in control and on schedule. Each day, one of them will recommend an app that's proved particularly useful or interesting, for travellers to download themselves from itunes.
The App: TheMovieMap
Mark says: "This is great fun for film fans, particularly when visiting US cities. Simply using the search button, you can immediately discover which movie scenes were shot in the streets around you. Zoom in or out to take it from neighbourhood to state to national levels, with pins illustrating the movie name, scenes shot there and a short description. With this on your phone, every day of your next visit to the US will be a stroll through your favourite films."
Create your own adventure in North Dakota: Stay at the boutique Hotel Donaldson – a funky place with bare stone walls and artist inspired rooms from $190/approx. £126 per night. Dine in the exceptional restaurant there - HoDo. The menu is a varied selection of deer, duck and seafood all made from artisan produce from The Red River Valley and beyond. Main courses from $25/approx. £16.50. The Arbuckle Lodge is another decent hotel option with an inviting lobby fireplace and old-fashioned friendliness. Rooms from $105/approx. £70. For more ideas of what to do in Fargo including the Celebrity Walk of Fame and the Art Museum go to the Fargo Moorhead Convention and Visitors Bureau website.
Visit the home of the world famous, 1996 Cohen brothers film, Fargo. Book your flights to Fargo, North Dakota from £517.
KANSAS CITY, MISSOURI: DAY 24
Words: Jonathan Thompson
Pictures: Mark Chilvers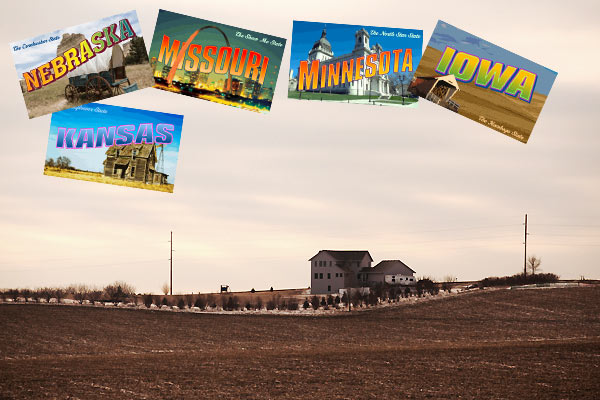 Whether or not your concept of the 'road trip' was inspired by American literary greats such as Kerouac, Steinbeck and Twain, the US is a country made for holidays where the journey is as important as the destination.
Today, our journey is something of a 'state' banquet – taking in no less than six courses. And if we make it, there's a Friday night out in Kansas City for afters.
Leaving South Dakota with the sun rising in the mirrors, our first pit stop is Minnesota – the North Star State.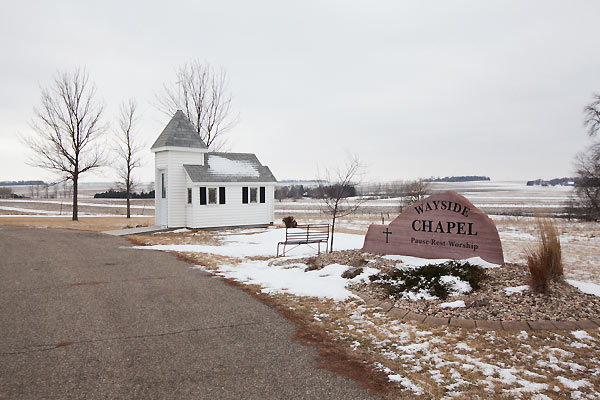 Here, on the outskirts of Luverne, we pull up at the miniscule 'Wayside Chapel' – a road trip favourite. On a hill overlooking 360 degrees of sprawling prairie, travellers flock to one of the tiniest Churches in the world to "Pause; Rest; Worship." But only six at a time, because that's the maximum number that can squeeze inside.
We're suitably impressed – and careful not to stick an elbow through a stained glass window on the way out.
Iowa and Nebraska follow in quick succession, as we eat up tarmac – and a delicious lunch in the former (at the fabulous 'Famous Dave's' in Sioux City) – en route.
The endless farms, fields and silos of Iowa lend it the appearance of a real-life Tatooine, sans sand and roaming Jawas.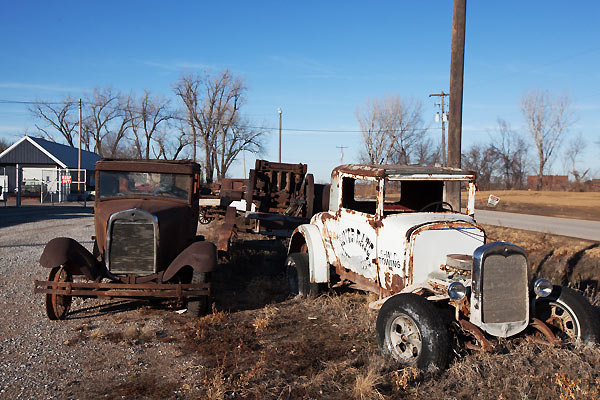 Nebraska is somewhat edgier. Here, in the best possible taste, they love a car wreck.
Sadly we don't have time to drive to the town of Alliance and visit "Carhenge" – an epic Stonehenge replica constructed entirely from old cars. But we do happen across a beautiful fleet of ancient, gracefully oxidising automobiles parked casually by the Nebraskan roadside.
We cross the Kansas border just in time. We've been invited to attend a Homecoming pageant at Riverside High School in the town of Elwood.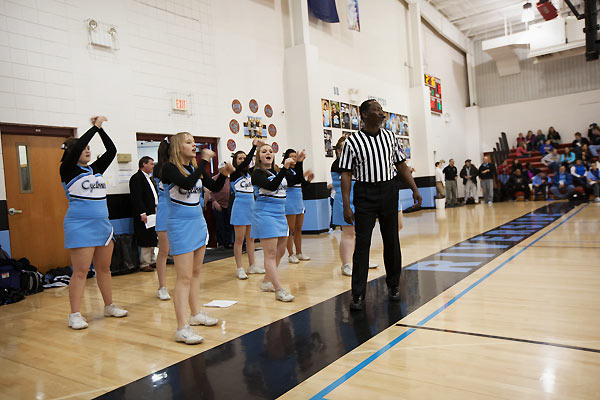 We can only watch in awe as a scene from a rom com unfolds before our very eyes: the tense basketball match against local rivals; the hyperactive cheerleaders; the Homecoming King and Queen crowned. It feels a little like stepping into an episode of Saved By The Bell. (With us playing sheepish 30-something supply teachers from England.)
Finally, we reach our destination for the night – Kansas City. Bizarrely, the greater part of the town has 'done a Dorothy' and is not in Kansas anymore.
Instead, it's in Missouri – our 43rd state.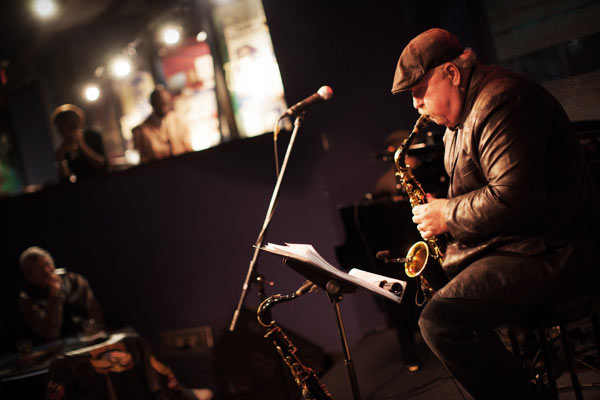 As soon as we arrive, we make a beeline for the city's humming (and newly renovated) Jazz District, to enjoy dinner and excellent live music at Danny's Big Easy. Later, we head to the famous Blue Room bar for some more outstanding music, and a quick visit to the American Jazz museum, based on site.
Peer behind the curtain of Kansas City and you'll find some of the world's finest jazz wizards. But there's also excellent, wholesome Midwestern food – and a genuinely warm welcome to be had.
Our list of "places we definitely need to come back to" is getting longer by the day.
App Of The Day
As the team moves around the US at breakneck speed, they're relying on a number of mobile apps to keep them in control and on schedule. Each day, one of them will recommend an app that's proved particularly useful or interesting, for travellers to download themselves from itunes.
The App: TRIPSTER
Mark says: "If you're planning any kind of road trip - be it six minutes down the road or six states of America - then Tripster will help. It alerts you to highway hazards like red lights, speed traps and accidents and there is also a constantly updated speed limit for the road you're travelling on. But best of all you can choose between an eclectic cadre of co-pilots from 'Stiff Brit', 'Sultry Woman' and 'Hillbilly' to our own favourite – 'Dinky-di Aussie'."
Create your own adventure in Iowa, Nebraska and Missouri: To find the Wayside Chapel, head on the US 75 and there it stands – north of Luverne – in south-west Minnesota. There are Famous Dave's all over the country. Dave's favourite Burger costs around $10/approx. £6.50. Listed on the National Register of Historic Places, rooms at The Aladdin Hotel and Spa in downtown Kansas City cost from $139/approx. £90 per night. Shrimp creole at Danny's Big Easy costs $11/approx. £7. The Blue Room is situated in the American Jazz Museum. Ticket prices for The Blue Room vary according to performer but start around $10/approx. £6.50. Entrance for the American Jazz Museum is currently $10/approx. £6.50. For more ideas of where to stay, what to do and where to eat, go to Visit Kansas City.
Discover the roots of Jazz music! Book your flights to Kansas City, Missouri from £491 today and experience both the history at American Jazz museum and the sensational Jazz music in the flesh at the newly renovated Jazz District.
SIOUX FALLS, SOUTH DAKOTA: DAY 23
Words: Jonathan Thompson
Pictures: Mark Chilvers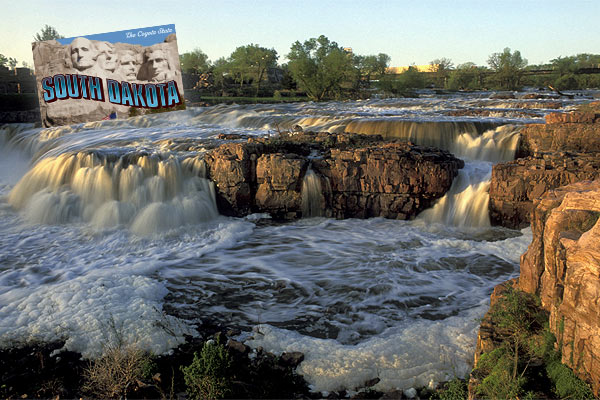 South Dakota is famous for one thing: Mount Rushmore.
But to discard an entire state with mention of just four famous heads would be an injustice worthy of judging Liverpool solely on the Beatles.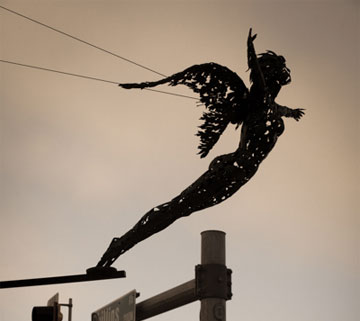 In particular, South Dakota's largest city – Sioux Falls – is a major mid-Western art hub, with a vibrant bar and restaurant scene to accompany its sculpture-lined avenues. But despite this, it remains a criminally overlooked destination.
Our own visit begins in Falls Park – home to the town's eponymous waterfall, fed by the Big Sioux River.
A monster during the summer – with 3,000 gallons of water shooting over it every second – it's almost completely frozen over today. Like a vast ice sculpture towering over its dozens of smaller subjects scattered about the town.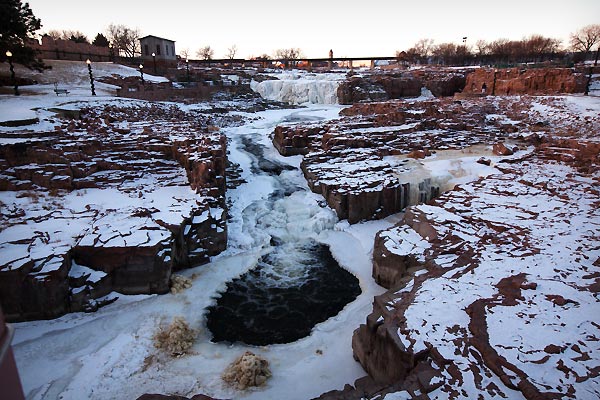 There are, to be precise, 55 of these pieces, making up the town's 'SculptureWalk', which encompasses much of the downtown area. Each summer, the people of the city vote on their favourite, with the winner made into a permanent fixture while the others are replaced with an entirely new batch. (Our pick is definitely the skateboarding gorilla).
They call this part of South Dakota "The Heart of America" – for its convivial locals as much as its geographical position. And at one of the town's most famous restaurants, Crawford's, that welcome is very much in evidence.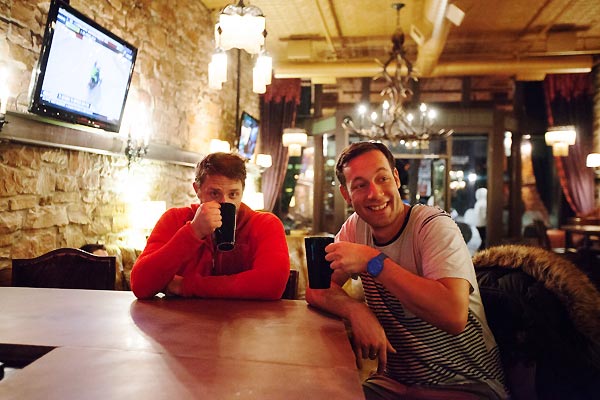 After a delicious, traditional meal, we retire to the bar, resting our feet on the iron railroad track that doubles as a foot rest. South Dakota is our 38th state. With just over a week to go, the end is in sight. But for now, an early start – and a drive to Minnesota in the morning beckons...
App Of The Day
As the team moves around the US at breakneck speed, they're relying on a number of mobile apps to keep them in control and on schedule. Each day, one of them will recommend an app that's proved particularly useful or interesting, for travellers to download themselves from itunes.
The App: GRILL-IT
Mark says: "Sioux Falls prides itself on its groundbreaking SculptureWalk, but the ArtFinder app is even more ambitious. You simply enter a photograph or painting you're interested in and the app will tell you more about the work. But more than this, Artfinder can recommend exhibitions, notify you when collections are being loaned to galleries near you and allow you to share your favourite art with friends on Facebook or Twitter. As an app, it definitely cuts right to the 'art of the matter. (Sorry)"
Create your own adventure in South Dakota: The Sculpture Walk is mostly located in downtown Sioux Falls. A map can be downloaded from the website. The hotchpotch of design at Crawford's Bar and Grill – from Moroccan wallpaper to cowhide bar – creates an eclectic and energetic ambience with a menu to match. Serving mostly fish and steak, main courses cost around $15/£10. Stay at the Candlewood Suites Sioux Falls. The hotel is just minutes from attractions such as the Great Plains Zoo, Washington Pavilion and the Falls of the Big Sioux River. Rooms cost from $81/approx. &pound52 per night. If you do fancy visiting Mount Rushmore, there is no fee to visit, but parking costs $11/approx £7 per car. For more information about the region go to Travel South Dakota and Visit Sioux Falls.
Take a trip to visit Mount Rushmore! It's one of the most spectacular landmarks the US has to offer, and should not be missed. Book your flights now from £517.
RALEIGH, NORTH CAROLINA: DAY 22
Words: Jonathan Thompson
Pictures: Mark Chilvers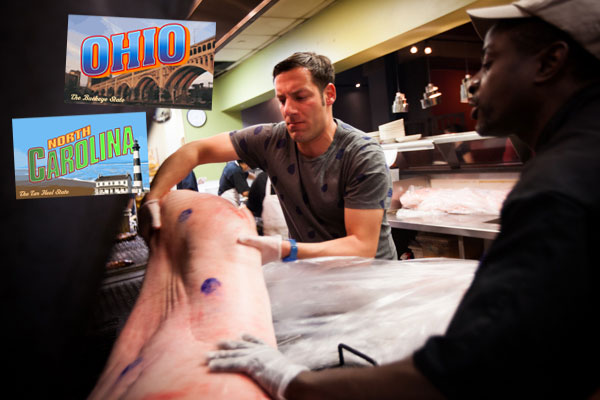 Food is one of those areas where the differences between British and American culture feel genuinely super-sized.
First, it's difficult to find a good curry anywhere in this country. (With the notable exception of Boston).
Second - across the southern states in particular - "barbecue" means a whole lot more than your dad blackening Tesco burgers in the back garden.
In states like Tennessee, Kansas, South Carolina, Missouri, and today's destination - North Carolina - meat grilling is revered to near-fanatical levels. Each state claims to be the 'spiritual home' of barbecue and has its own (subtly different) meat preparation methods.
Tonight we're eating at one of the best barbecue restaurants in North Carolina - 'The Pit' in the state capital, Raleigh.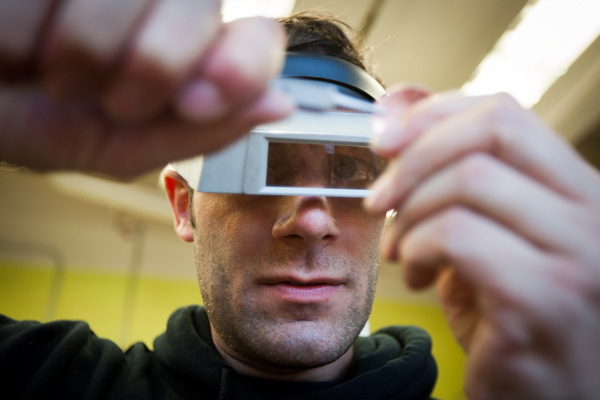 Beforehand, we spend the afternoon working up an appetite at the town's progressive Pullen Arts Centre.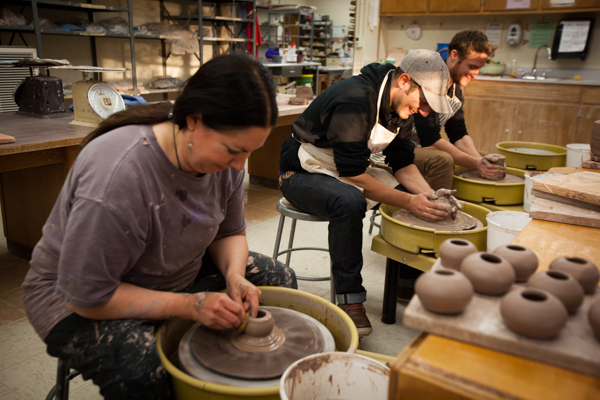 Under the watchful guidance of assistant director Betty McKim, we spend a fantastic few hours getting our hands dirty in various pottery, jewellery making and metal working scenarios. For us, it's a great way of making unique gifts to take home (well, 'unique' is one word for the trumpet-shaped cereal bowl I make for my grandmother, anyway).

We woke up this morning in Toledo, Ohio, but had a criminally short time to spend in the Buckeye State: a genuine shame considering the amount it has to offer, not least the famous 'Three C's': Cleveland, Columbus and Cincinatti.

But weather and flight times combined to restrict us to 'just' a hearty breakfast at Toledo's lovely Glendale Garden Cafe.

Travelling from Ohio to North Carolina at this time of year is like travelling from January to April. There's no snow on the ground in Raleigh, and the sun is gentle and warming.

In other words - perfect barbecue conditions.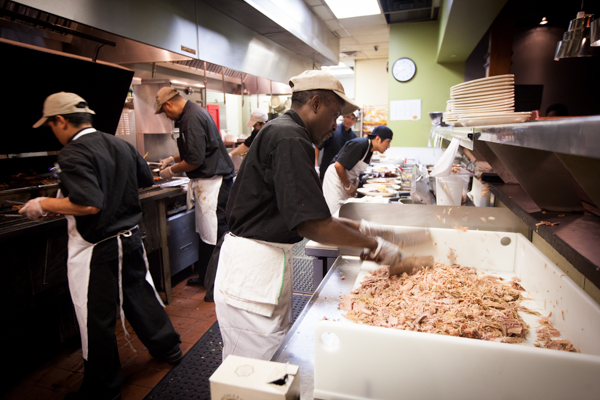 At The Pit, we're invited into the bustling kitchen to help 'pit master' John Odom barbecue a whole hog. The process is remarkably simple, but with even the most basic of (vinegar-based) seasoning, the meat tastes absolutely out of this world. Particularly when washed down with lashings of traditional sweet tea.

One of the most frequent questions we're asked as we travel around is: "where did you have the best food?" It's day 22 of 30 and without a shadow of a doubt, this is the best meal we've had in the United States.

The pork is so delicious that we all eat until we can barely move.

The 'spiritual home of barbecue' is a loaded, vastly controversial topic out here in the Deep South, and one we probably shouldn't wade into...
...but it is - clearly - North Carolina. By a prairie mile.
App Of The Day
As the team moves around the US at breakneck speed, they're relying on a number of mobile apps to keep them in control and on schedule. Each day, one of them will recommend an app that's proved particularly useful or interesting, for travellers to download themselves from itunes.
The App: GRILL-IT
Mark says: "While in the UK a BBQ often means charcoal flavoured sausage, in America there are several states that claim to hold the BBQ crown. With 'Grill-it', you get a wealth of regularly updated recipes, including plenty of vegetarian-friendly options. So you can plan your al fresco feast and your hungry guests will call on you again - rather than calling the fire brigade."
Create your own adventure in North Carolina: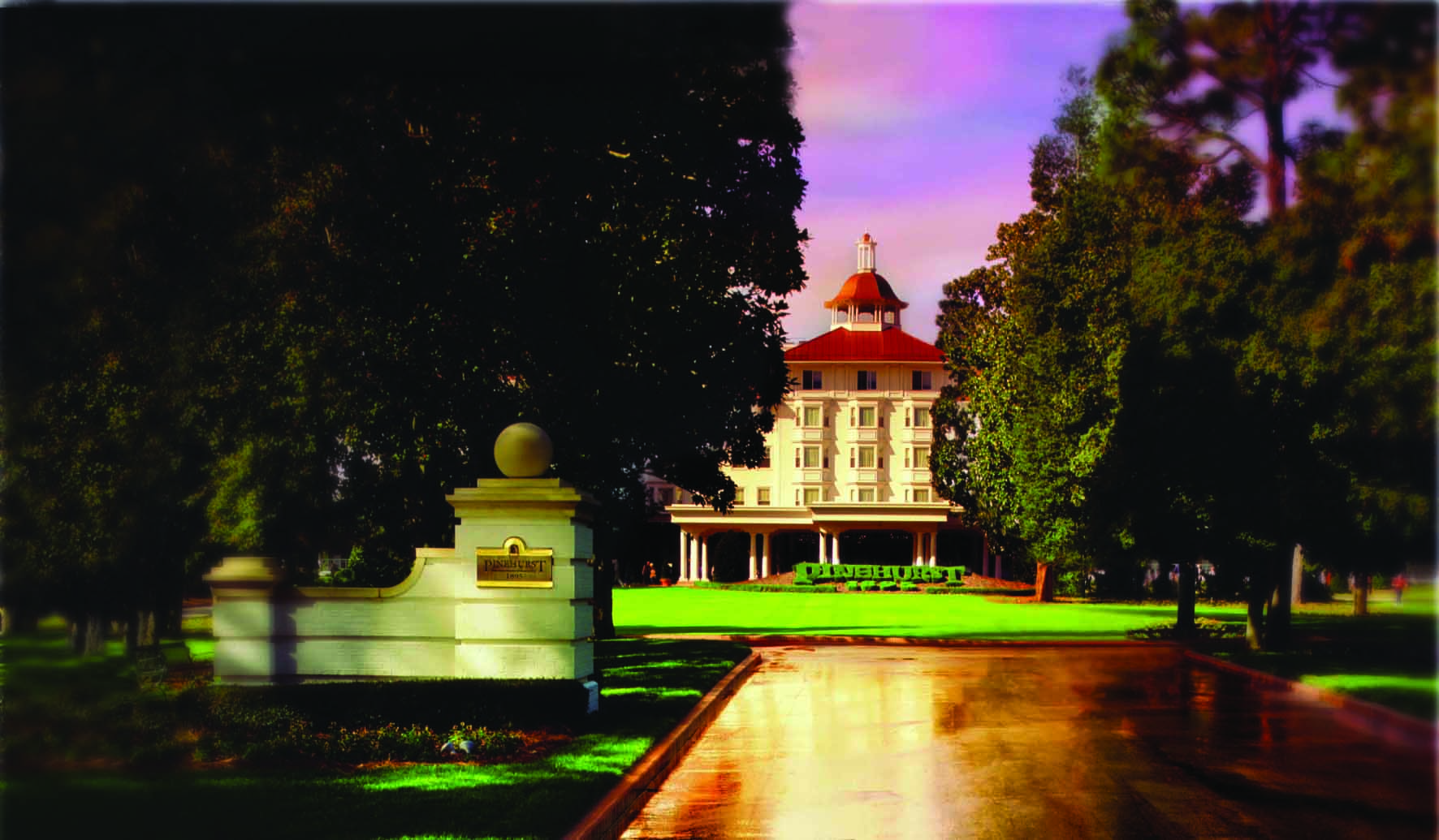 Stay at the opulent Pinehurst Resort, where the golf course has been selected to host the 2014 US Open. There are a range of accommodation options including the Resort Club, The Carolina Hotel, The Holly Inn and The Manor. Fans of the sport may wish to opt for The Golf Package which includes accommodation with breakfast and a round of golf from $215 per person per night. For an activity a little out-of-the-ordinary try clay-pot making at Pullens Art Centre in Raleigh. For great barbecue food, including pulled pork roasted in front of you, try The Pit. Main courses cost from $14/approx. £9. Go to Visit North Carolina for more ideas for your next trip.
Would you like to visit the 'spiritual home' of the barbeque?! Book your flights to Raleigh-Durham North Carolina, from £622 today!
MUSKEGON, MICHIGAN: DAY 21
Words: Jonathan Thompson
Pictures: Mark Chilvers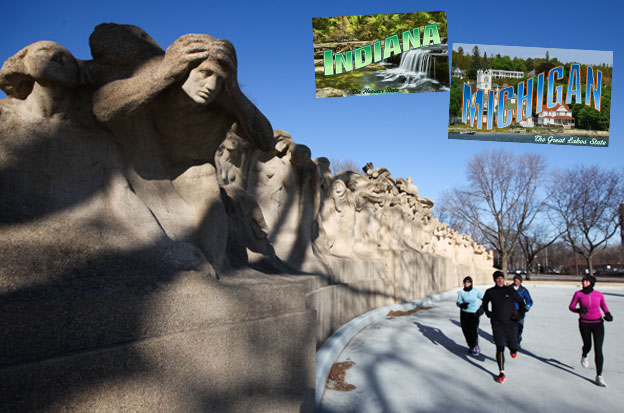 There are icicles in my eyelashes.
It's 7am on the frigid, semi-slumbering streets of Chicago and I'm already running across 'The Loop' - the city's downtown area.
There are two reasons for this: firstly, I'm part of a 'City Running Tour', showcasing The Windy City in all its morning glory.
Secondly, it's so cold that I physically cannot stand still for more than two seconds.
The tour itself - taking in parks, statues and landmarks at sunrise - is a beautiful way to become acquainted with the city, and the pace over the 8 mile route never becomes uncomfortable.
I'm extremely glad I wore my balaclava this morning, but pull it off as we jog past Barack Obama's house, just in case.
We stop at the grave of one of sprinting's all-time greats, Jesse Owens (I jog on the spot both out of deference and to avert frostbite), before moving onto the site of Chicago's hugely successful 1893 World's Fair.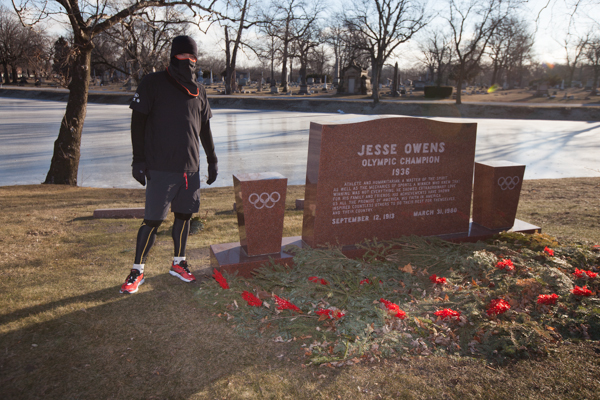 We all agree that Chicago is right up there among our most favourite US cities, but we have to push on and get some more states under our belt. After the best hot shower of my entire life, we drive the short distance across the border into neighbouring Indiana.

Known as 'The Crossroads of America', Indiana is dissected by an incredible 12,000 miles of state and interstate highways.

Unfortunately we don't have time to drive to either the sprawling city of Indianapolis (home of the legendary Indy 500 race each May) or the tiny village of Santa Claus (where Abraham Lincoln's family lived - and may or may not have manufactured Christmas presents for the children of the world).

Instead, after a quick lunch stop in the optimistically named town of East Chicago, we drive on to Michigan.

'The Mitten State' is one of Michigan's many nicknames. Which seems pretty apt as we arrive at our destination - the Winter Sports Complex near the town of Muskegon - in a major blizzard.

It's not going to stop us though. Far from it, the snow is an asset for our next activity: the luge.

"This is one of just four luge tracks in the whole of North America - and the only one that members of the public can simply rock up and ride," says Jim Rudicil, the amiable director of the complex, before shoving me, feet first, down the chute.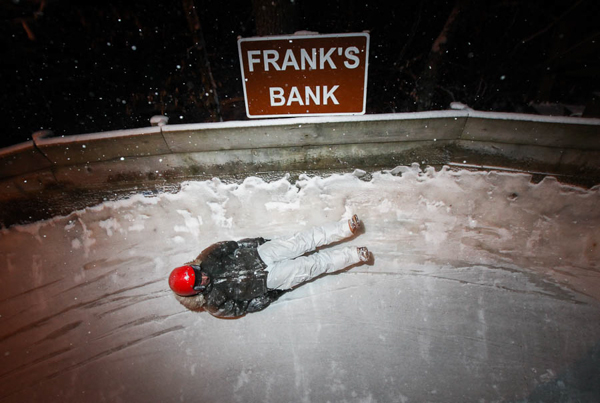 That 'ride' is one of the most fun things we've done on this entire trip. Rattling down the tight, icy track at up to 30mph is an excellent rush. All of us go back for another run, ramming the red crash mat at the bottom with a series of booms, followed seconds later by accompanying mushroom clouds of snow.
The Winter Sports complex - which also houses one of the world's first prototype snowboards - has carefully prepared ice skating trails through the nearby woods and one of the longest fully lit Nordic Ski trails in America.
It goes straight onto our "must visit again" list, before we depart into the snowy night.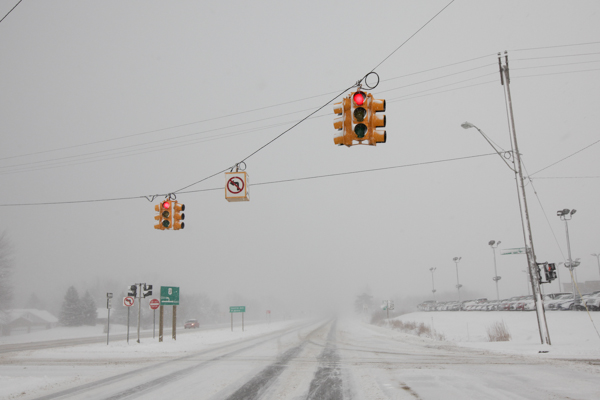 The blizzard is coming in so fast as we drive away that it looks like we're entering hyperspace in the Millennium Falcon. Our next stop is Ohio... if we don't end up in Alderaan first.
App Of The Day
As the team moves around the US at breakneck speed, they're relying on a number of mobile apps to keep them in control and on schedule. Each day, one of them will recommend an app that's proved particularly useful or interesting, for travellers to download themselves from itunes.
The App: ENDOMONDO SPORTS TRACKER
Mark says: "Whether you want to record a freezing run through the streets of Chicago or your time for the daily cycle commute to work, this tracker can do all of that - and so much more. Measure your split times, get feedback every kilometre and have your audio coach guide you along the route. When it comes to outdoor fitness, this app ticks every box. The only thing it won't do is thaw you out afterwards..."
Create your own adventure in Michigan and Illinois: Jon took part in the Devil in the White City Run in Chicago hosted by City Running Tours, named after the HH Holmes book. Sightseeing opportunities on the run include Jesse Owens burial spot, the Statue of the Republic and Jackson Park. For more ideas in Chicago go to Choose Chicago. The luge experience at the Muskegon Sports Complex costs from $40/ approx. £26 pp. .
Fly to Michigan, Detroit from £491. Book your flights at AA.com today!
CHICAGO, ILLINOIS: DAY 20
Words: Jonathan Thompson
Pictures: Mark Chilvers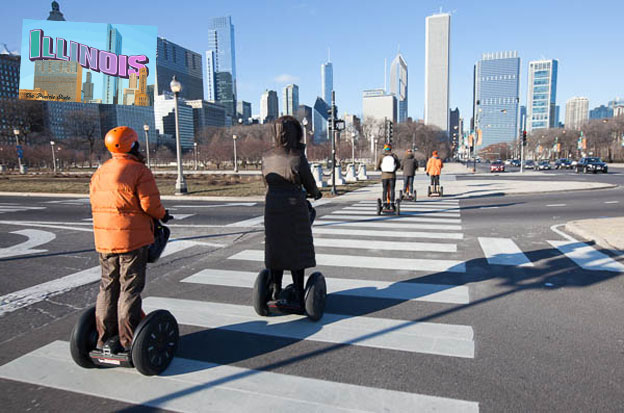 "The gangsters were a necessary part of this city," says Brittany Cortina. "Like black blood running through its veins."
It's the kind of statement you'd expect from a film's pre-title sequence. Possibly at the start of a high octane car chase through darkened Chicago streets.
We're in the right location, but that's about it. Squinting in the morning sunshine, Brittany deftly turns her orange Segway around and accelerates off at top speed: 10mph.
Today we're on one of Chicago's new 'Gangster Segway' tours. And Brittany - a pretty, livewire twenty something - is guiding us down some of the city's darkest alleyways, both literally and metaphorically.
"Al Capone was linked to nearly 600 murders in these parts, but he helped the people too," says Brittany, as we trundle past the infamous Blackstone Hotel - scene of the National Crime Convention in 1923, when gangs from across the US met to carve up territory. "Capone opened soup kitchens. People forget that he fed Chicago during the Great Depression."
Parking my upright steed permanently, I gather my goons and we head down into the city's underbelly - the Pedways - with local specialists, Chicago Detours.
A spider's web of underground tunnels worthy of Mirkwood, the Pedways were originally built for shifting coal. They're now part of the city's transport system and shopping complexes, although plenty remain mysteriously off limits.
The 'Inside The Loop' tour (for downtown Chicago's nickname) is a fascinating exploration of the city, both above and below ground, affording a memorable peek at what the Windy City keeps hidden under its coat.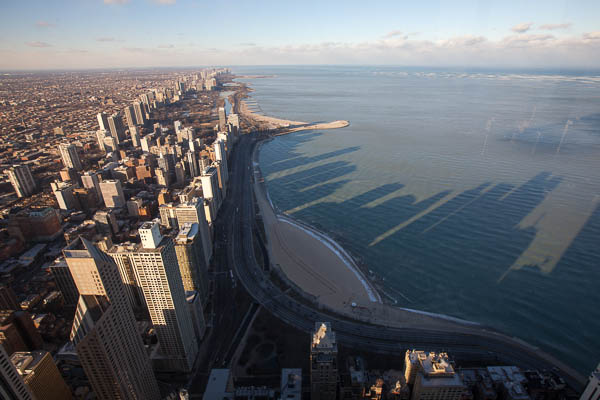 From one extreme to the other, our next stop is the city's highest point: the top of the John Hancock Center. The views here - alongside the world's highest ice skating rink - are absolutely spectacular. The mammoth Lake Michigan surges away to drown the horizon, lending Chicago the feel of a city standing vigil at the edge of the world.
There's still time for a trip to Second City - Chicago's renowned home of improvisation and sketch comedy.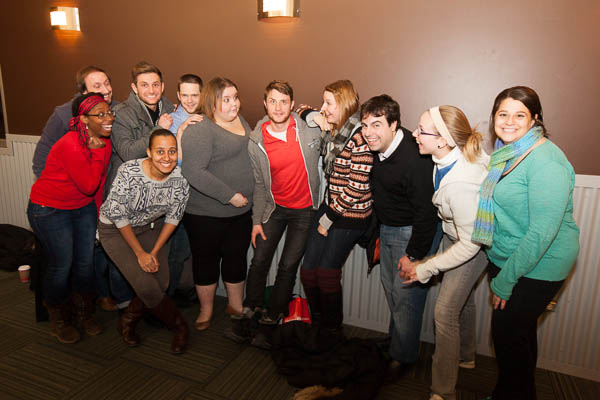 Graduates of the world famous school read like a comedy Who's Who: Bill Murray, John Candy, Tina Fey, Steve Carell... the list goes on. And now you can add Chris MacDonald to those illustrious ranks.
Our trusty videographer and production manager takes to their drop-in improv class like a gangster to The Loop, wowing his fellow students with his 'superhero' impressions.
From its highest point to its deepest depths, we've all fallen a little bit in love with Chicago. Black blood or not, the Windy City has blown us away.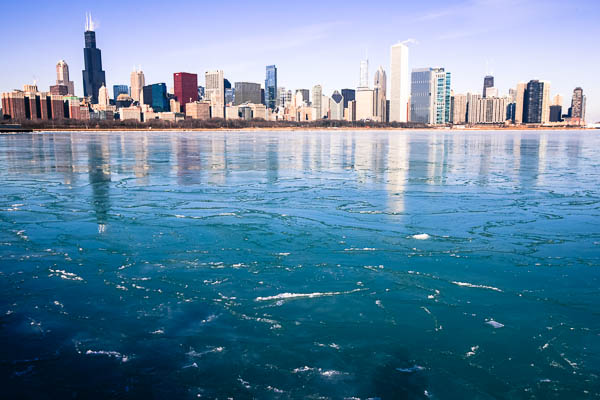 App Of The Day
As the team moves around the US at breakneck speed, they're relying on a number of mobile apps to keep them in control and on schedule. Each day, one of them will recommend an app that's proved particularly useful or interesting, for travellers to download themselves from itunes.
The App: CHICAGO GANGLAND TOUR
Mark says: "If you prefer to take your own tour on two legs as opposed to Segway wheels, then let Jonathan Eig - best-selling author of "Get Capone" - be your virtual guide. Rare photos and mini-essays written exclusively for this app take you from Al Capone's birthplace to the car park famous as the scene of the St Valentine's day massacre. Just wrap up warm - and watch your back...."
Create your own adventure in Chicago, Illinois: Old world glam mixed with style and sophistication, Millennium Knickerbocker Hotel Chicago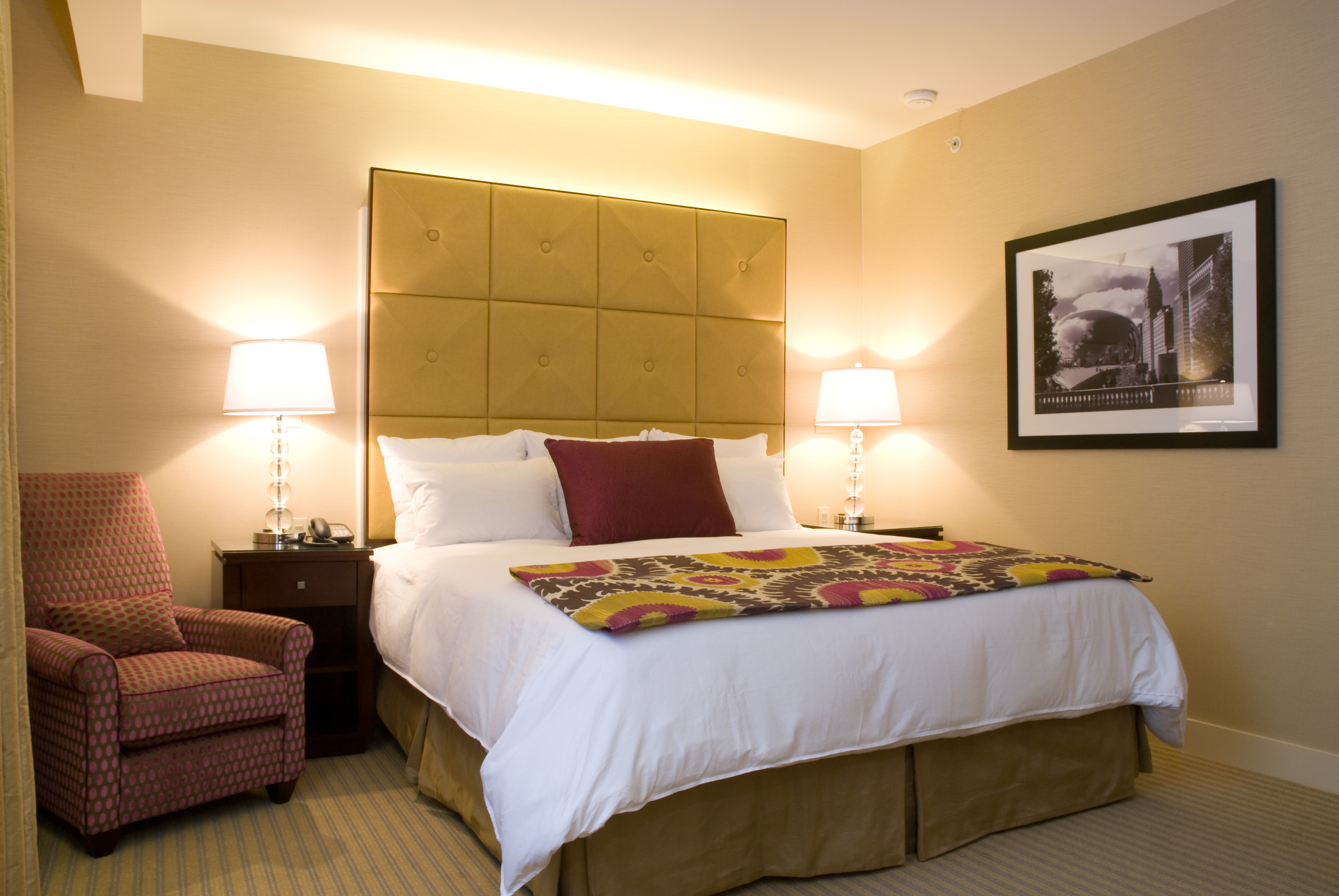 has an intriguing past as a casino and speakeasy (during Prohibition) and later as the Playboy Towers. The landmark hotel, located in the heart of Chicago's Magnificent Mile, celebrated its 85th anniversary in 2012, making it one of the city's most historic hotels. Rooms cost from $191/approx. £122 per night. The Inside The Loop Tour by Chicago Detours is a great way to see the City's interior architecture plus the underground pedway network and Absolutely Chicago Segway has a range of themed tours to delve a little deeper into the history of Chicago. Choose from the Museum Campus Tour, the Art and Architecture Tour, the Fireworks Tour, the Haunted Tour, or the Chicago Gangster Tour; prices start at $60/approx £38 per person. Chicago is well-known for producing some of the world's biggest comedians. Catch a show, or join an improvisation class at The Second City, tickets cost around $30/approx. £19. For more ideas in Chicago go to Choose Chicago.
Fly to Chicago, Illinois, from £448. Book your flights now!
KENOSHA, WISCONSIN: DAY 19
Words: Jonathan Thompson
Pictures: Mark Chilvers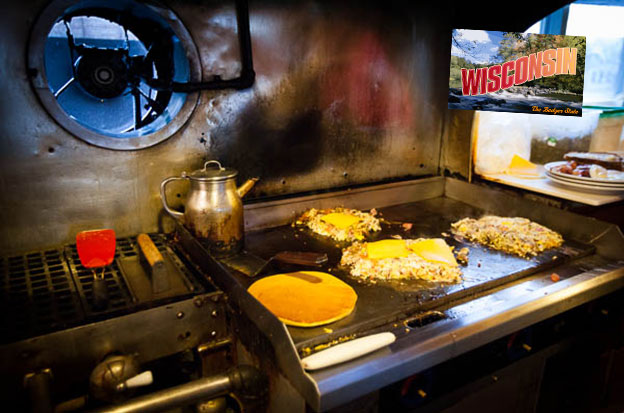 "Order what you want, eat what you get."
That's the motto at Frank's Diner in Kenosha, Wisconsin, one of the most famous breakfast joints in the mid-West. And what you get here, invariably, is cheese.
Lots of cheese. For breakfast.
Wisconsin, nicknamed "the Cheese State", is home to nearly as many cows as people, with over five million of each co-existing peacefully here among the rich, rolling farmland.
As a result, the state produces a gargantuan two billion pounds of cheese every year. And at least half of that colossal curd mountain appears to be looming over our breakfast plates right now...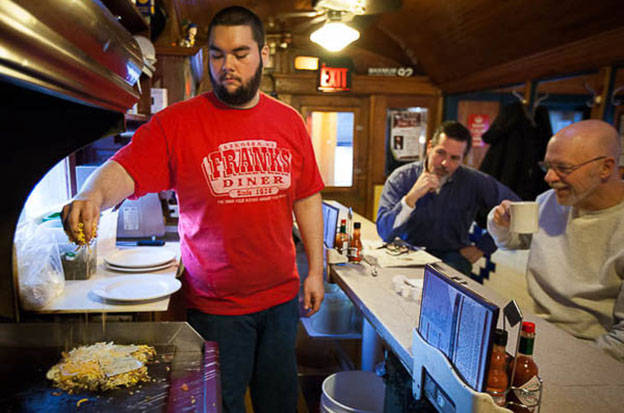 Originally a railroad dining car, Frank's was pulled to its current location - a stone's throw from the western banks of Lake Michigan - by six horses in 1926. Ever since, it's been serving up more cheese to the locals than Justin Bieber.
Shoulder to shoulder at the tiny counter, we're in excellent historical company. Former patrons range from Duke Ellington and Liberace to Bella Lugosi and The Three Stooges.
The most popular item on the menu is the infamous 'Garbage Plate': five eggs, five meat and - of course - five cheeses: Swiss, American, mozzarella, cheddar and Pepper Jack.
If you can finish yours quickly enough, your name goes up on the Garbage Plaque in the corner.
Shamefully, we share one between all three of us, and still can't finish it.
But, of course, man cannot live by cheese alone - even in Wisconsin. This state is also famed for another liquid besides milk: beer.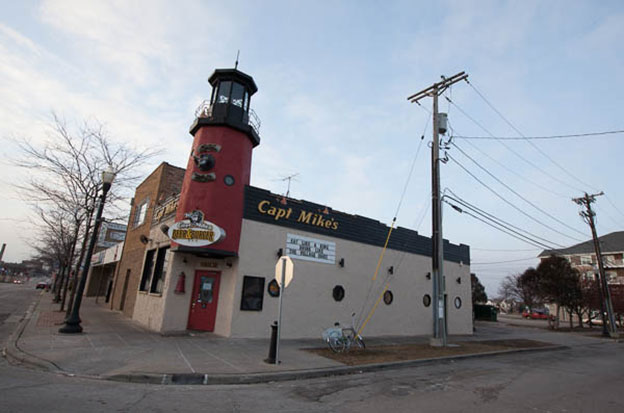 Before departing Wisconsin, we drop into 'Captain Mike's' - a pub specialising in delicious, locally brewed beers. They have dozens on tap, with names like 'Greenflash La Freak' and 'Mama's Little Yella Pills'.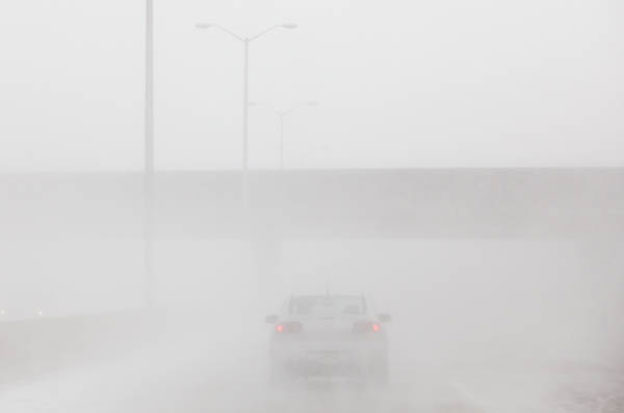 Sadly, we only have time for one before we hit the road to Illinois. But before leaving, we order some food for the road. "Cheeseburger and fries?" says our waitress. "What kind of cheese would you like on that? We have 16 different types..."
App Of The Day
As the team moves around the US at breakneck speed, they're relying on a number of mobile apps to keep them in control and on schedule. Each day, one of them will recommend an app that's proved particularly useful or interesting, for travellers to download themselves from itunes.
The App: FROMAGE
Mark says: "This is an excellent way for every cheese lover to identify - and record - their favourites. With Fromage you can grade every cheese you try, and it will automatically add a picture reference and detailed description. If you have an extra-cheesy night planned there are also suggested wine pairings for each one..."
Kenosha, Wisconsin is host to the states most famous breakfast at Franks Diner where can try the massive 'Garbage plate'. Breakfast's ranges from $5-$12/£3-£8.
Wisconsin, Kenosha is only a stones through away from Chicago, Illinois. We fly from London Heathrow to Chicago daily from £448. Book Now!
SUNDAY RIVER, MAINE: DAY 18
Words: Jonathan Thompson
Pictures: Mark Chilvers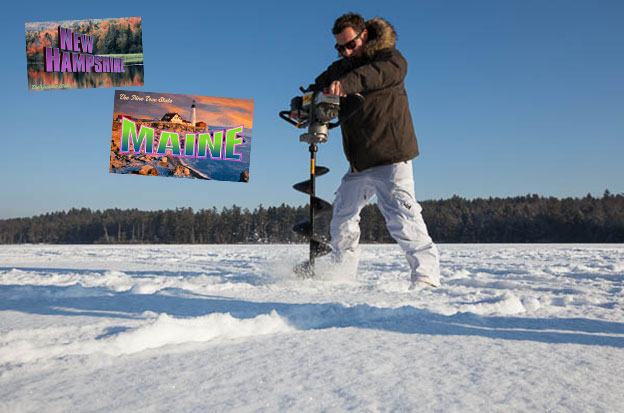 Chester Greenwood was still at High School when he had his big idea.
Skating across the vast, frozen lakes of his native Maine in 1873, he realised that the tips of his ears were always the coldest part of his body.
The 15-year-old's subsequent invention - the humble ear muff - was a painfully simple concept. But, once patented, it was an idea that has meant work (and nice warm ears) for countless 'Mainiacs' ever since.
To be frank, I could do with a pair of Chester's finest right now.
This morning, we're learning to ice fish on Maine's frozen Songo Pond, near the town of Bethel. Using meaty, two-handed Ice Augers, we drill loud holes into the thick, silent ice. And then try our best not to fall into them.
Local fisherman Bob Folsom shows us how to set traps in each hole for the 'monster' salmon lurking unseen, 10ft beneath our snow boots.
As Bob kicks back to reap the rewards, we're forced to leave before his hole game plan bears fruit. We have another appointment - at nearby Sunday River, one of the East Coast's best ski resorts.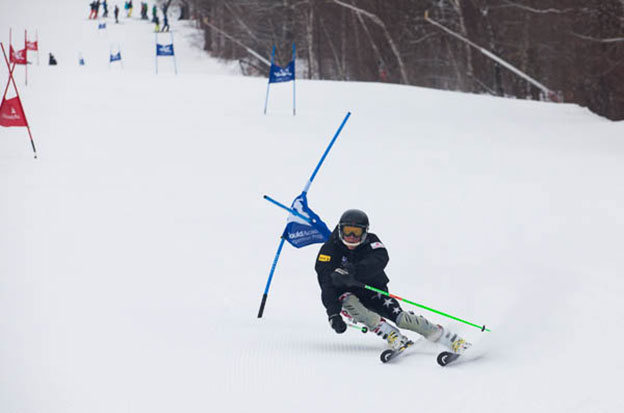 The final slalom gates are being wedged into the snow as we arrive for our speed racing lesson with Sunday River's renowned Gould Academy. The establishment regularly produces world class skiers. And this morning they're putting us through our paces.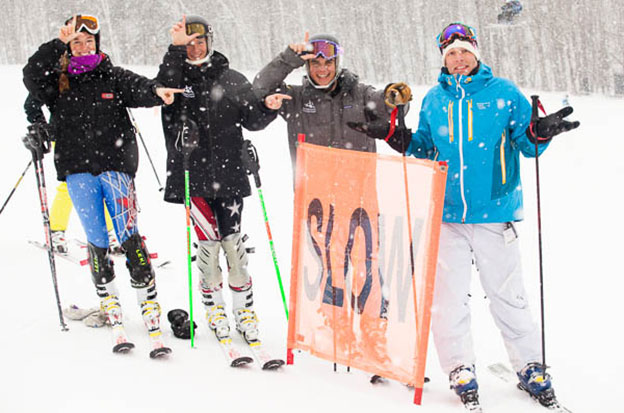 The coaches have brought along some of their best current crop of students to show us the ropes. Sadly, 17-year-old Ella Dorval Hall also shows me the poles - including one which hits me full in the face, Benny Hill-style, as I try to match her.
By the finish line, Ella has more than wiped the floor with me: she's had my carpet taken up and new floorboards put down.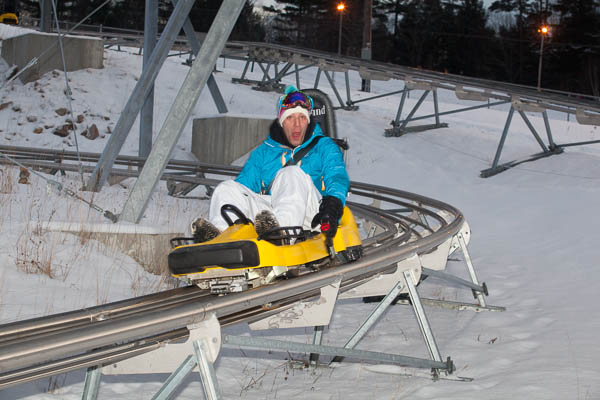 Aside from ear muffs and skiing prodigies, Maine's other claim to fame is lobster.

More than 90% of America's entire catch comes from Maine, and when we finally set off for New Hampshire, we're loaded down with rich, juicy lobster rolls for lunch.

We don't even bother removing our salopettes , because our first stop across the border is another ski resort: Cranmore, in the town of North Conway, NH.

Here, we tackle the exhilarating 'Mountain Coaster': a bizarre cross between a sledge, a dodgem and a luge. And we whoop like manic children all the way down.

As we head back to the Snowvillage Inn - a chocolate box New Hampshire restaurant and hotel - we reflect on a day well spent. But, rubbing my borderline frost-bitten ears back to life by the open fire, I also make a mental note to 'do a Chester' next time I hit the mountains of the East Coast in January.
App Of The Day
As the team moves around the US at breakneck speed, they're relying on a number of mobile apps to keep them in control and on schedule. Each day, one of them will recommend an app that's proved particularly useful or interesting, for travellers to download themselves from itunes.
The App: NAVIONICS
Mark says: "If you're a keen angler, this ingenious aid will help you extend your season well into the frozen months of winter. Regular cartographic updates allow you to pick your perfect frozen lake - and fishing hole - to maximise your catch and minimise your chances of an early ice bath. It might not help you drill through a foot of solid ice, but it'll show you exactly where to unload your tackle box..."
Create your own adventure in New Hampshire and Maine: Stay at the Residence Inn by Marriot in North Conway, New Hampshire. Rooms cost from $189/approx. £120 per night. The nearby Attitash Mountain Resort has 67 trails across two mountains. The team had a go on the N'Oreaster Mountain Coaster which costs $12/approx. £8 per adult. They then headed to Cranmore Mountain where they sampled their coaster too (also $12). The Snowvillage Inn is a cosy hotel with a fabulous restaurant. Mains cost around $30/approx. £20 and include rustic options such as duck breast, venison and wild boar sausage and rack of lamb. There is plenty to do at the Sunday River in Maine. The resort links eight mountains providing nearly 750 acres of terrain. A day liftpass costs $85/approx. £54 and group lessons cost $35/approx. £22. Go to Visit Maine and Visit New Hampshire and Discover New England for more information.
Visiting New Hampshire & Maine couldn't be easier. We fly direct to Boston, Massachusetts from London Heathrow from £428. Book Now.
WATERBURY, VERMONT: DAY 17
Words: Jonathan Thompson
Pictures: Mark Chilvers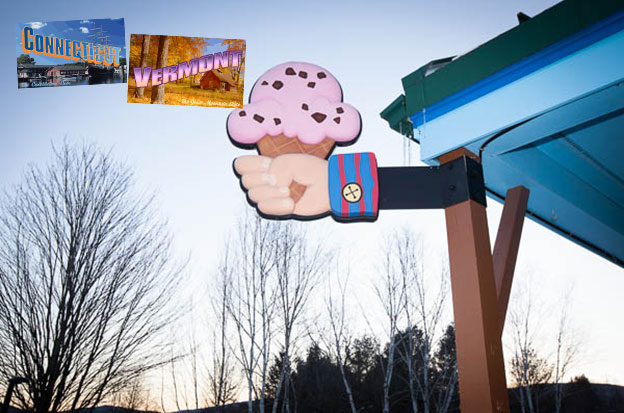 "Look around you," says Blair, gesturing at the bustling factory floor beneath us. "This is the Americone dream."
This afternoon, we're at Ben and Jerry's headquarters in Vermont - where the puns aren't restricted to the outlandish ice cream titles. And over the next two hours, we've been promised the inside scoop.
We arrived in Vermont after a morning in the pretty Connecticut town of New Haven: cradle of prestigious Yale University, but also a renowned New England food destination in its own right.
Today we've got more simple fare in mind. After walking past plenty of ostentatious eateries, we make a beeline for a tiny establishment with a big reputation: 'Louis' Lunch.'
This quaint little luncheonette is responsible for an innovation that changed the face (and waistline) of modern America.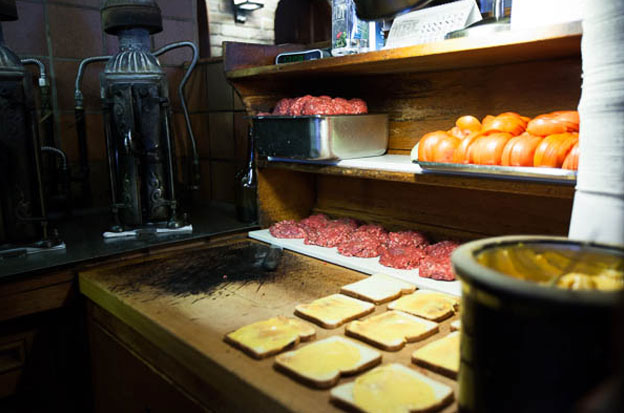 One day in 1900, so the story goes, a flustered businessman rushed in, needing something he could eat on the run. The owner, Louis Lassen, hurriedly sandwiched a broiled beef patty between two pieces of toasted bread and sent him on his way - clutching America's very first hamburger.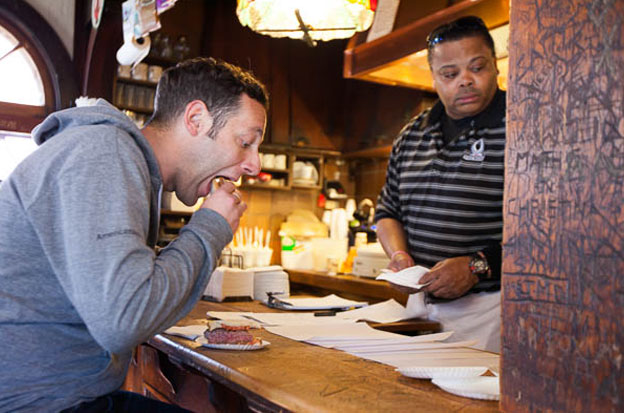 They're still making burgers exactly the same way here. Freshly ground beef is broiled in a vertical grill, then served between two slices of toast. The garnish is equally simple: the only accompaniments allowed are chopped tomato, sliced cheese or green onion.

After all, if it ain't broke, why 'fix' it with gherkins, mayonnaise and ketchup?

By the time we reach Vermont four hours later, we're more than ready for dessert. And Ben and Jerry's funky, chunky ice cream is just the ticket.

After showing us the colourful factory, our guide Blair Austin-Bradley introduces us to a woman who, we all agree, might as well be Willy Wonka's younger, dairy loving sister.

Haylee Nelson is a screamer. But unlike the other professional ice cream makers here, she's also a 'Flavor Guru'. Which makes her particularly special: she gets to invent and road test hundreds of new flavours.

This afternoon, we're rolling up our sleeves to join her.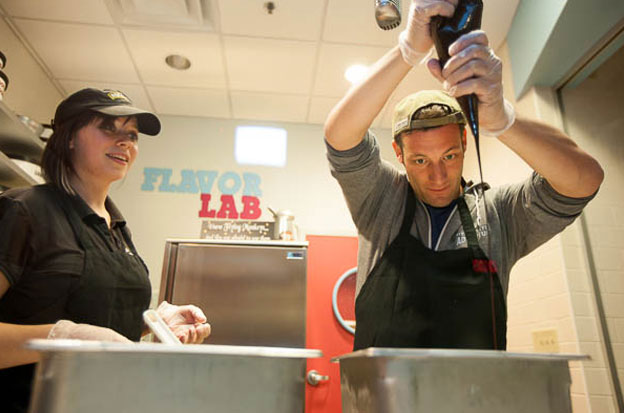 Inside the 'Flavor Lab' (which, endearingly, contains pots labelled 'wicked sticky elixir' and 'super gloop') Haylee helps us create our own unique flavour. It's certainly sticky, and definitely gloopy. It's also extremely heavy in white chocolate and caramel. (Due to equal parts gluttony and bad maths).
We think we're being clever when we name our concoction 'Cool Britannia'.
"We already have one of those on file," says Haylee, with an eye roll worthy of Gene Wilder himself. "This will have to be Cool Britannia 2."
On Waterbury's main street, we discover, pints of Ben and Jerry's ice cream are used as unofficial currency - exchangeable for everything from beer and pizza to haircuts and massages. To paraphrase Blair, this town really could be the coolest place on Earth.
App Of The Day
As the team moves around the US at breakneck speed, they're relying on a number of mobile apps to keep them in control and on schedule. Each day, one of them will recommend an app that's proved particularly useful or interesting, for travellers to download themselves from itunes.
The App:iTunes U
Mark says: "Yale was an inspirational place to visit, but if you haven't got a spare four years - or five figure sum - to go there yourself, iTunes has the answer. Their 'U'app grants you access to the worlds biggest digital archive of free education from elite universities. You can sign up for free courses and check off assignments as you complete them, as well as taking notes from all manner of audio and visual presentations. The best bit? You don't even have to get out of bed for the lectures."
Create your own adventure in Connecticut and Vermont: Picture-perfect states – Connecticut and Vermont are perfect to explore by car. Ideas and routes can be found at Discover New England. Stock up on brain food to enjoy a tour of Ivy League University Yale, and sample a slice of history at Louis' Lunch – the USA's first ever burger joint. An Original Burger costs just over $5/approx. £3.50. World-renowned ice cream makers, Ben And Jerry's began their empire in picturesque Vermont. Take a tour around the quirky complex (tours cost $4/approx. £2.50) and persuade the Cream-Team to let you create your own unique flavour. Stay at the sumptuous and cosy Woodstock Inn and Resort, an idyllic country hotel in 'the prettiest small town in America'. Hugely popular for weddings, it costs from $220/approx. £140 per night. For more information go to Still Revolutionary Connecticut and Vermont Vacations – the official tourism websites for the states.
Would you like to visit these two great states? We fly direct to Boston, Massachusetts, which is a short journey away and gives you plenty of time to explore the open roads of these amazing states. Book Now.
BOSTON, MASSACHUSETTS: DAY 16
Words: Jonathan Thompson
Pictures: Mark Chilvers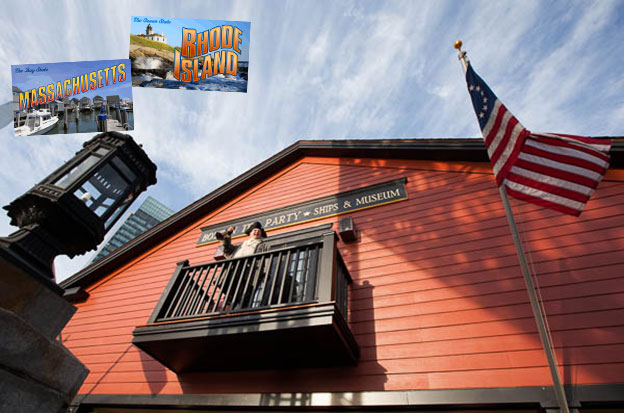 "Let's make a cup of tea for the fishes!" bellows the man dressed as Samuel Adams. "Huzzah!"
"HUZZAH!" we chorus, heaving the crates over the ship's side. They land in the water with a pleasing series of 'plops'.
This afternoon I'm a "hard-working leather dresser" called Adam Collson. And - Tricorne on head - I'm playing a role in one of US history's key moments: the Boston Tea Party.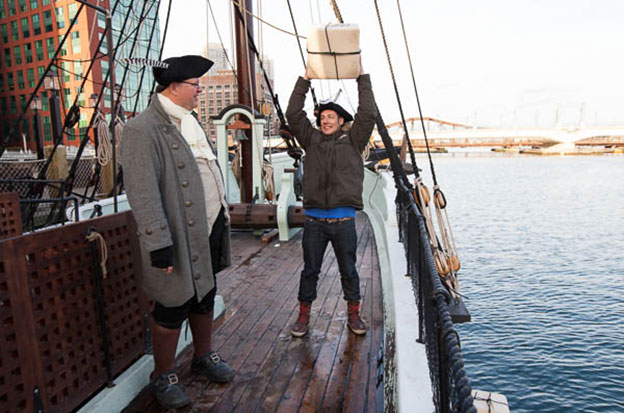 Here, at the 'Boston Tea Party Ships and Museum', the events of December 16th 1773 are recreated on a daily basis, with a company of actors - both flesh and blood and hologramatic - telling the story of Boston's iconic stand against British taxes.
Visitors (even English ones) play small parts too, prompted to deliver their lines by the actors. I try to summon suitable revolutionary panache when it's my turn: "Boston Harbour - a tea pot tonight!"
Seeking something a little more substantial than tea after our revolutionary performance, we treat ourselves to dinner at Boston's latest hip eaterie: 'Barcelona'.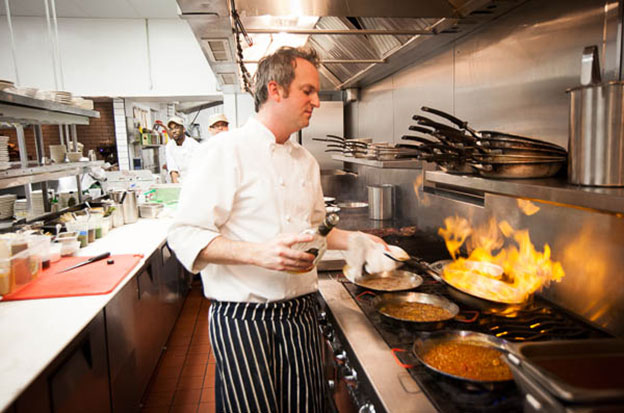 Newly opened this month, the restaurant - in the city's funky Brookline district - is absolutely rammed. And once we taste the food we can see why.
We've been in America for more than a fortnight now, but this is the first place where we've felt compelled to request the renowned "doggy bag" for our leftovers. Worryingly, we're all starting to slip into American English now. And trust me, it's a slippery slope from the 'rest room' to the permanent loss of the letter 'u', buddy.
Leaving New England's unofficial capital, we drive from the Boston city limits across the border into its petite neighbour, Rhode Island.
In a classic case of Napoleon Complex, Rhode Island - America's smallest state - has the longest official name: 'The State of Rhode Island and Providence Plantations.' More importantly, it is also home to the country's oldest diner. As a contrast to our dinner at New England's newest, shiniest restaurant, we stop here for dessert.
The 'Haven Brothers Diner', in the state capital of Providence, was founded in 1888 as a horse drawn lunch cart. And it's still serving hearty food today, before being wheeled away every night.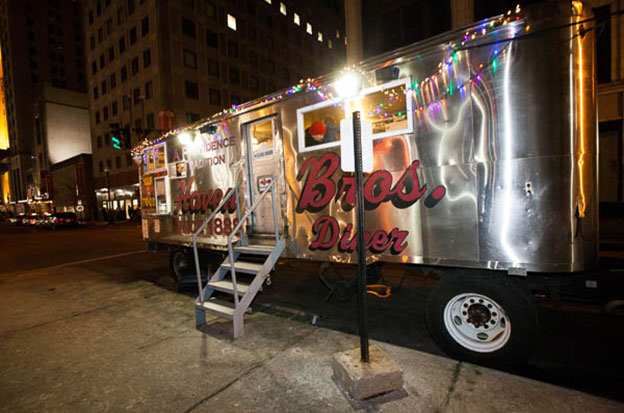 It might not have the pizazz of Boston's Barcelona, but it's a lovely way to finish a day of the old and new in New England.
App Of The Day
As the team moves around the US at breakneck speed, they're relying on a number of mobile apps to keep them in control and on schedule. Each day, one of them will recommend an app that's proved particularly useful or interesting, for travellers to download themselves from itunes.
The App:TEA APP
Mark says: "Whether you like it green, black, red or Rooibos, this app will help you create your perfect cup of tea. Rather than throwing it into Boston Harbour, record your preferences in terms of brew time, blend and water temperature, to make the perfect cuppa each time. There's a 'ding ding' alert to let you know when your ideal brew is ready - far more precise than three dunks and a squeeze."
Create an adventure in Massachusetts and Rhode Island: stay at the Fairmont Copley Plaza, a grand hotel close to Boston's main attractions and within walking distance of great shopping. The Oak Long Bar and Kitchen within the hotel is a hive of activity any night of the week and attracts a smart crowd of young professionals. A room costs from $239/approx £152 per night. The Boston Tea Party Ships and Museum is a fun, interactive installation on the harbour front. Get there early to ensure you get a speaking part in the role-play sequence! Entry costs $22.50/approx. £14 if you buy tickets online. Barcelona is the city's newest restaurant featuring a mouth-watering Spanish-inspired menu. Book ahead as it is very popular. Tapas plates cost around $8/approx. £6. When visiting Boston ensure you get a CityPASS which gains access to most of the attractions including the Museum of Fine Arts and the JFK Museum. Rhode Island makes a charming short break. Stay at the exquisite Vanderbilt Grace Hotel in Newport. Like a home-from-home (if you are lucky enough to reside in a mansion) the staff welcome you like family. Rooms cost from $275/approx. £175 per night. Newport has plenty to keep you entertained with smart boutiques, the excellent Tennis Hall of Fame (the original location for the US Open) and the Newport Mansions tour. In Providence, Team USA visited the oldest diner in the country. The Haven's Brothers Diner serves traditional diner fare for a few dollars and can be found at 72 Spruce St Providence, RI 02903 (+1 401 861-7777). The nearby Providence Marriot Downtown has been newly renovated and offers a great range of treatments at their G Salon and spa. Rooms cost from $149/approx. £95 per night. For more information about the region go to Discover New England – a comprehensive website with ideas for the entire area. For individual locations got to Go Newport, Visit Rhode Island and Visit Massachusetts.
Fly direct up to 4 times daily from London Heathrow to Boston, Massachusetts from £428. Book Now at AA.com.
GREENVILLE, SOUTH CAROLINA: DAY 15
Words: Jonathan Thompson
Pictures: Mark Chilvers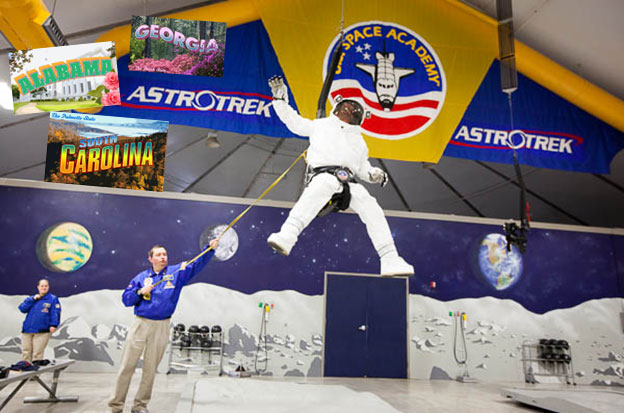 Huntsville, we have a problem.
My breakfast is attempting re-entry.
Moonraker is widely accepted to be the worst Bond film ever made. But it also contains some of the best action sequences - particularly when Roger Moore struggles to stay alive at an astronaut training facility.
I now know exactly how he felt.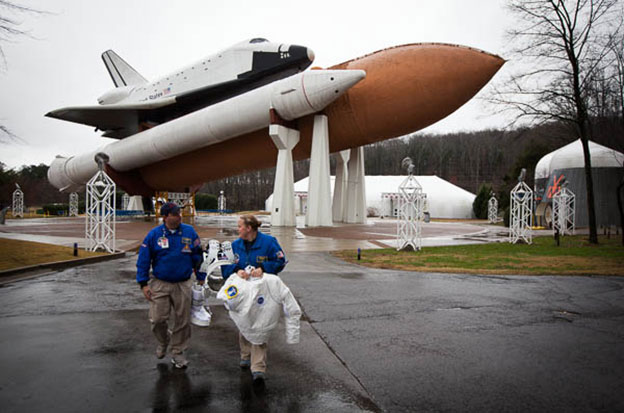 We're in Huntsville, Alabama - attending 'Space Academy' at the excellent US Space and Rocket Center. And I'm being tossed, rag doll-like, in every conceivable direction by something called an 'MAT' (Multi Access Trainer).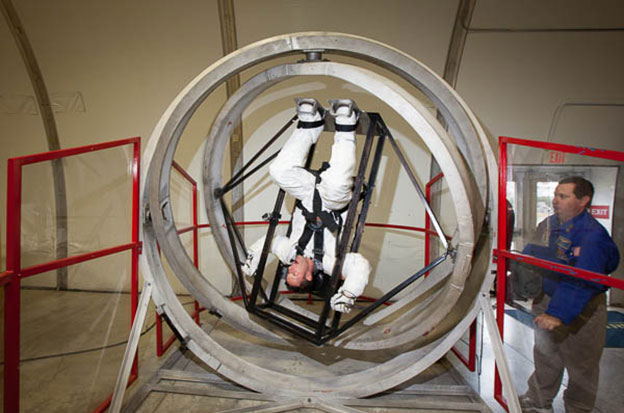 NASA Astronauts use this process - exactly as I'd imagine skydiving inside an enormous tumble dryer would feel - to prepare for life on the International Space Station. After the briefest of spins, I have the utmost respect for them.

The next piece of astronaut apparatus is the most fun of all: the 1/6th gravity simulator.

In full space suit, I'm attached to a super-strong piece of elastic, then ejected skywards from a special seat. Under direction from Space Academy's cosmic consigliere Tim Hall, I'm encouraged to bounce ridiculously high around a replica moon surface, trying to control lunar weightlessness.

Space Academy, with its simulators, displays and hands on experiences, is an absolute winner: a dream trip for both children and kidults alike. As fully paid up members of the latter demographic, we pretty much have to be dragged away from its gravitational pull, and back to the Interstate.

Ironically, our next tangle with gravity comes in our very next state: Georgia. Here, on the outskirts of Atlanta, we tackle 'Stone Summit': the biggest indoor climbing wall in the United States of America.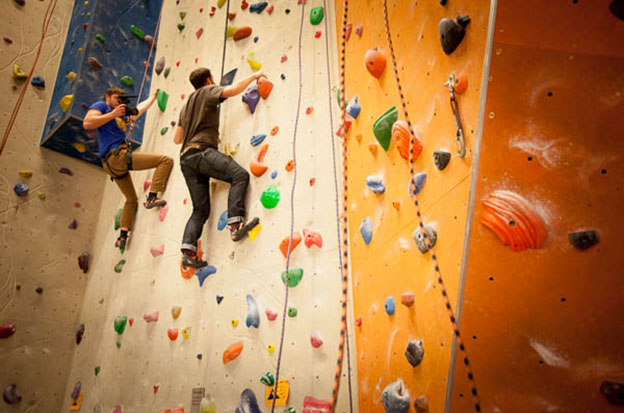 Let's just say we'd make better astronauts than mountaineers. Getting to the top of the monster edifice would have been far easier with the 1/6 gravity simulator - but we have a lot of fun trying.
Finally, we reach our destination for the night: the vibrant, pretty town of Greenville, South Carolina. None of us had ever heard of it before, but it's a lovely surprise - radiating southern charm.
The welcome at local restaurant Soby's is as warm as their barbecue sauce. But the real 'specials' on the menu are the Moonshine cocktails.
South Carolina was infamous for manufacturing and shipping the strong, illegal liquor during Prohibition in the 1920s. Now, moonshine is not only perfectly legal but also very much in vogue. And Greenville is home to the state's first legal distillery.
Moonshine cocktails are the perfect way to celebrate the halfway point of our trip. We're 15 days and exactly 25 states into our stellar mission. I just hope - to paraphrase Roger Moore's 007 - that we can continue to keep the British end up.
App Of The Day
As the team moves around the US at breakneck speed, they're relying on a number of mobile apps to keep them in control and on schedule. Each day, one of them will recommend an app that's proved particularly useful or interesting, for travellers to download themselves from itunes.
The App:NASA
Mark says: "This app may not help you to experience zero gravity, but it does allow an insight into the latest work of NASA - from the latest images received from the Hubble Space Telescope to live tracking of space missions such as the Mars Rovers. There are also video feeds from NASA TV and up to the minute updates on technological advances and the status of ongoing space missions. An escape from reality that is truly out of this world!"
Create your own adventure in Alabama, Georgia and South Carolina: Stay at the Hyatt Regency in Greenville, South Carolina. Modern and stylish, the property is well-positioned on Main Street in the charming city. It is within walking distance of 60 shops and restaurants and is close to the BMW Zentrum Centre, the Bi-Lo Sports and Entertainment complex and the Art Museum. Rooms are from $135/approx. £86 per night. For a taste of old Southern favourites blended into contemporary cuisine , try Soby's Restaurant. Enjoy roasted Carolina quail followed by potato-crusted grouper, washed down with a magical Moonshine cocktail. Main courses around $23/approx. £15. If you are game for the challenge of scaling the highest climbing wall in the USA, head to Stone Summit, just outside Atlanta, Georgia. A full day costs $18/approx. £11 including kit hire.For those that fancy adrenaline-highs with more speed/less effort, the US Space and Rocket Centre is sure to thrill. Rides on the Space Shot, the G-force Accelerator and the Apollo Simulator are all included in the cost of admission. A nano taste of NASA costs $25/approx. £16 (kids and concessions a little less). For more inspiration for South Carolina check out the official tourism website and for some tips and ideas for the rest of the region go to Discover USA.
Would you like to visit the Space Academy and experience a day in the life of a real life astronaut? Fly to Huntsville, Alabama. Book Now at AA.com.
MEMPHIS, TENNESSEE: DAY 14
Words: Jonathan Thompson
Pictures: Mark Chilvers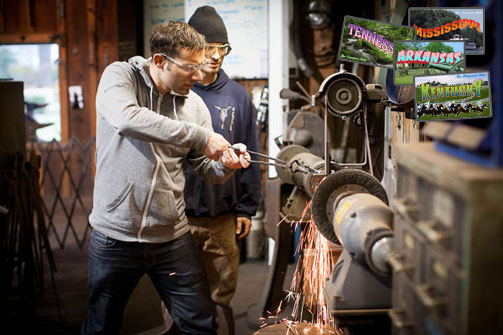 "OK, you're hot, let's go."
Odd words to hear at 9am, from a bearded man in Tennessee, but it's the signal I've been waiting for. I pull my steel rod out of the furnace and place it down on the anvil. Now it's hammer time.
This morning, we're on the outskirts of a drenched Memphis, attending blacksmithing school. And with rain strafing the windows like a machine gun, standing by a 1000C fire seems pretty much the perfect place to be.
Memphis is justifiably famous for its music, with iconic names like Elvis Presley, Jerry Lee Lewis and Johnny Cash having grown here. But on this trip we've tried to avoid the better known tourist options. And while the world knows this southern city for its rock and roll, we've opted for heavy metal instead.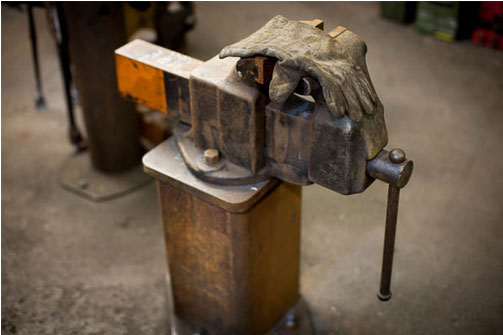 Memphis, which sits at the widest point of the mighty Mississippi River, is also home to America's National Ornamental Metal Museum. Here, people from across the US pay to join the professional blacksmiths for a day or longer, creating everything from unique jewellery to bespoke furniture. After taking one look at us, however, our instructor Abe decides exactly what we're making today:
A bottle opener.
The process takes about 30 minutes, from heating the steel rod correctly to hammering it into a flat 'whale tail', cutting and shaping it. Finally, I smack a 'biscuit' out of the base, to make a keyring hole. It's a silly little thing but I'm bizarrely proud of it. The weather has worsened by the time we drive across the border into Mississippi, so we stop for 'Pork with an attitude' at Snowden Grove Pig in the little town of South Haven. Frustratingly, there's no Mississippi Mud Pie for dessert...
Here we're mistaken for Australians no less than three times in one hour. Perhaps Neighbours is big in this corner of the US. Or the first waiter told his friends about our outraged reaction.
After lunch, we head for Arkansas. A state probably best known for producing former President Bill Clinton, we would have liked to have explored Hope, but as we embark on the route we drive head first into a Hollywood-esque ice storm.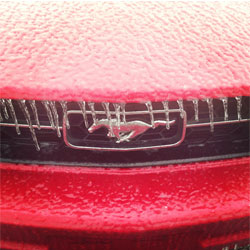 Instead, Blythville is an easy stop and we warm up at its famous old bookstore. Kicking back in rocking chairs next to the hot stove, with fresh coffee brewing as relentlessly as the storm outside, we wish we could stay all afternoon.
We can't though. Our fourth state of the day - Kentucky - is calling.
When we reach our final destination, Murray, our Mustang looks as if it's been frozen into an enormous novelty ice cube.

We leave it to thaw while heading into Murray State University's renowned Equine Centre. Kentucky is America's horse riding capital, and home to the celebrated Kentucky Derby - the US equivalent of the Grand National. Tonight we're learning to ride ourselves, from some of the best in the business.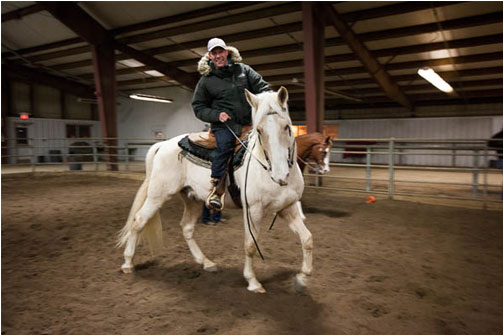 In an enormous, cathedral-like arena, we're soon cantering over the sand like wannabe cattle rustlers. The Derby might be a way off, but at least we know we'll be OK in Kentucky if the Mustang is frozen for good....
App Of The Day
As the team moves around the US at breakneck speed, they're relying on a number of mobile apps to keep them in control and on schedule. Each day, one of them will recommend an app that's proved particularly useful or interesting, for travellers to download themselves from itunes.
The App:SWACKETT X
Mark says: "We've seen every weather condition imaginable on this trip, from the unforgiving sun of Hawaii to ferocious ice storms in Arkansas and -30C in Montana. Having a good weather app on our iPhones has been really useful, but with its cool graphics, Swackett X is also fun. It even has characters called 'Swackett peeps' who demonstrate exactly how to dress appropriately for the current conditions."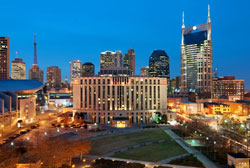 Stay in the state capital of Tennessee at the Hilton Nashville Downtown Hotel. Adjacent to the Country Music Hall of Fame, the Schermerhorn Symphony Center and the downtown entertainment district, it's a great base for exploring the City. Rooms cost from $209/approx. £132 per night. Get crafty at the National Ornamental Metal Museum in Memphis, Tennessee. They offer a range of welding and blacksmith courses which typically last two days. Courses cost from $315/approx. £200 pp. Enjoyed pulled pork, barbeque beans and Peanut Butter Pie at The Snowden Grove Pig in South Haven, Mississippi. A meal costs around $6/approx. £4. A popular stop for visitors travelling on route 55, That Bookstore in Blytheville has bestselling author signing-sessions regularly that are open to the public. The biggest town in the state has a charming Main Street including a restored opera house and independent shops. Murray State University Equine Center hosted Team USA's horse riding lesson. Horse riding is popular all across Kentucky, Cowboy Up Kentucky offers lessons and trail rides from $40/approx. £25 pp per hour. The Kentucky State Tourism website provides some great ideas for family holidays.
Would you like to visit these great states? We fly to Kentucky, Louisville, up to 5 times daily from London Heathrow from £499. Book Now!
WEST YELLOWSTONE, MONTANA: DAY 13
Words: Jonathan Thompson
Pictures: Mark Chilvers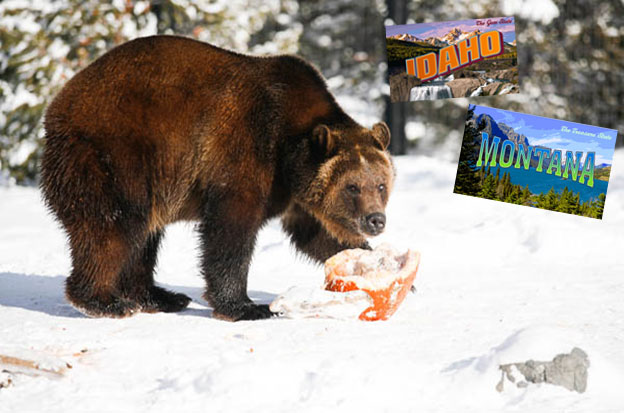 Sam is a bear with a sore head.
"When the bell rings, he knows it's time for food," says Trent, our ursine guide. "Unlike the others, Sam just can't wait. He's always racing for the gate before it's properly opened. And sometimes he gets a little stuck."
We watch as two chubby legs wiggle the rest of Sam's hulking frame through the entrance. From a few feet away, he looks almost cuddly. All 430kg of him.
That's a common misconception, says Trent, who leads tours here at the Grizzly and Wolf Discovery Centre in southern Montana.
"Most people tend to have one of two extreme views on bears," he says. "Some think they're mankillers who, once they've tasted our blood, only want to eat human flesh. Others think they're cute, cuddly teddy bears. The truth, of course, is somewhere in between."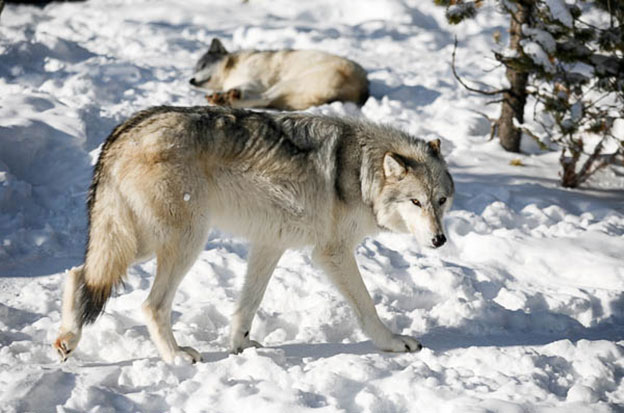 Nearby, in another vast enclosure, grey wolves circle a bison carcass.

The pack hierarchy is fascinating. Trent describes how a male and female 'alpha pair' rule, while other wolves descend in seniority, from beta to gamma and so on. What's particularly interesting is that power has nothing to do with size: it's all about temperament and parentage.

"When an alpha pair have pups, they're automatically positioned up the rankings too, above the beta and gamma males, "says Trent. "They're a bit like your royal family in England."

After leaving the Discovery Centre (fittingly, Trent gives us all bear hugs), we stroll into the town of West Yellowstone - gateway to Yellowstone National Park.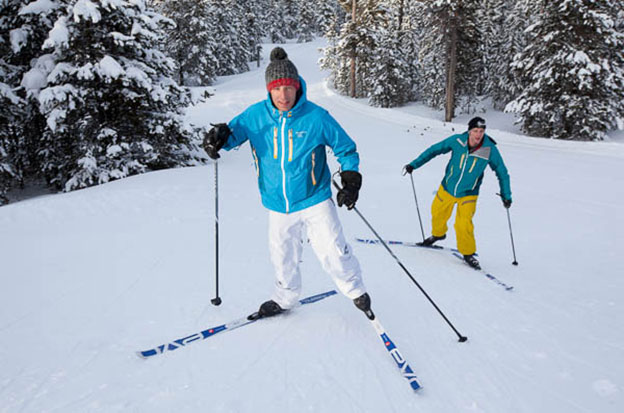 This afternoon, we're having a Nordic ski lesson courtesy of local company Freeheel and Wheel. It's wonderfully peaceful to slide along the silent, snow-covered forest trails, learning how to improve our form - and speed.
Eventually, we get to what looks like a fairly major hill, and practice telemarking up and down it, which we finally all manage without falling flat on our faces. We're ridiculously pleased with ourselves. That is, until we spot its name...
...'Kids' Hill'.
"This is normally for small children to train on - from about five years old and upwards," laughs our guide, Kelly Sanders. "It's so easy and safe that parents just drop their kids off and leave them to it for a couple of hours."
Our bubble bursts as if Sam the Grizzly had just sat down on it. Time to get on the road we think…
That road takes us to another state: Idaho. We make a beeline for the border town of Victor, where we're all looking forward to a serious drink.
As a state, Idaho has a borderline obsession with huckleberries. Somewhere between a blueberry and lingonberry, they grow wild in the mountains here - and end up in everything from syrup and jam to biscuits and chocolate bars.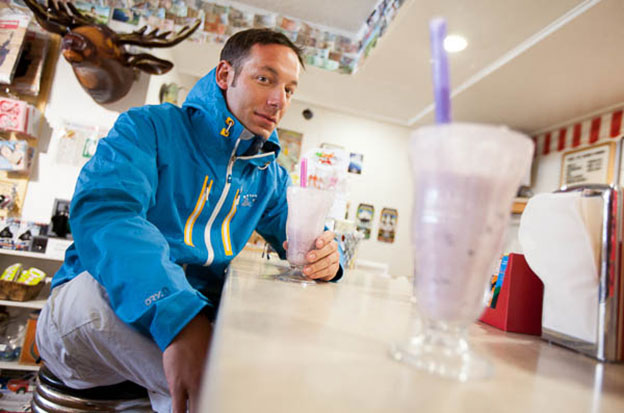 At a famous little shop called the Victor Emporium, they've been blending huckleberries into renowned milkshakes since 1950. And the original machine - which is older than both of my parents - is still churning them out regularly.
The exact recipe is a closely guarded secret, but the shakes are absolutely delicious. Re-energised, we head for our next flight. Today we've struggled to conquer the underwhelming 'Kids Hill' on Nordic skis and sucked brightly coloured milkshakes through stripy straws. We might not be 'alpha', but our little wolf pack is still tight - and looking forward to some (hopefully) less arctic conditions in our next stop: Tennessee.
App Of The Day
As the team moves around the US at breakneck speed, they're relying on a number of mobile apps to keep them in control and on schedule. Each day, one of them will recommend an app that's proved particularly useful or interesting, for travellers to download themselves from itunes.
The App:SAS SURVIVAL GUIDE
Mark says: "If you go down to the woods today make sure you have this survival app. Designed by former SAS soldier and instructor, John "Lofty" Wiseman, it contains everything you need to get back to civilisation - from a compass to Morse code signalling. Whatever your predicament, there's a search tool to scan by keywords, like 'bear'." (Best to do this before it charges.)
Create your own adventure in Montana and Idaho: For a guaranteed rendezvous with a great big bear visit The Grizzly and Wolf Discovery Centre in Yellowstone, open all year round. It is a charitable organization and is funded entirely by admission fees and donations, entry costs $10.50/approx. £7 per person. Enjoy an introduction to Nordic skiing on the Rendezvous Ski Trails with the friendly folk at Freeheel and Wheel They host one-day clinics during the winter that cost $100/approx. £65 pp including a waxing masterclass, ski pass and two lessons. They provide equipment hire from $20/approx. £12 pp. For more information about the region visit Destination Yellowstone and the official Montana tourist board website.

Team USA's brief stop in Idaho took them to the legendary Victor Emporium - the home of the Huckleberry Shake! There is plenty more to explore in the scenic state, Visit Idaho provides some great ideas. If you fancy a complete Rocky Mountain roadtrip like ours, visit the Real America website for more inspiration.
Visit, Idaho! Taste the renowned milkshakes from the Victor Emporium where they've been blending huckleberries into these shakes since 1950. Book Now at AA.com.
JACKSON HOLE, WYOMING: DAY 12
Words: Jonathan Thompson
Pictures: Mark Chilvers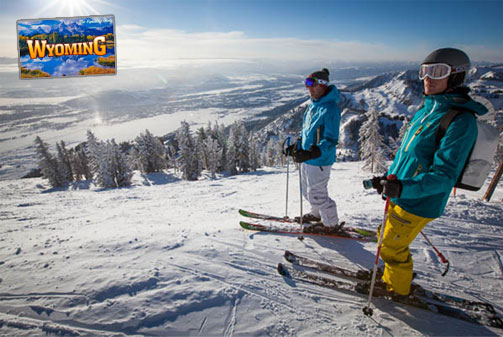 "This is how mountains are supposed to look," said US President Theodore Roosevelt when he gazed out on this vista more than a century ago. I can see his point. The panorama here is breathtaking to the point of near-asphyxiation.
Or maybe that's not just the scenery.
"Sometimes it gets so cold up here that it's hard to breathe," says Mike Swanson, our guide to Wyoming's world famous ski resort, Jackson Hole. He's not joking. Today it's -34C.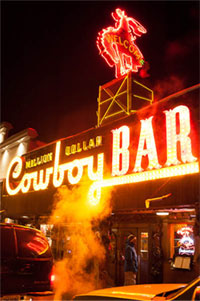 But this kind of weather also has a positive flipside: lots and lots of the white stuff. Jackson Hole is a mecca for the world's powder hounds, with many claiming its "steep and deep" snow drowned slopes offer the best skiing on the planet.
The "Hole" itself is not a town, but a secluded mountain valley, some 45 miles long and 10 miles wide, bordered by the Gros Ventre mountain range to the east and the Tetons to the west.
And the "hole" truth is that it's stuffed with delicious, deep powder all season long, and criss-crossed with untracked, unpopulated slopes. This isn't just how mountains should look - it's how ski resorts should look too.
After a day of swooping down the wide, luxurious 'trails', between towering lodgepole pines, we've earned ourselves a little apres-ski action. Leaving the mountain resort, we head down into the valley, and to the town of Jackson itself. Specifically, to its famous Million Dollar Cowboy Bar.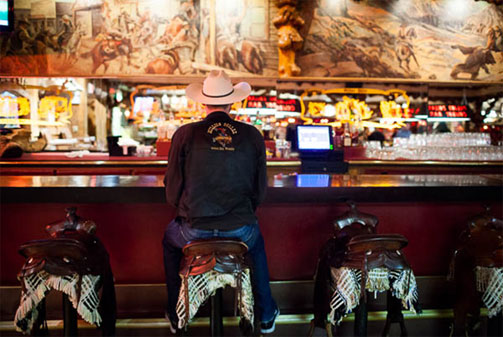 The bar is packed with cowboy memorabilia, with Billy the Kid's silver revolver in pride of place. The establishment is also nearly as deep in celebrity patrons as the Hole is in powder. In recent months, Justin Timberlake, Ryan Reynolds and Quentin Tarantino have all perched on the studded leather saddles that double as bar stools here.
Jackson Hole is one of the few major ski resorts in the world to have its own public airport, meaning that transfer time is next to nothing. But before we fly away from the 'cowboy powder' for good, we have a mini-road trip to complete: across the border into nearby Idaho, and then onto Montana. As we accelerate under the famous wide horizons and big skies of this part of America, Teddy Roosevelt's words come back to me. This is how road trips should look too.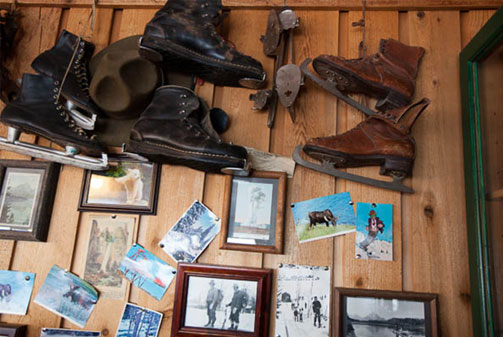 App Of The Day
As the team moves around the US at breakneck speed, they're relying on a number of mobile apps to keep them in control and on schedule. Each day, one of them will recommend an app that's proved particularly useful or interesting, for travellers to download themselves from itunes.
The App:REALSKI 2.1
Mark says: "Jackson Hole is a great ski resort but if, like us, you only have a short time to ski the spectacular Teton mountain range then an app like Realski could really help. The first ski app to use 'augmented reality', you can see exactly where you are at any time - and which runs or ski lifts to aim for. Geotag where you dropped your ski pole (or in my case bobble hat) and point your iPhone to overlay the names of chair lifts or other points of interest on your live camera view. Whichever resort you're skiing this winter, if you want to locate the nearest facilities or simply know the names of the surrounding mountains, then Realski is for you."
Create your own adventure in Wyoming: Considered one of the world's best ski resorts, day lift-passes for Jackson Hole cost from $68/approx. £43 per person (a little less for kids and seniors). You can hire decent snowboarding or skiing kit at JH Sports from $39.50/approx. £25 per day. Beginners' group lessons cost from $110/approx. £70 pp. There are a variety of camps for advanced skiers with three-day race training courses starting at $595/approx. £375 pp and four-day backcountry courses from $1195/approx. £753 pp (includes food and lift pass). A favourite destination for the A-list, enjoy warm hospitality with a side order of star spotting and swing dancing at the Million Dollar Cowboy Bar. Team USA stayed at The Snow King Resort Hotel in the historic town of Jackson, about a 20 minute drive from the Jackson Hole Mountain Resort (which is adjacent to Grand Teton National Park). Rooms cost from $99/ £62. For more information about the state of Wyoming visit the official tourist board website.
Fly with us to Jackson Hole, Wyoming from £559. See the powdery slopes in the flesh. Book now!
PORTLAND, OREGON: DAY 11
Words: Jonathan Thompson
Pictures: Mark Chilvers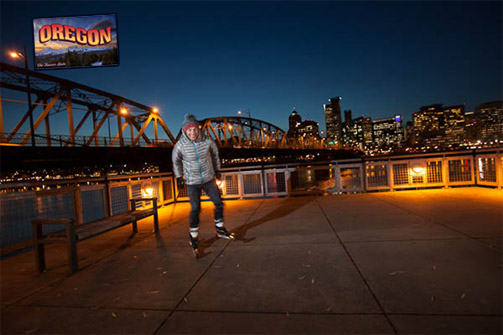 A maple syrup and bacon doughnut shouldn't work. But somehow it does - and it's absolutely scrumptious.
Welcome to Portland, Oregon: a town that doesn't so much embrace strangeness as permanently bear hugs it. Then attaches rope and handcuffs for good measure.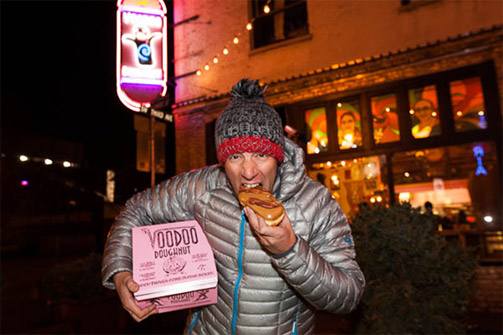 "Keep Portland Weird" shouts a gargantuan piece of graffiti from a nearby wall as we enter the town's infamous Voodoo Doughnut eatery. The doughnuts here have to be seen (and tasted) to be believed, with seemingly insane combinations of ingredients somehow made to sing once they hit your taste buds. "The magic's in the hole" says the slogan.
Either way, it's a spell that has people making pilgrimages to the tiny, 24-hour corner store from all over the Northwest.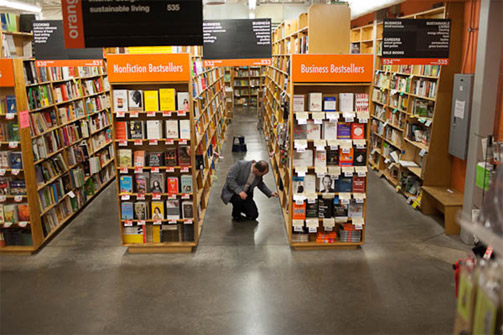 Portland isn't just weird, it's completely unique. It boasts more breweries than any other town on the planet, and is home to the world's biggest independent book store, Powell's. But if you thought those two claims to fame might make for a sedentary population, think again. America's undisputed bicycle capital, Portland is one of the country's fittest cities. Runners, skaters and bikers flow along both banks of the picturesque Columbia River at all hours, many people deep.
After eating our doughnuts, we head down to the river for a piece of the action ourselves. Once again, Northwest adventure travel company EverGreen Escapes are our hosts. But this time - as opposed to our civilised tour of Seattle's wineries - the activity is suitably unhinged enough for Portland: Urban Nordic Skate Skiing.
A cross between rollerblading and telemarking, it's predictably tricksy. Soon, I'm Eskimo kissing the river's Eastbank Esplanade as if there's a magnet in my nose, while various locals - including a policeman on a mountain bike and a limousine full of 16 year old girls - stop to laugh. Finally, sunset saves my blushes and we head for dinner at funky Argentinian-American fusion restaurant, Ox.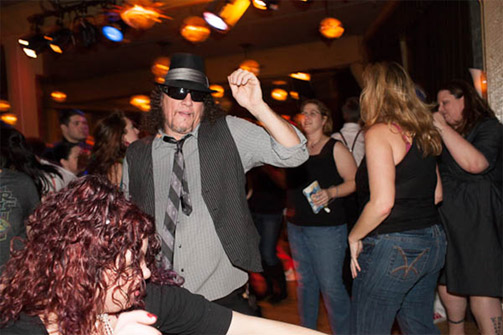 We finish our brief visit to Portland at the town's cavernous Crystal Ballroom, where tonight it's 80s Video Dance Attack. Hundreds of locals dance the night away in front of bulbous cinema screens, while enjoying a seemingly endless selection of local craft beers. It is an outstanding night.
Portland is a town of many faces - and nicknames. But, from Bridgetown to the City of Roses to Beervana, each face is as welcoming and engaging as the next. We all agree that we could live here - and that we will be back at some stage. During our madcap dash across the United States, Weird City has been a runaway success.
App Of The Day
As the team moves around the US at breakneck speed, they're relying on a number of mobile apps to keep them in control and on schedule. Each day, one of them will recommend an app that's proved particularly useful or interesting, for travellers to download themselves from itunes.
The App:BIKE DOCTOR
Mark says: "Whether you're cycling around Portland - the US city that has most enthusiastically embraced two wheeled transport - or commuting to work in your hometown, having a virtual bike mechanic in your pocket could save you money and time. The Bike Doctor takes you through some of the most common repairs as well as teaching you how to troubleshoot future potential problems. Keep those wheels whirring and avoid getting to your destination with too many clunks, hisses or squeaks: the answers are all there in your pocket."
Create your own adventure in Oregon: typically colourful with a myriad of mix-matched patterns, the Hotel Monaco perfectly sets the tone for a weekend in Portland. Near the Pearl District, Powell Books, Pioneer Square and Willamette Waterfront this boutique hotel has rooms from $159/ approx. £100 per night. Evergreen Escapes organizes a variety of tours in Portland and along the Oregon coast including 'Brews and Bridges', 'Wines and Waterfalls' and 'the Mount Hood Adventure'. Tours cost from $75/ approx. £47 per person. Showcasing local meat, fish and produce The Ox Restaurant brings the energy of Argentina to the Pacific North-west, wood-grilled steaks cost around $35/approx. £22. For two of the more unusual Portland experiences, don't miss out on a Voodoo Doughnut, which costs just a few dollars, and burn off the extra lbs at the 80s Video Dance Attack held at The Crystal Ballroom as McMenamins. For more information about Portland and Oregon visit the official tourist board websites. www.travelportland.com and www.traveloregon.com
Fly to Portland, Oregon via Chicago or LA with American from £637 Eat some of the magnificent doughnuts for the infamous Voodoo Doughnut eatery or have a go at Urban Nordic Skate Skiing. Book now!
JUNEAU, ALASKA: DAY 10
Words: Jonathan Thompson
Pictures: Mark Chilvers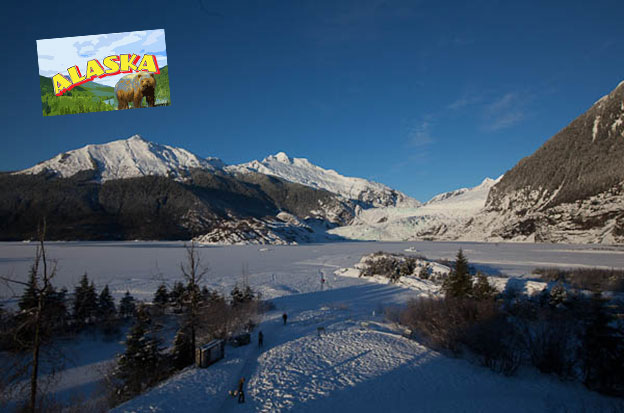 They called it 'Seward's Folly', but it has to go down as one of the best deals in world history.
Russia's sale of Alaska to the US in 1867 cost a cool $7.2 million - a monumental sum that had whiskey choked on and eyebrows raised under top hats the length and breadth of the United States. But almost immediately, gold was struck.
So much gold, in fact, that it would make Smaug the dragon look like trailer park trash.
"There was a pile of gold in that mountain right there," says our Alaskan guide, the wonderfully-named Alex Marvel, as we drive towards the state's Eaglecrest ski resort. "There's still a ton of the stuff up there too. And we've been mining it for over 150 years."
Alaska - not Texas, as many believe - is America's largest state. And it's also rolling in white, powdery gold.
Eaglecrest, on the outskirts of the state capital, Juneau, saw more snow last year than any other ski resort in the world - an incredible 600 inches. And the skiing here is, frankly, phenomenal.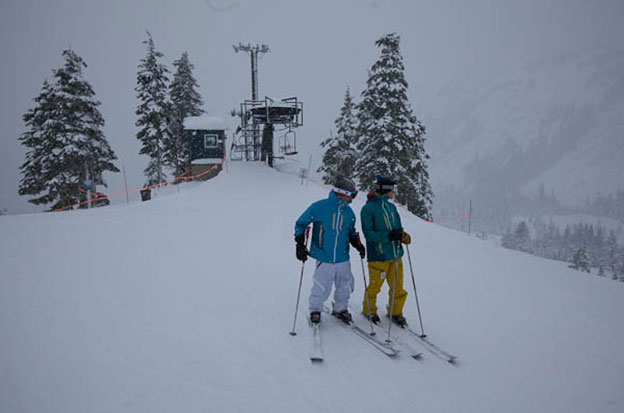 Juneau is the only US capital that is inaccessible by road - a notable oddity in the spiritual home of the automobile. To access the picturesque city, you need to either fly (usually via Seattle, as we did) or take the ferry. But it is well worth the journey.
The town itself still retains much of its Russian heritage - from the stunning St Nicholas Orthodox Church to local restaurants like Pel' Meni, where Alex takes us for delicious curried Russian dumplings after our ski. Totem poles dotted throughout the area also bear testament to the state's indigenous inhabitants, particularly the local Tlingit tribe, or "People of the Tides."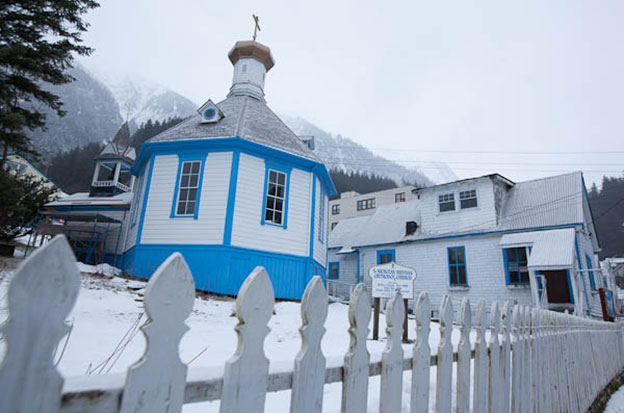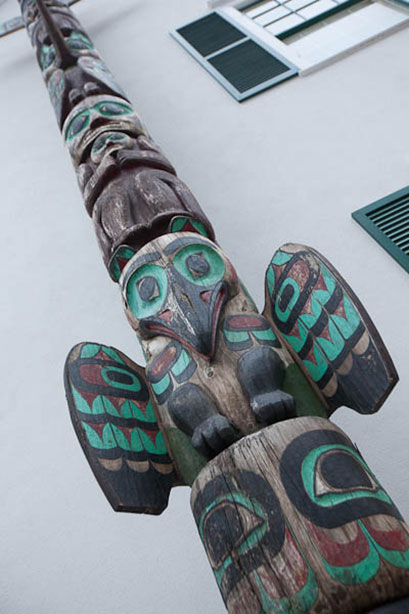 The tides themselves bring another type of gold into Juneau - mountain upon mountain of fresh seafood and delicious wild trout and salmon. "The rainbow trout are so big here, they look like sharks," says Alex, as we enjoy a nightcap at the packed Alaskan Hotel and Bar - a local icon celebrating its centenary this year.
Juneau, ironically, proves to be an incredibly warm town. Like so many other places in this colossal country, we are met with a genuine welcome, and are sad to leave after just one night. The Northern Lights show here between August and March is supposed to be one of the most spectacular on the planet, and the drive-to Mendenhall Glacier needs to be on every traveller's bucket list. Sewards Folly, it seems, is every modern traveller's gain.
App Of The Day
As the team moves around the US at breakneck speed, they're relying on a number of mobile apps to keep them in control and on schedule. Each day, one of them will recommend an app that's proved particularly useful or interesting, for travellers to download themselves from itunes.
The App: CONVERTER PLUS
Mark says: "Americans appear to be as obsessed with the weather as we are - particularly in Alaska. But working out exactly how cold it is when it comes to layering up for a trip to the Glacier or a ski at Eaglecrest was a lot easier with Converter Plus. This app is a unit converter for hundreds of categories including exchange rates for all 167 world currencies, and is automatically refreshed every 6 hours. It also comes with fuel and tip calculators - invaluable for any big road trip across the States. And if you were wondering how cold it really was in Alaska, it was -20 Fahrenheit. Which, in Celsius, converts to ABSOLUTELY FREEZING."
Create your own adventure in Alaska: With views of the Gastineau Channel and the surrounding mountains, the Goldbelt Hotel provides comfortable and central accommodation in Juneau. Rooms cost from $139/ approx. £87 per night. The local ski area - Eaglecrest on Douglas Island – features 36 groomed runs across 640 acres. A day pass costs from $44/approx. £28, and adult lessons (group) cost from $29/approx. £18 per person. After a morning of skiing the guys refueled at Hangar on the Wharf. Not to be missed the Mendenhall Glacier is one of 38 major glaciers produced from the Juneau Icefield, a massive 1500-square-mile area which sits atop the mountains behind the city of Juneau. There is a pleasant visitors centre and thanks to the salmon stream, you may be lucky enough to spot a black bear. Finish your Alaskan adventure with a visit to the Alaskan Brewing Company where the beer has been decorated with more than 33 major medals and awards.
Visit Juneau, Alaska! A travellers gem and fantastic hotspot to catch a front row seat to see the Northern Lights. Book now!
SEATTLE, WASHINGTON: DAY 9
Words: Jonathan Thompson
Pictures: Mark Chilvers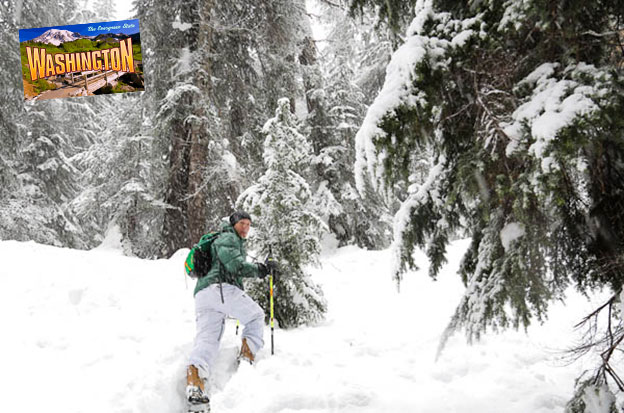 Sasquatch should be lurking around here somewhere. As we climb up through the colossal, freezing forest, America's answer to the yeti evolves from an outlandish old wives' tale into a bona fide Englishman-eating possibility.
Or maybe that's just the lack of sleep catching up with us.
It's day nine of our epic trek across all 50 states and we're snowshoeing among the towering silver ferns of Washington State's Cascade Range. If local legends are to be believed, this is the home of the elusive abominable snowman.
The snow is 10ft deep and the proud, straight trees have a cinematic quality to them, as the sun fights to push itself past their muscular, evergreen arms. The whole experience feels like striding into a big, empty American Narnia. On large, floppy pieces of plastic.
Adventure travel company EverGreen Escapes runs the popular 'ActiVino' day trips in the Cascades, an hour north of Seattle. The idea is that you spend the morning on something physically challenging - snowshoeing or cross country skiing in the winter - to work up a sweat. Then, in the afternoon, you've earned yourself a leisurely tasting tour of the region's local wineries.
In the US, the state of Washington is second only to California in terms of wine production, and its unique climate (think the Lake District on an American scale) makes for some renowned vintages.
Incredibly, there are more than 750 wineries in Washington, the majority located in the small town of Woodinville - a wine lover's dream, on the same latitude as Bordeaux.
Deep in Twin Peaks territory (the cult TV series was filmed in nearby North Bend), Woodinville retains a certain sense of spectral grandeur, particularly once the sun starts setting.
We drop into two of Woodinville's finest wineries. The first is award-wining Sparkman Cellars, owned by cheeky Tennessean Chris Sparkman, who has a twinkle in his eye and an endearing willingness to share the keys to his fork lift truck. The second is the boutique, family run JM Cellars, where we're shown around by owner John 'Deuce' Bigalow, an Anglophile who, bizarrely, loves Foyles War as much as he loves wine.
In both places, we sample beautiful, shockingly affordable wine from a region that British consumers should really investigate more. As they're fond of saying in these parts, these bottles offers significantly "more bang for your buck" then the direct French equivalents.
We drive into Seattle for the evening, the famous Space Needle leading us safely into the Rainy City's heart like a lighthouse in a squall. Dinner is at the hottest restaurant in town - American celebrity chef Tom Douglas' new offering, the Brave Horse Tavern (complete with world class pretzels and seriously competitive shuffle boarding).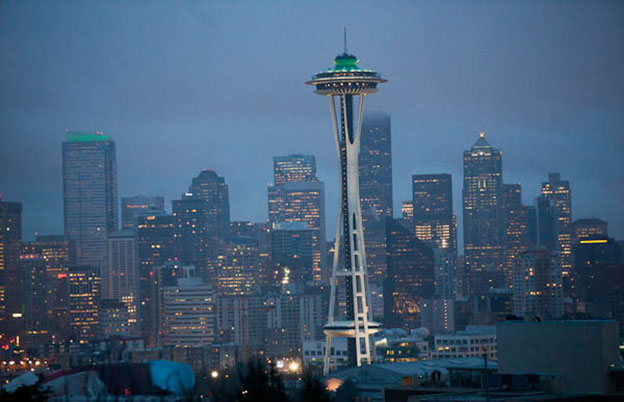 It's an early start the next morning, but we have time to check out Seattle's world famous Pike Place Market for breakfast - the oldest continuously working public market in the US.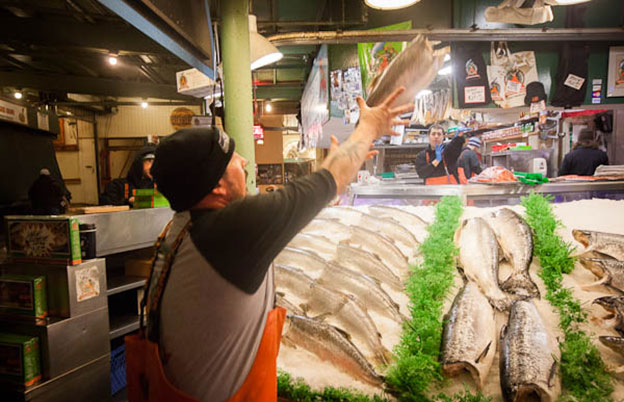 Next up are the frozen wilds of Alaska. Perhaps we'll find Sasquatch up there...
App Of The Day
As the team moves around the US at breakneck speed, they're relying on a number of mobile apps to keep them in control and on schedule. Each day, one of them will recommend an app that's proved particularly useful or interesting, for travellers to download themselves from itunes.
The App: BARISTA
Mark says: "This will give you the skills to create cafe style creations from your own espresso machine, to rival those of America's coffee capital - Seattle. The videos instruct the basement barista in everything from tapping basics and milk texture to Latte art. In the 'Make It' section you can choose from 11 different coffee based beverages with step by step instructions. Just don't be surprised if your flat mates start requesting skinny soy lattes with their cornflakes."
Create your own adventure in Seattle, Washington: the friendly staff at Evergreen Escapes have a great range of activities including Sea-Kayaking, Hiking, Snow-Showing and Wine-Tasting in stunning scenery. There are ½ day, full-day and multi-day options. Team USA took part in the ActiVino, Snowshow and Wine full-day which costs from $235/ approx.£150 per person. If you want to skip sport and head straight to wine-tasting, two of the most welcoming small wineries are JM Cellars and Sparkman Cellars. Stay at the Hotel Five in the heart of downtown Seattle with the Space Needle, EMP Museum and Pacific Science Center within walking distance. Rooms are from $108/ approx. £67 per night. Enjoy hearty food and a whimsical atmosphere (you can hire a 'tack room' for parties) at the Brave Horse Tavern. For more information about the famous Pike Place Market, Woodinville Wine Country and anything to do with Seattle, check out the Seattle Convention and Vistors Bureau website.
Feast on foods from the world's oldest market or visit the famous 'Space Needle' to get some of the most spectacular views of Seattle. Book your direct flights on AA.com from £671.
NEW YORK AND NEW JERSEY: DAY 8
Words: Jonathan Thompson
Pictures: Mark Chilvers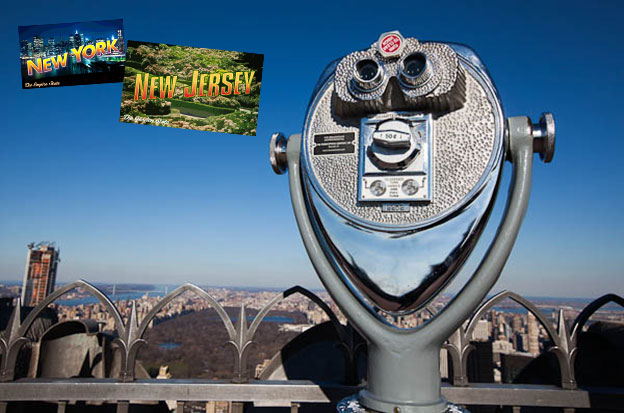 "Look out! There's a shark! Kick it in the head!" screeches Zuta, yanking her legs back onto the surfboard.
I kick out for all I'm worth, desperately hoping that I'm going to survive the next few minutes.
"Great work, you got it! Now here comes a barrel - get ready to ride," she shouts, springing into a standing position like a well-oiled Jack-in-the-box.
The "box" in question is not an ocean. It's New York: the most energetic city on Earth. And this morning we're riding the latest fitness wave to hit its shores: 'SurfSet and Sand'.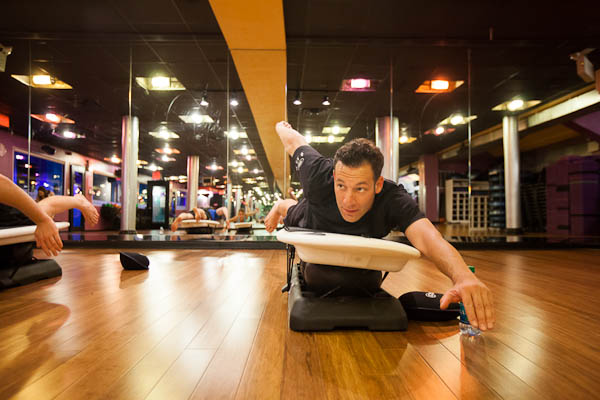 The class takes place at the Big Apple's 'Crunch' gym - the infamous fitness studio where the majority of the world's wackiest workouts originate. It was here, for example, that pole dancing first evolved from a seedy nocturnal activity into a healthy lunchtime one.
Now Crunch is offering New Yorkers the opportunity to "get a surfer's body without getting wet."
I'm not entirely convinced by the "wet" promise: after 45 minutes of jumping up and down on a surfboard and throwing sandbags around a makeshift 'beach', both Chris and I are drenched in sweat.
We drove into New York last night, after a brief stopover in Red Bank, New Jersey for a meal at Jon Bon Jovi's new restaurant, Soul Kitchen. Conceived as a community project, there are no prices on the menu, and you pay whatever you consider appropriate. If you cannot afford to pay at all, an hour's work in the Soul Kitchen will clear your bill.
It's an innovative concept and the food is delicious, but our request to interview JBJ - sadly - goes down in a Blaze of Glory.
We arrive in the City That Never Sleeps as the sun is setting. Tonight we have tickets for Spiderman the musical: the most expensive Broadway show ever staged. But en route we pay a quick visit to one of New York's most famous landmarks.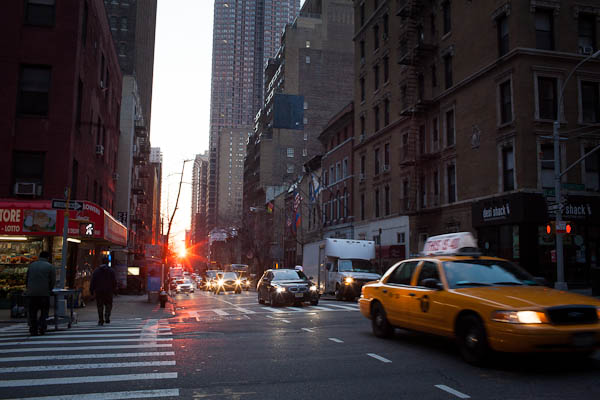 Forget the Statue of Liberty, Trump Tower and the Empire State Building; Grand Central Station is the Ronseal of New York's skyline. Celebrating its centenary in 2013, it remains every bit as grand (and central) as it was in 1913. In particular, the Oyster Bar - accessible through a secret door on the main concourse - oozes Prohibition cool.
Spiderman is even more extravagant than we'd imagined, with actors flying through the rafters, aerial battles above the posh seats and the Green Goblin belting out a show stealing number on the piano. Heavily 'New York' in its references and backdrop, the show fits its location as snugly as a superhero's underpants.
Afterwards, our team briefly swells into double figures, as we catch up with a number of old friends - both British and American - at the excellent Ginger Man pub in Midtown.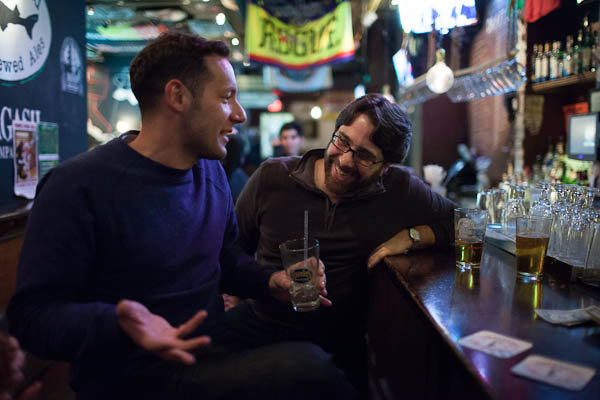 In the US, Minneapolis and St Paul are known as the 'Twin Cities', but that sobriquet would fit New York and London just as well. Being among a crowd of friendly faces at the heart of this bustling metropolis feels like a welcome visit home.
The Big Apple is sweet, but we've got another flight to catch tomorrow. Our elaborate spider web of a route has us swinging all the way over to Seattle next. Peter Parker would be proud of us.
App Of The Day
As the team moves around the US at breakneck speed, they're relying on a number of mobile apps to keep them in control and on schedule. Each day, one of them will recommend an app that's proved particularly useful or interesting, for travellers to download themselves from itunes.
The App: PRO SURFING FITNESS GUIDE
Mark says: "If you can't make it to the ocean or the gym, check out this app. It teaches you a number of key surfing exercises to get you into beach-ready shape in no time. It comes complete with accompanying images and video too, so even the most goofy of goofy-footers cannot fail to master them."
Create your own adventure in New Jersey and New York: Jon Bon Jovi's heartwarming restaurant, Soul Kitchen in Red Bank, New Jersey not only provides excellent, hearty food, but also helps those in need. Pay what you think it's worth.
In the Big Apple, stay in the newly renovated, exquisitely sumptuous The Tuscany NYC, A St Giles Luxury Collection Hotel from $239/ approx. £150 per night. It is perfectly situated for the nearby Grand Central Station centennial celebrations. Spiderman, The Musical is more spectacular than you can even imagine with aerial stunts, techno scenery and showstopping tunes. Book well in advance, for the hottest ticket in town, from $49/ £30 pp.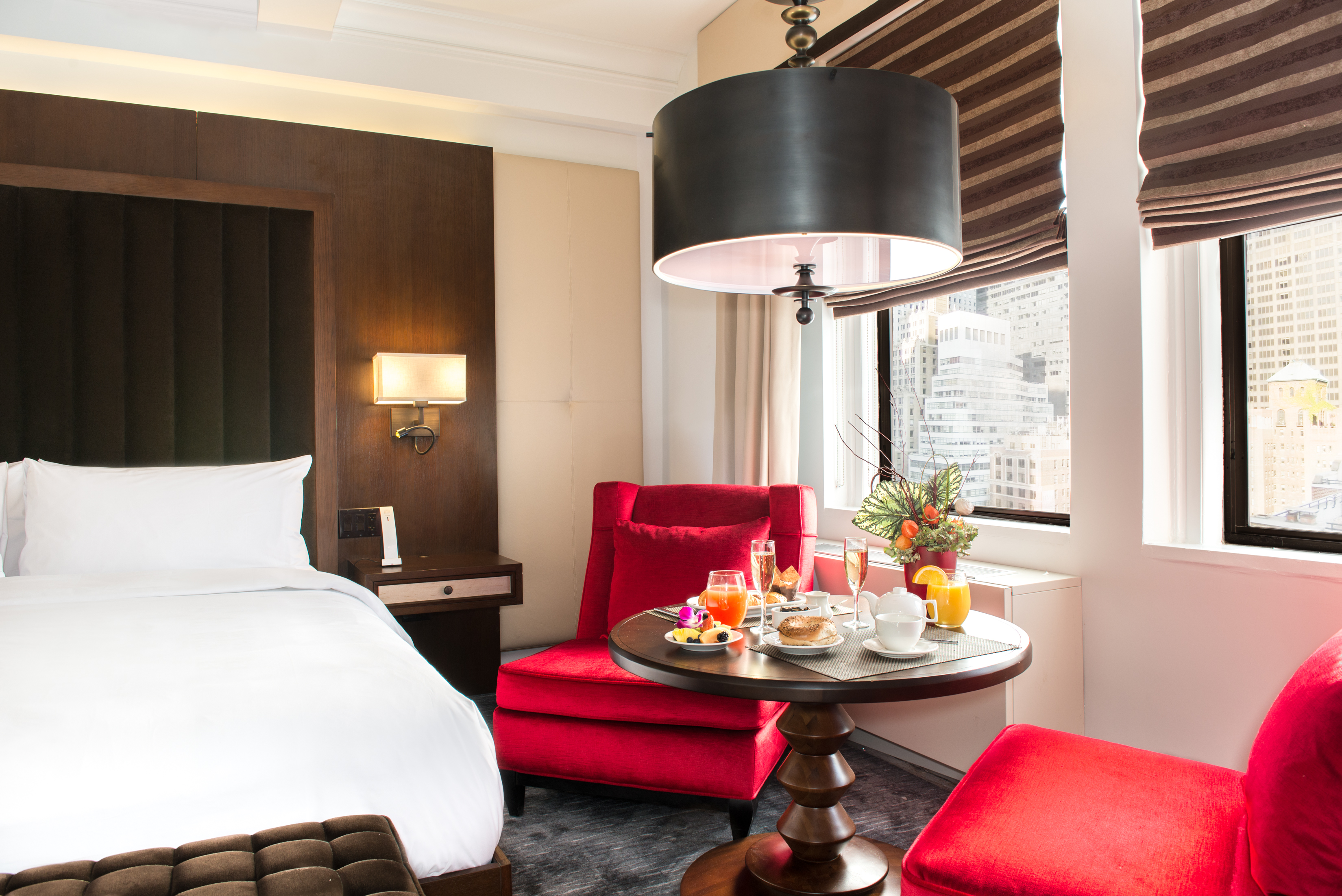 For great value accommodation, round the corner from Spiderman and right in the heart of the Theatre District try The Hotel@Times Square by Apple Core. Rooms start at $135/approx. £84 per night. To find out more about Crunch Gyms' Surfset and Sand go to. There are many great bars in New York City. The Ginger Man pub, in midtown is a 'beer-lovers' paradise' while a brand new restaurant and bar The District on the Harlem border of uptown Manhattan is the newest addition to the night scene. Guys can get groomed and gorgeous for their night out at classic barber shop Paul Mole, a cut-throat shave costs from $30/ approx. £20. January is a great month to visit NYC with restaurant week (14th Jan – 8th Feb ) and Broadway Week (22nd Jan – 2nd Feb). The New York CityPASS provides entry to all of the major New York attractions including Top of the Rock, Empire State Building and the Museum of Modern Art. The pass costs from $89/ approx. £55 saving 46% on the combined entry prices. For further information on all these promotions go to www.nycgo.com.
New York New York. So good they named it twice! Fly with American up to 5 times daily from London Heathrow to New York from £408. Book now!
LANCASTER COUNTY, PENNSYLVANIA: DAY 7
Words: Jonathan Thompson
Pictures: Mark Chilvers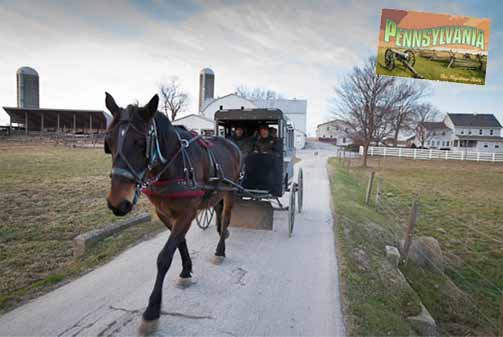 "Where do you think you are? We drive on the right here! This is the United States of America!!" yells the man sitting next to me, snatching the reins from my hands and abruptly redirecting the horse.
Three days ago, we were barrelling through the Florida Everglades on an airboat steered by an Indian who spoke alligator. Today, we're trundling along a Pennsylvanian highway in an Amish buggy, with a man who's never seen television.
This is the United States of America.
More specifically, this is Lancaster County, heartland of the Amish.
In this sheltered corner of Pennsylvania, some 35,000 members of agricultural religious communities including the Amish, Mennonites and Old Order River Brethren (known collectively as the 'Pennsylvania Dutch') live what is called the Plain life.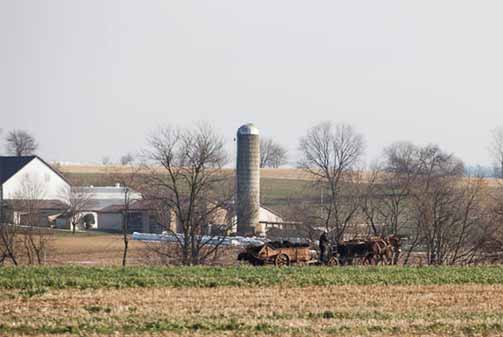 Shunning modern technology to varying degrees, they focus on a more simple lifestyle of faith, family and farming as a viable alternative to the rapacious consumerism of 21st Century America.
Today, we're lucky enough to have a firsthand insight into their world. We've replaced the whisky loving, harmonica-playing party tornado also known as Wayne Werner - a man we met tearing crabs apart at a shack in Maryland - with an entirely different fourth wheel. Today's addition to the gang is David Fiedler: a softly-spoken, tee-total member of the Old Order River Brethren, and our guide for the afternoon.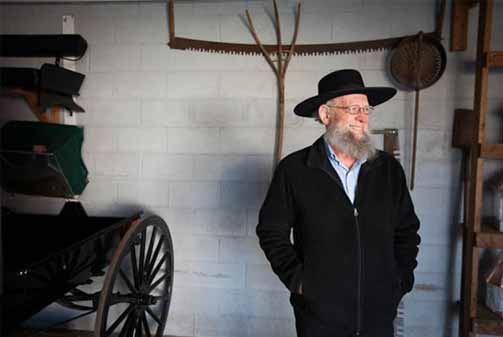 David leads us past working Mennonite farms with their towering corn silos and wooden barns and into beautiful family-run woodcraft shops before finishing our tour at a traditional Amish roadside bakery. The cakes are melt-in-the-mouth delicious. Genuinely and honesty the best baked goods any of us have ever tasted.
The vast majority of Plain People like David get around in "buggies" - small wagons pulled by a single horse. As they're forced to share the long, undulating thoroughfares of Pennsylvania with 'normal' vehicles, they are now required to have rear reflectors and indicators for safety. Some, we discover when I have a personal driving lesson, even come fitted with sound systems and iPod docks.
My horse is well trained and responds to verbal commands as well as the reins and ornate brake pedal under my right foot. Seemingly everybody waves as we pass. Being an Amish driver is a lot of fun - as long as you remember which side of the road your buggy should be on.
After a mouth-watering meal in the home of a welcoming local Amish family, it's bed time. At 8pm.
There's no television or alcohol here, but we don't mind at all - there's a sense of complete peace to the place and we all have the best, deepest night's sleep we've experienced since arriving in the US.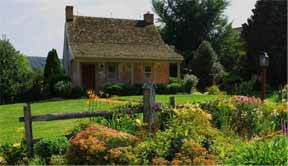 We've learnt a lot from the Plain People, but in the morning it's time to get back to our normality: the Plane life
App Of The Day
As the team moves around the US at breakneck speed, they're relying on a number of mobile apps to keep them on schedule and in control. Each day, one of them will recommend an app that's proved particularly useful or interesting, for travellers to download themselves from http://www.itunes.apple.com
The App:AMISH WISDOM
Mark says: "If you long for a simpler and more straightforward life then Amish Wisdom could be for you. With a clean layout and intuitive interface you'll find stress-free direction for your day to day life. There's a lot to be said for the Plain People's philosophy on life, so take a step back and see the bigger picture"
Create your own adventure in Pennsylvania: Steve and Martha, along with their family of eight children, are wonderful hosts with a guesthouse and idyllic self-catering cottage. Volunteer to help milk the cows or feed the horses and you may be invited to dine with the charming family at Homestead Guesthouse. Rooms are from $149/ approx. £92 per night. For the best way to explore Amish country, try an Amish Buggy Ride – a horse-drawn carriage with an Amish tour-guide. A one-hour tour costs from $10/ approx. £6 pp. The Mennonite Visitor Centre is an excellent resource for maps, info and insight into the Mennonite way of life including recommendations for local craft shops, bakeries and restaurants. The local tourist board couldn't be more helpful (PA Dutch County). Combine Lancaster with the historic and vibrant city of Philadelphia. Stay at The Independent Hotel – modern, boutique accommodation in a stunning Georgian building.
Visit Philadelphia, Pennsylvania, the city of history and culture, from £448 Book now!
MARYLAND AND DELAWARE: DAY 6
Words: Jonathan Thompson
Pictures: Mark Chilvers
"The first thing you have to do is hold the crab and tell it: 'I respect you,'" says Wayne Werner. "Then you break its back and rip its legs off."
We're sitting in a crab shack in deepest Maryland, and Wayne - a local goldsmith, musician and force of nature - is waving a wooden hammer around to make his point, like an unofficial Justice of the Piece of Crab Meat.
"Having crabs is a very social thing," continues Wayne, dissecting his meal so fast that he resembles a 1980s teenager with a Rubik's Cube. "People will come down with their friends for a couple of hours, drink some beer, eat some crab and make a serious mess. It's all good."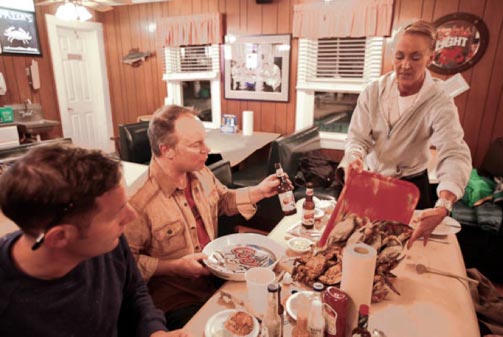 The crab shack we've come to is Price's, an institution in the town of Havre de Grace ('Graceful Harbour') for nearly 70 years. They take their seafood extremely seriously here. So much so that the regulars arrive with their own personal crab knives tucked into their belts.
Wayne holds court on another local point of contention as he attacks his second crab, covered in so much black pepper that it looks as if it's been used to sweep a chimney.
"It's not Mary-land, it's Meralin," he says, through a mouthful of white meat. "Think like the old wizard dude, not a chick landing a plane."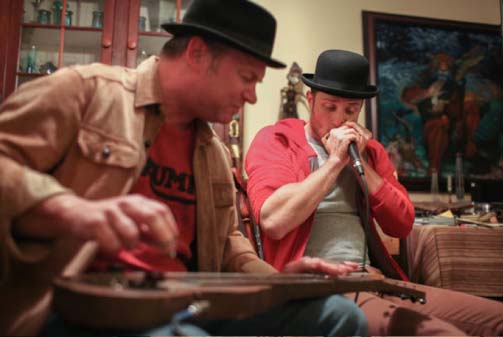 After dinner, Wayne insists on showing us his vast collection of music memorabilia - and ends up giving Chris an impromptu (and extremely good) harmonica lesson. Even though we're well into our mission, he appears to be making a late push to become the fourth member of the team. A bit like Winston in Ghostbusters.
As a result it's little surprise when Wayne decides on the spur of the moment that he's coming with us to our next state - Delaware. "I know a great blues bar in a town called Wilmington," he says, pulling on a pork pie hat and stuffing his harmonica into his pocket. "We can easily make it for 10pm."
Wayne is as good as his word. We're across the border into America's first and oldest state, and safely ensconced in the excellent Blue Parrot Bar and Grille within the hour. We're having a great time listening to the live music, when all of a sudden Mark notices there's somebody missing.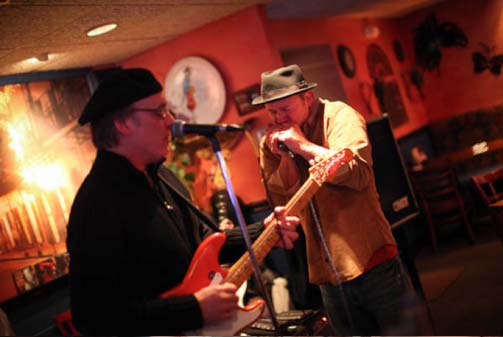 "Err, where's Wayne?" he says, looking around the packed bar. And that's when we hear it - a harmonica accompanying the band. Somehow our new sidekick has got himself up onto the stage and in front of a microphone. To be fair, he can hold his own, and the band seems to be enjoying his cameo as much as him.
By the end of a great night, as we shuffle out of the bar, we all bear more than a passing resemblance to crabs. And we're genuinely sad to say farewell to the man who taught us how to eat them properly. "Just don't tell me you respect me," says Mark as Wayne gives him a crushing bear hug. "I know what happens after that..."
App Of The Day
As the team moves around the US at breakneck speed, they're relying on a number of mobile apps to keep them on schedule and in control. Each day, one of them will recommend an app that's proved particularly useful or interesting, for travellers to download themselves from http://www.itunes.apple.com
The App:SEACHOICE
Mark says: "This is a must-have for any seafood excursions, from the crab shacks of Maryland to your local chippie. SeaChoice gives you insider info on the best decisions to make when ordering - in terms of taste, health benefits and sustainability. So you get to have a conscience as clean as your plate afterwards. Each fish or crustacean is given a ranking from 'Best Choice' down to 'Avoid', and there's also a 'search Sushi' option to help with Japanese fish names."
Create your own adventure in Maryland and Delaware: The local gem that is Price's Seafood in Maryland can be found at 654 Water Street, Havre de Grace, (+001 410-939-278). Starters are from $5/approx. £3.50 and main courses from $15/approx. £10. It's worth booking as it is very popular during crabbing season. The Blue Parrot Grille in Wilmington, Delaware makes a great night out. The musicians are some of the best in the country and the crowd is friendly. There is also a good value creole menu with main courses from $10/ approx. £6.50. Stay at the charming Hotel du Pont in downtown Wilmington. Opened in 1913, it celebrates its 100 year anniversary this year and remains a landmark hotel in the City. It is one of the finest examples of European craftsmanship in North America. Rooms from $199/ approx. £125 per night.
Discover the east coast of the US with American from £448. Book now!
WASHINGTON DC, DAY 5
Words: Jonathan Thompson
Pictures: Mark Chilvers
Hello. Today my name is Gary Wozniak and I'm a 25-year-old teacher from Canada.
Entering Washington DC's International Spy Museum, we're each given an alias, or 'legend', to memorise for the duration of our visit. I'm 'Gary', who's in town on a stopover between Vancouver and Beijing.
I assume he's flying American.
The International Spy Museum, dedicated to "the secret history of history" is extremely impressive. In fact, I'm going to stick my neck out here (well, Gary is at least) and say it's one of the best museums I have/he has ever visited.
As with any successful espionage operation, attention to detail is painfully precise. From Cold War toys foisted on diplomats' children - complete with tiny listening devices - to the specialist section on 'Ninja Surveillance', this is a museum where you could happily lose a number of hours off the radar.
In particular, the James Bond section, to be frank, puts Her Majesty's Secret Department for Culture, Media and Sport to shame, with an extraordinary amount of 007 memorabilia, including the original Aston Martin from Goldfinger.
Today, there are more active spies in Washington DC than any other city on Earth, which explains why, when it comes to cataloguing the history of espionage, Nobody Does It Better.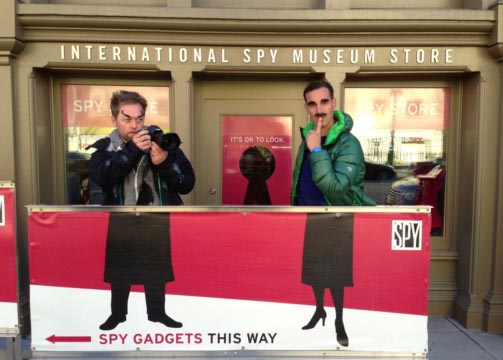 It's a genuine shame we don't have longer to spend at the museum, but we have to continue our own not-so-secret mission across the 50 states of America. Plus, Gary has a Beijing flight to catch.
As we cross the border into Virginia, we spot the first snow of our trip - and start adding extra Mountain Hardwear layers like a trio of shivering Russian Dolls. We were wearing shorts, t-shirts and sunglasses in the Florida Everglades just 18 hours ago, but further up the East Coast, winter bites almost as viciously as the alligators down south.
The forests of Virginia rival those of New England for rich, deep golden colours, and it's a joy to hike through them, if only briefly. The light is something special here - a photographer's dream.
Our final state of the day is neighbouring West Virginia, which split from its larger eastern namesake during the American Civil War. In 2013, they celebrate the 150th anniversary of independent statehood, but the Civil War is still never far from conversation. West Virginia is full of sites where bloody battles were won and lost; causes forged and crushed; liberties conceived and defended.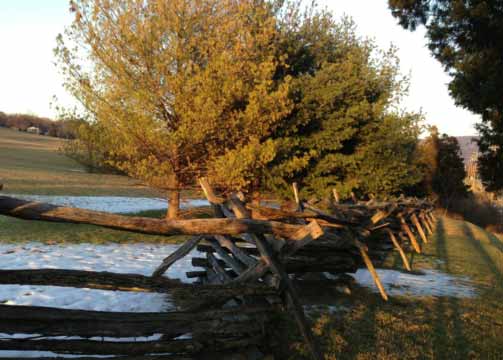 We make a beeline for Harpers Ferry, the rugged 18th-century town which was decimated by the Civil War but has now been restored as a national historic park. Local historian Ron Zeitz talks us through the rich history of the region, as the sun sets in a gobsmacking explosion of golds and crimsons. Somewhere up there, Gary Wozniak is on a plane bound for Beijing. In the meantime, our team is heading for Maryland...
App Of The Day
As the team moves around the US at breakneck speed, they're relying on a number of mobile apps to keep them on schedule and in control. Each day, one of them will recommend an app that's proved particularly useful or interesting, for travellers to download themselves from http://www.itunes.apple.com
The App:iTranslate (Free)
Mark says: "At some point every spy is going to get an assignment abroad and unless you're name Is Bond the chances are that not everyone will speak English back at you. With iTranslate you have a quick and easy way of understanding whether the person in front of you is friend or foe with 50+ languages and live speech to speech translation it should at least get you a Manhatten shaken and not stirred."
Create your own adventure in Washington DC, Virginia and West Virginia: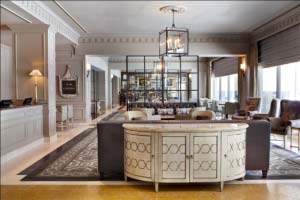 The stunning Madison Hotel in Washington DC is celebrating its 50th birthday in 2013. Opened by John F. Kennedy in 1963, it has recently undergone a $22 Million refurbishment. Rooms start from $349/approx. £217 per night. The nearby Spy Museum is fun for adults and kids alike. With interactive areas, intriguing films and historic artifacts, you can easily spend a morning playing James Bond. General admission is $20/approx. £14.50 per person. A quick photo opportunity outside The White House is irresistible and if you want to spot Politicians, The Good Stuff Eatery is rumored to be popular with the Obamas and We The Pizza was the senators' take-out of choice during recent late-night fiscal meetings. West Virginia's stunning parks are the state's highlight while Harpers Ferry is pleasant and interesting to wander around.
Washington DC is home to historical US landmarks, The White House & Lincoln Memorial to name a few. Fly with American and visit these landmarks today from £448. Book now!
Miami, Florida: DAY 4
Words: Jonathan Thompson
Pictures: Mark Chilvers
The alligator looks like he's asleep, but I'm having none of it.
"They're just like big dogs," says Johnny Tigertail as he creeps towards it, a handful of freshly peeled frog legs dripping from one fist. "If they're not in the mood, they'll hiss to warn you off."
Less than a metre from the 9ft beast, the Miccosukee Indian stops. And then, unbelievably, he squats down on the marshy ground and starts talking to it.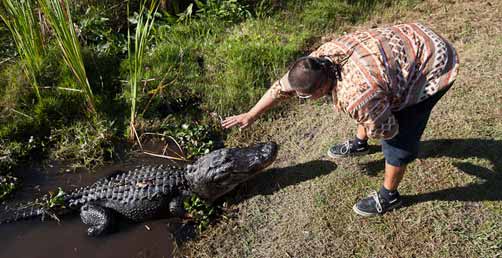 The sound that comes from Johnny's mouth is best described as somewhere between a good seal impression and a bad case of the hiccups. Either way, it works. Within seconds, the vicious looking creature is propelling itself towards him on its stomach, hungry for a bite of leg (to my eyes, either human or frog would do nicely). Johnny laughs, tosses the raw frog legs into its open mouth, and then has the audacity to tickle it under the chin.
Welcome to the vast, wet wilds of the Florida Everglades. Johnny's Miccosukee ancestors, who survived here as hunter-gatherers for centuries, called it Kaayaahaatte or "the bright reflective place." Traditionally, they lived in family "camps" spread across tree islands out here in the swamps. They survived by hunting turtle, deer and wild boar - and befriending the enormous alligators.
Today, Johnny runs a tourist operation with other members of the Tigertail family, driving people out to the old Miccosukee tree islands on Airboats, and providing an insight into a way of life in the Everglades which, incredibly, didn't end until as late as the 1970s.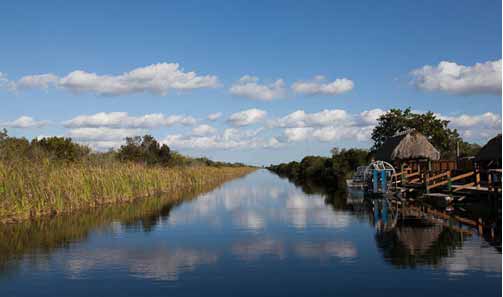 Relaxing under a typical 'Chickee', or open sided hut, Johnny explains how his tribe deal with the more aggressive alligators if they decide to pay a visit to the wrong tree island. "We lasso them, then somebody jumps on their back and ties up their jaws," he shrugs. "It's just living with the neighbours, you know. Some of them can be noisy and aggressive, but the majority respect your home if you respect theirs."
From the cabbage palm-fringed Chickee on Johnny's tree island, we make our way back towards Miami for our next flight. But not before we've had a chance to check out the opposite end of Floridian hospitality. The Biltmore Hotel, in the Coral Gables area of the city, is an absolutely stunning property, where the great and the good have stayed in tribe-sized numbers since the 1920s. It's vast Mediterranean splendour, hidden away from the main tourist drag of South Beach, make it well worth considering for future visits. It might not be as traditional as Johnny's tree island, but at least you won't have to keep half an eye open for the 'neighbours' while you sleep...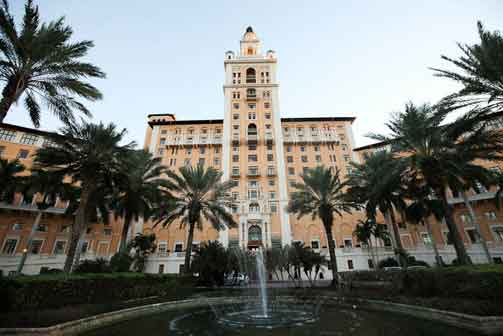 App Of The Day
As the team moves around the US at breakneck speed, they're relying on a number of mobile apps to keep them on schedule and in control. Each day, one of them will recommend an app that's proved particularly useful or interesting, for travellers to download themselves from http://www.itunes.apple.com
The App: PACK FREE
Mark says: "Having an inventory of your luggage might seem obvious, but it's a massive help on long journeys like this, when we're packing and unpacking pretty much every single night. The Pro version allows for multiple trips while the catalogue system helps you to keep track of items as you pack. You'll never have to wear a pair of inside-out socks abroad again."
Create your own adventure in Miami: Largely regarded as the capital of Latin America, Miami is a colourful melting pot of cultures with food and activities to match. Enjoy an enchanting day on the water with an airboat ride around the Everglades, guided by one of the fascinating Miccosukee locals. You can expect to see small and large alligators as well as turtles and wild birds. Tours for up to four people cost $2795/ approx. £1740 for the group, including transfers, gourmet lunch, private guide and wet hike. The lovely people at Dragonfly expeditions can arrange everything for you. Nearby, the Big Cypress Gallery - featuring the stunning photography of Clyde butcher - is well-worth a visit and you can even stay at the aptly-named Swamp Cottage in the grounds for $225/approx. £140 per night featuring two-bedrooms. If a luxury hotel is more your style, The Spanish-influenced Biltmore Hotel in Coral Gables is a tranquil retreat with spa, golf course and beautiful courtyard restaurant, rooms start at $185/£115 per night. Ask the concierge to show where to go in search of manatees - if you're lucky you might spot one of these beautiful creatures under the bridge nearby. For a delicious taste of Cuba and a truly authentic experience, the open-air El Palacio de los Jugos (7085 Coral Way, +1 305 269-0486) serves enormous portions of pork, rice and plantain for about $10/ £7.
Fly with us to the amazing South Beach in Miami and some of the trendiest spots across Florida, from £563. Book now!
Las Vegas, Nevada: DAY 3
Words: Jonathan Thompson
Pictures: Mark Chilvers
The sky is turning a deep, rich purple over the Grand Canyon when Elvis starts singing.
"Viva Las Vegas" fills our headsets as the helicopter skims low and fast towards Sin City, twinkling on the edge of the darkening Mojave Desert like a vast, sprawling moon base.
As we approach the city, the pilot banks around a skyscraper and suddenly we're directly on top of The Strip: a river of noise, popping neon and fluid bodies.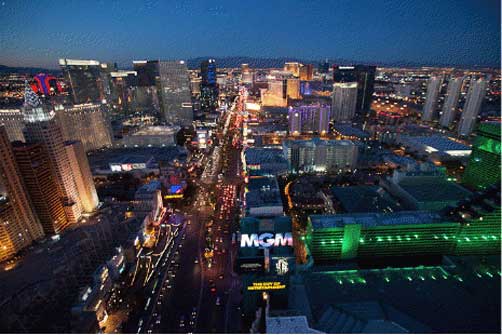 Today has been hectic to say the least - but also the best day of our adventure so far. It began early in Vegas itself, with a tour of the city's unique Neon Museum - home to 150 colossal, shining examples of the off-beat art form.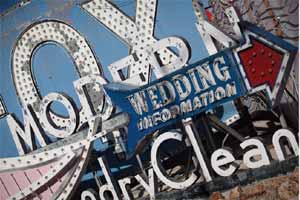 After this vivid insight into America's most colourful city, we dash back to Las Vegas McCarran International Airport to hop onto a helicopter for the old Wild West.
Our destination, specifically, is Grand Canyon Ranch - just across the border in Arizona. To get there, we need to fly directly over the Grand Canyon itself - one of the Seven Wonders of the World.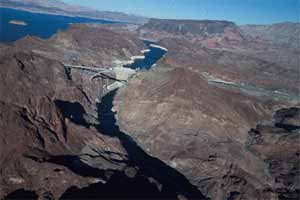 Our hosts for the 45 minute flight are Heli USA Airways, who operate no fewer than 70 "birds" out of Vegas - and not a single feather boa in sight. This flight is (literally) a serious money spinner, and it's easy to see why. Flying down the gaping maw of the Grand Canyon with its ancient, towering walls closing in on both sides of us is an absolutely unforgettable experience; the most gob-smackingly Lilliputian I've ever felt.
We're in luck when we touch down at Grand Canyon ranch: the owner - amiable Mancunian multi-millionaire Nigel Turner - is on the property today. As we step off the helipad, our fellow Brit strides towards us, leather coat swirling and spurs glinting in the golden sun, to welcome us.
The ranch is absolutely fantastic fun. We ride away from the helipad in covered wagons, bouncing our way up to the main house, where we're served a cowboy feast of hot beans, corn and beef. Afterwards, we saddle up and ride our own horses to a vantage point overlooking nearby Spirit Mountain - a sacred place to the local Native American Indian tribes - as dusk starts to clear its throat.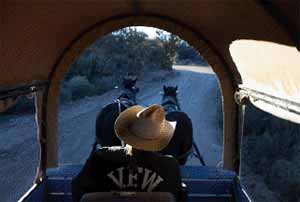 With four tourists from Guildford riding back to Vegas in the helicopter beside us, the pilot jokes that he's aiding and abetting a British invasion of Vegas. It's ironic, because tonight we're eating at the hottest new restaurant on the strip: Gordon Ramsay's 'London Pub' at Caesar's Palace. As the slot machines sing and laugh at their endless conveyor belt of hopeful duellists, we sip Boddingtons under two enormous posters: one of Matt Goss and the other of Rod Stewart. It's rather odd.
If Elvis were still alive today, he might want to think about changing those lyrics. At the end of a long day on an Englishman's cattle ranch in Arizona, then in a Brit-smitten Super Casino in Vegas, it's very much Viva Las London.
App Of The Day
As the team moves around the US at breakneck speed, they're relying on a number of mobile apps to keep them on schedule and in control. Each day, one of them will recommend an app that's proved particularly useful or interesting, for travellers to download themselves from http://www.itunes.apple.com
The App: MONEYBOOK
Mark says: "Moneybook is an easy to use personal finance app, and could save your skin (and wallet) in Las Vegas. You can create multiple categories for your expenses, to include money spent at the poker and roulette tables respectively. You can also password protect it if you would prefer to keep your success or failure private."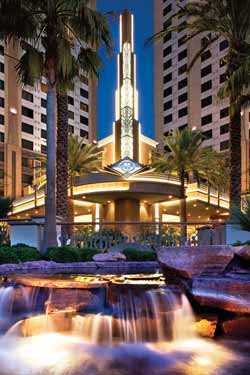 Perfectly positioned, a little beyond the brightest lights of The Strip, The Hilton Grand Vacations Suites Las Vegas costs from $129/approx £80 per suite per night. To learn the history of the neon signs visit the Neon Museum (downtown), admission costs from $18/approx. £11 pp. Gordon Ramsey has just opened two new restaurants at Caesars Palace – Gordon Ramsey's Pub & Grill and Gordon Ramsey BurGR. An easy day trip from Las Vegas, see the stunning Grand Canyon - in the state of Arizona - from the sky with a helicopter ride from $269/approx. £170 pp with Heli USA. Combine it with a true cowboy experience at The Grand Canyon Ranch, a half-hour horseback safari (bison) costs from $49/approx. £31 pp.
Los Angeles, California: DAY 2
Words: Jonathan Thompson
Pictures: Mark Chilvers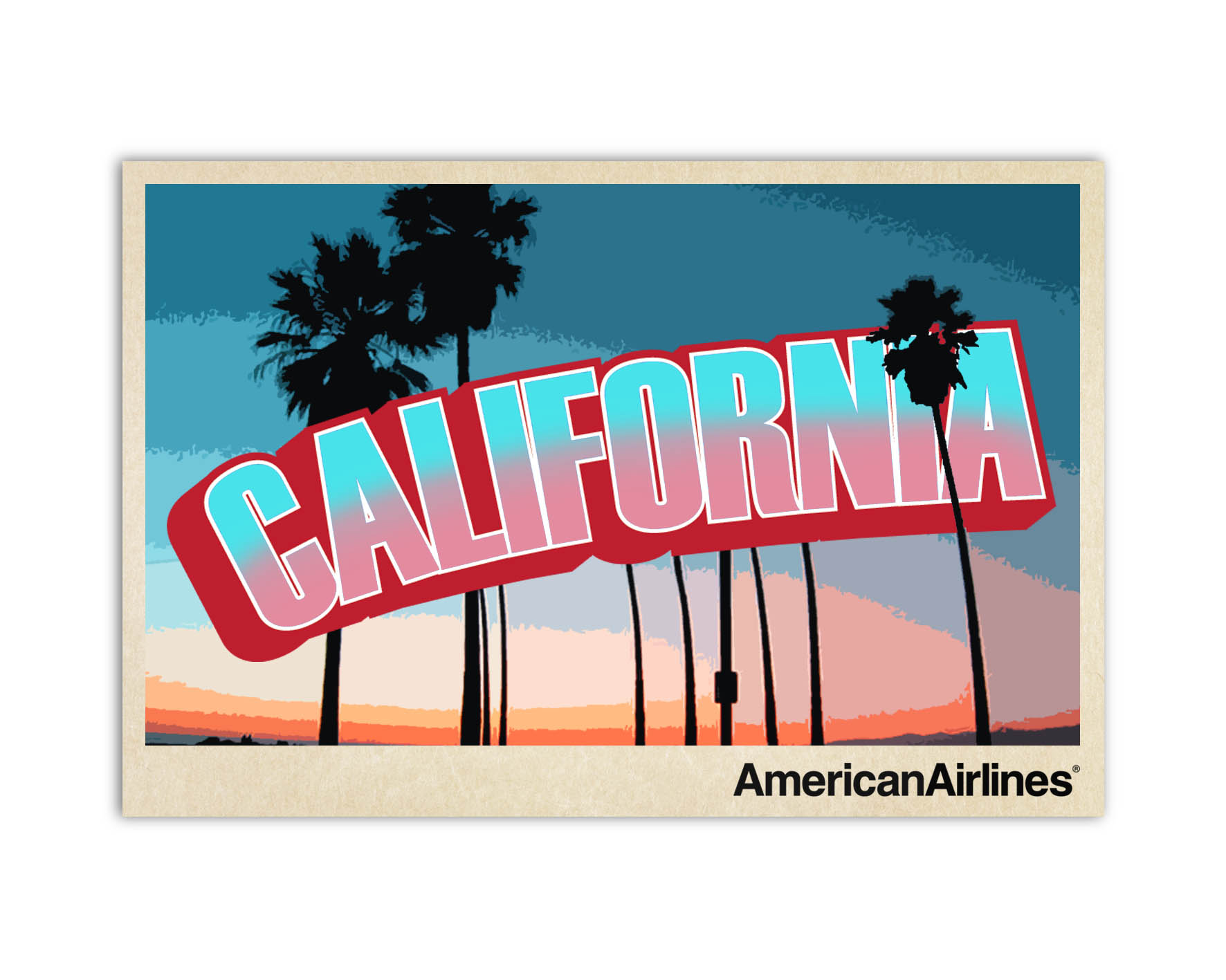 We haven't made it to the casinos of Las Vegas yet, but I'm going to put my cards on the table early: I've never really liked Los Angeles.
That's my first confession.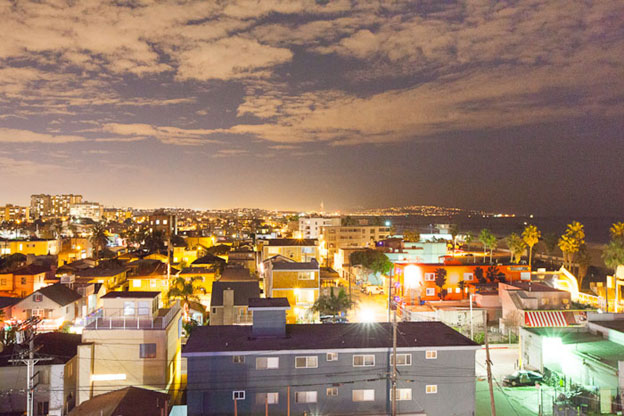 The City of Angels has always represented the "yin" to New York's "yang" in my mind: slow, disjointed, false and - despite the near-omnipresent sun - somehow always cold. But after today's visit I'm more than willing to admit that I might have been unfair, and overly biased in favour of the yangs of New York. In fact, I was wrong.

That's my second confession.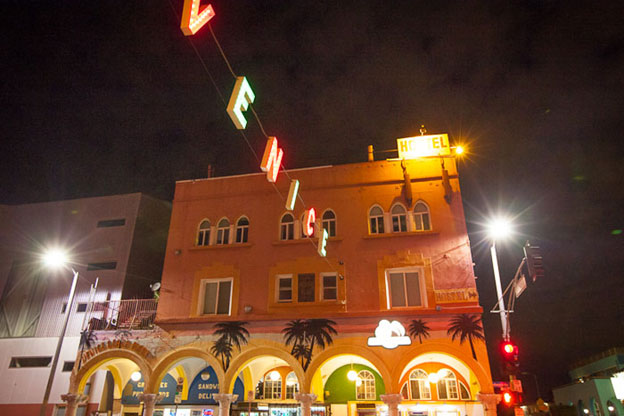 As soon as the team lands in Los Angeles, I'm instantly impressed by how close the city's best tourist areas - Venice Beach and Santa Monica - are to the airport. Within just 20 minutes of exiting LAX, we're entering our stylish base for the night: the achingly hip Hotel Erwin on Venice Beach. Sundowner cocktails at the rooftop bar on the sixth floor follow, while the waves of the Pacific Ocean fight each other for top billing a few hundred feet away. Between the two, the streets of Venice are alive with skateboarders, basketball players, musicians, artists and young couples enjoying the Californian twilight.
This place isn't the Los Angeles I remember from my last 'proper' visit eight years ago. It's vibrant, vital, colourful and welcoming. It's Soho in the sun. With skateboard wheels screwed on.
That old favourite Muscle Beach is still here of course, with its collection of skin popping veins, eye-popping biceps, and foundation-popping apparatus, but the beachside streets around it appear cleaner and brighter than I remember, with enticing boutique-style bars and restaurants at seemingly every turn.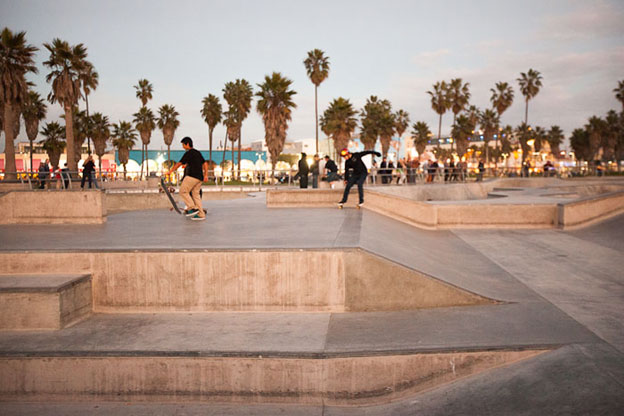 The change on the seafront here is, in part, due to the massive influx of cash from the X Games - the Olympics of the extreme sports world - which have found a semi-permanent home here. But more than that, it's something hundreds of thousands of Angelenos would pay a small fortune for - a completely natural face lift.

It's a real shame that we don't have longer than a few hours in America's second most populous town, but I will most definitely be coming back to Yin City sooner rather than later. And I will be taking skateboarding lessons here as a fully paid-up thirty-something. That's my third confession - and I'm not afraid to admit it.
App Of The Day
As the team moves around the US at breakneck speed, they're relying on a number of mobile apps to keep them on schedule and in control. Each day, one of them will recommend an app that's proved particularly useful or interesting, for travellers to download themselves from http://www.itunes.apple.com
The App: Tony Hawk: Trick Tips
Mark says: "Whether you skateboarded in your youth or not, this is a lot of fun. Tony Hawk is still the very best - and everyone can learn something from him. Have a go - it would be rude not to when visiting Venice Beach, with its new skate park gleaming in the Californian sunshine."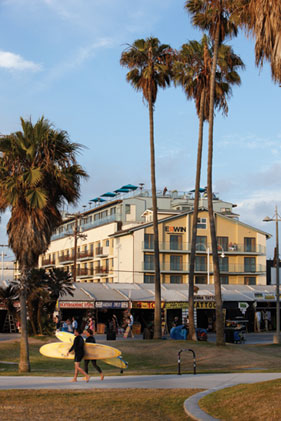 Create your own California adventure: loved by locals and international hipsters alike, the High Rooftop Lounge at the Hotel Erwin is well-worth a visit. Rooms cost from £138 per night www.jdvhotelsmcom. Skateboard lessons from a local skater cost from $30/approx £19 per hour and can be booked through Maui and Sons on the boardwalk (www.mauiandsons.com). Check out Muscle Beach Venice: even if you don't fancy a workout, Muscle Beach Cafe is the home of the best mini burgers in USA (www.musclebeachcafe.net).
We fly direct from London Heathrow to LA up to 3 times daily from £518. Book now to holiday in the home of the movie stars
Honolulu, Hawaii: DAY 1
Words: Jonathan Thompson
Pictures: Mark Chilvers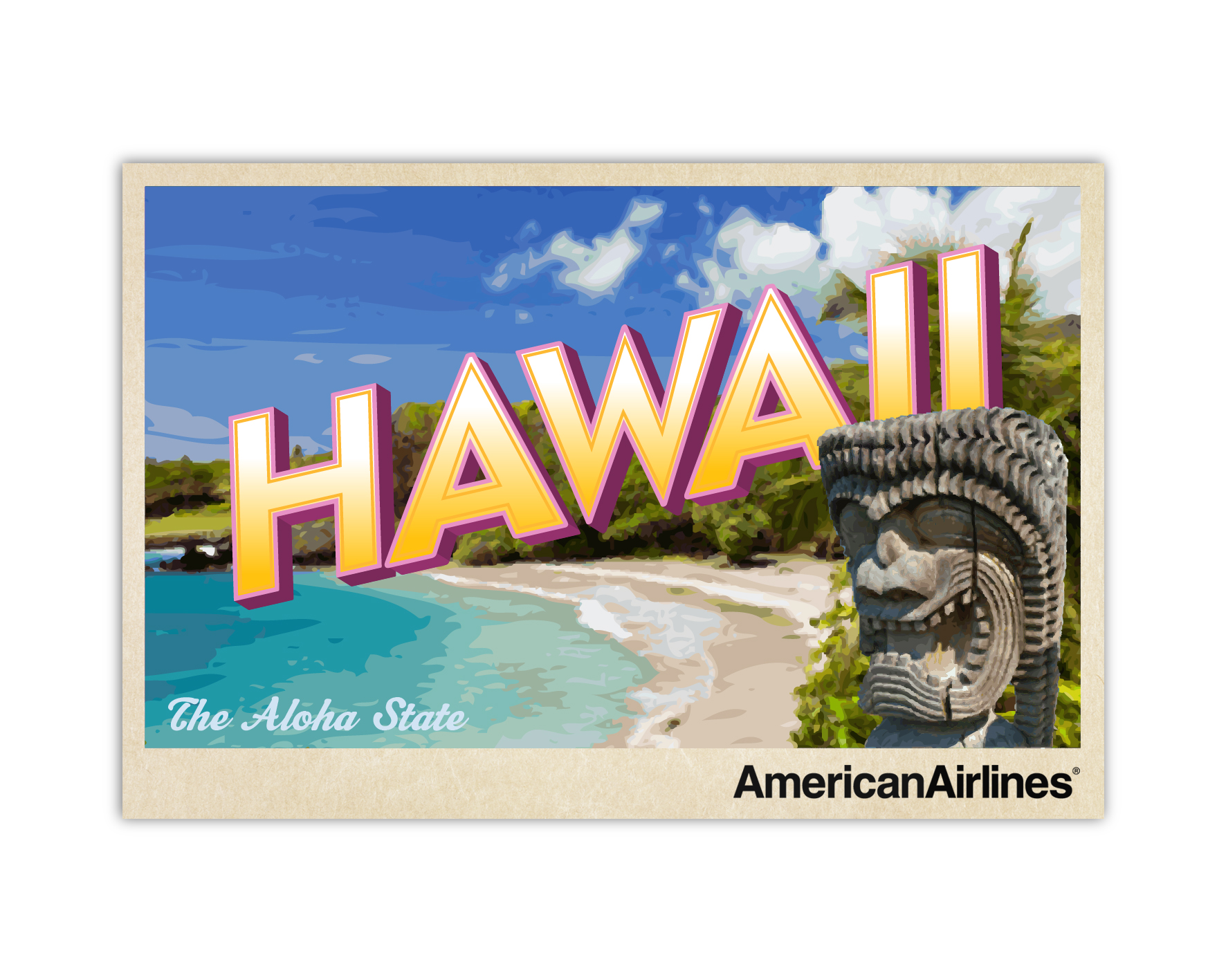 There's an old Hawaiian saying: "Pupukahi i holomua". Roughly translated, it means "we move forward by working together."
Even today - long after cars have overtaken outrigger canoes and microwaves have replaced the traditional beach cooking pits on these stunning islands, it's a sentiment close to the heart in Hawaii. Every morning, vast shoals of surfers paddle out under cover of darkness to ride together as the fat Pacific sun rises. And in the evenings, they eat and drink and dance together just as hard.
During our short stay here, we've been fortunate enough to devour all of this - and a generous serving of the world famous Aloha spirit on the side too. This was day one of our 30 day dash around the United States of America, and we spent it basking in the warmth of Hawaii's capital, Honolulu.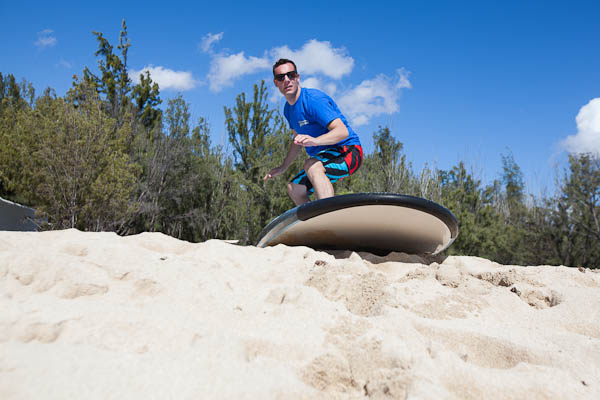 One thing you absolutely have to do when visiting these islands is surf, so after landing and checking into our hotel, the Outrigger Waikiki Beach, we made the short drive west down the coast to Barber's Point, and joined up with the Hawaiian Fire surf school for a lesson. Within a few minutes, all of us were up, riding and living out our Point Break fantasies - a testament to the excellent teaching and perfect beginner conditions.
Later, I took a Hawaiian hula dancing class back at the Outrigger Hotel. The idea is that your feet keep the beat while your hands tell the 'story' of each song (think glove puppetry without the glove puppets). The story I was taught involved flower-wearing cowboys up a mountain on Maui. Let's just say it's the first time I've been unable to communicate clearly in an English speaking country. When it comes to hula, two left feet and two left arms equate to a major speech impediment.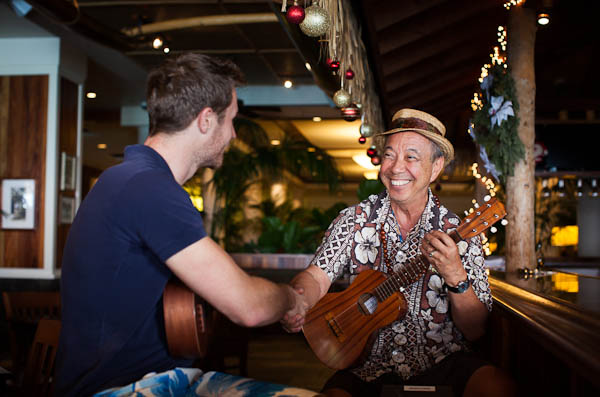 Chris had considerably better luck learning the ukulele with local musician 'Uncle' Wally. Brought over to Hawaii by the Portuguese, the little four-stringed guitars were renamed by the locals ('ukulele' means 'jumping fly') and are now at the very heart of local culture.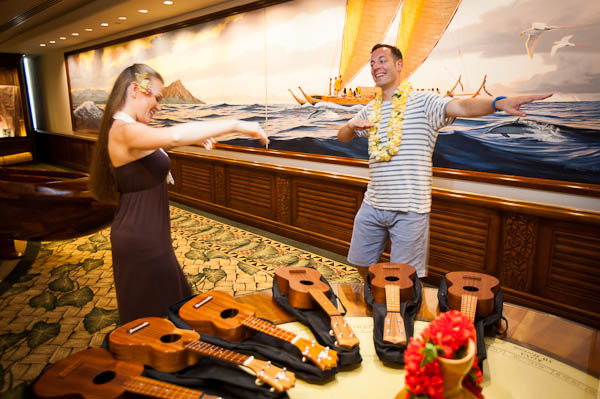 All too soon it's time to dash to the airport again, leaving a guilty trail of sand as we carry our shoes through security. Our second and third states - California and Nevada - await a five hour flight across the Pacific. We'll be carrying the Aloha spirit (and some bad hula dancing moves) over there with us...
App Of The Day
As the team moves around the US at breakneck speed, they're relying on a number of travel apps to keep them on schedule and in control. Each day, one of them will recommend an app that's proved particularly useful, for regular travellers to download from http://www.itunes.apple.com
The App: Magic Seaweed
Chris says: "Whatever your level, if you're planning to go surfing, this is a must-have for your phone. It gives you accurate, up to date information, on every significant surf break in the world. It told us how big the swell was going to be at Barber's Point before we got there, and that the water was nice and warm so we didn't need to pack wetsuits."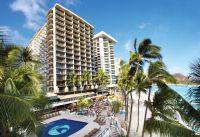 Create your own Hawaiian adventure: Rooms at the Outrigger Waikiki on the Beach start from $229/ approx. £140 per night plus tax; hula and ukulele lessons are complimentary to guests. An introductory jet packing experience with Seabreeze Watersports starts from $179/approx. £110 pp. A group surf lesson with the Hawaii Fire Surf School costs from $109/approx. £67 pp. No visit to Hawaii is complete without a cocktail at legendary Duke's Restaurant and Bar.
Experience the sun, sea & sand of Honolulu with American. We fly from London Heathrow daily from £599. Book now!

Getting Started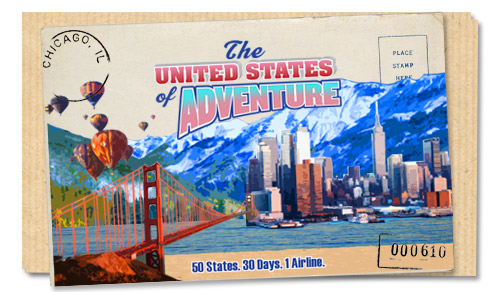 So, 50 states in 30 days, what an exciting challenge. Phileas Fogg would be proud of us. Sir Edmund Hilary would surely admire our gumption. Even Bear Grylls must approve of our spirit (though he would probably expect us to build our own shelters along the way). But how do we get started: planning the route, the activities and the places to stay?
Well, the truth is that, the very first conversations about this adventure were as recent as September and it has been full steam ahead from then. We've checked out a map of the USA, we've contacted anyone we know that has associations with the country and we've got some really great support from the travel industry.
As we meet new people in each state we will welcome you to share our experience in their hotels and towns, try their hobbies or jobs and we will record our experiences as part of The United States of Adventure. So first up, we needed to get some shots of Team USA and we called upon our friends in London at Shoreditch House to provide us with a rooftop pool in chilly December. The sun was shining, the staff were welcoming and the smoothies were delicious. The water was so tempting we nearly dived in for the photographs and then we remembered we were still in London, in December. Perhaps we can recreate this scene at Soho Beach House in Miami.
From there we moved onto the Hoxton Hotel and tested their American cuisine in the Hoxton Grill. If all of the venues we visit along the way are as cool and luxurious as these ones it will truly be a pleasant trip.
For more information about Shoreditch House go to www.shoreditchhouse.com. To dine in the Hoxton Grill or to book rooms at the Hoxton Hotel call +44 20 7550 1000 or go to www.hoxtonhotels.com.