At some airports, carry-on baggage may be more restricted.
Additional limits may be placed on carry-on bags because of aircraft stowage capacity.
Limits may be imposed after the boarding process has begun.
Carry-on roller board bags, duffle bags, large backpacks, or other personal items that don't fit in the overhead bins or under the seat must be checked at the gate and placed in the cargo compartment on American Eagle aircraft.
Horizontal rolling and/or hanging garment bags are considered to be the customer's carry-on bag and must fit comfortably in the bag sizer, not exceed the following measurements: 22" long x 14" wide x 9" high or 115cm (56 x 36 x 23 cm). A bag that is 22" long by 24" high by 10.5" wide for a total of 56.5 inches would be too big therefore would not be allowed. Customers can bring a soft-sided garment bag of up to 51in / 130cm (length + width + height) in lieu of a carry-on item.
Packing
When traveling by air, limited quantities of liquids, gels and aerosols may be carried in cabin bags including travel-size toiletries. Check the liquids and gels section for more information.
The TSA allows passengers to leave their laptop computers in bags that meet new "checkpoint friendly" standards. For more information see the TSA News Release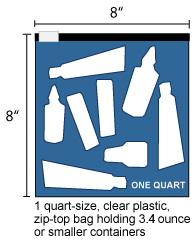 For Security Screening:
Place liquids in individual containers with a maximum capacity of 3.4 oz./100 ml each.
All liquids, gels and aerosols in containers larger than 3.4 oz./100 ml must be packed in your checked bag.
Place all liquid containers in a separate clear plastic, zip-top bag no larger than 8in x 8in (20cm x 20cm) or is quart size/1 litre.
Items must fit in the bag comfortably so that it closes completely and must be submitted for inspection separately from other carry-on baggage.
Remove the plastic bag from the carry-on bag at the security checkpoint for separate x-ray screening.
Beginning January 31, 2014, passengers traveling internationally into the United States or into any European Union country (including the UK, Norway, Iceland and Switzerland), along with Japan and Korea, and have a connecting flight, will be permitted to carry liquids in excess of 3.4 oz./100 ml in their carry-on baggage, provided they were purchased in duty-free shops or onboard aircraft and placed in secure, tamper-evident bags (STEBs), with proof of purchase visually displayed inside the bag.
Medications, baby formula and food, and breast milk are allowed in reasonable quantities exceeding 3.4 oz./100 ml and are not required to be in the zip-top bag. Declare these items for inspection at the security checkpoint. Screening Officers may need to open these items to conduct additional screening. TSA guidelines for traveling with formula and food, and breast milk.
Liquids that cannot be screened and cleared will not be allowed to remain in a passenger's carry-on baggage. Passengers may elect to place these items into checked baggage, if available, or forfeit them prior to entering the secure area of the airport. This may include liquids in opaque, ceramic, or metallic bottles, or other containers that cannot be effectively scanned.
If your travel takes you through a security checkpoint in a country that does not allow liquids in excess of 3.4 oz./100 ml in carry-on baggage, you may or may not have the opportunity to place the item in your checked baggage. If you are unable to place the item in your checked baggage, it may be confiscated.
Electronic Equipment On The Plane
Certain devices used on board the aircraft, both on the ground and during the flight, may radiate electronic pulses affecting the aircraft navigational or communications equipment. While electronic disruptions in the cockpit are rare, they cannot be tolerated at any time. Portable electronic devices, including laptops, must remain off during taxi, takeoff, approach and landing until arrival at the gate when the seat belt sign has been turned off. Personal electronic devices, such as tablets, e-readers and smartphones can be used in airplane mode from gate to gate on flights within the U.S.
Devices that cannot be used onboard include:
Radios - AM, FM, VHF, battery or cord operated TV sets, TV cameras
Electronic games or toys with remote control, except those installed on the aircraft
Cordless computer mouse
Portable Global Positioning System (GPS.)
Child Safety Seats
For taxi, takeoff, landing, during turbulence, or when the Fasten Seatbelt sign is on, children must remain secured in the child safety seat. American accepts only FAA approved infant seats/child restraint devices that are certified for use in aircraft. See www.aa.com/children for more information.
Pets
A pet kennel or container that is taken in the cabin counts as your one carry-on bag – the cabin pet charge still applies. See www.aa.com/pets for information on sizes of containers allowed and applicable charges.
Medical Equipment
Hearing aids, heart pacemakers, or other approved medical devices are accepted during all phases of flight. If a passenger must travel with oxygen due to medical necessity, a 48-hour notice is required. You will have the option to indicate a request for special assistance when making your reservation on AA.com. See Special Service Requests for more information.
Musical Instruments in the Passenger Cabin
Musical instruments that can fit in approved carry-on stowage locations
A musical instrument may be taken onboard as your one carry-on bag, regardless of its size, as long as it can be safely stowed in an approved carry-on stowage location. An approved carry-on stowage location is one such as an overhead bin or the space in front of your seat.
Carry-on stowage space is shared space, available on a first come, first served basis. In order to travel with your musical instrument as a carry-on, there must be carry-on space available for your musical instrument, in the cabin in which you are traveling, at the time you board the aircraft.
We will do what we can to accommodate your musical instrument but will not move other passengers' belongings to accommodate a musical instrument.
On some occasions, it may be necessary to remove an instrument that has already been stowed to accommodate an assistive device used by a disabled passenger.
Travel Tips
In order to ensure you have room to store your instrument, board as soon as your group is called, or consider purchasing Group One boarding or combined options that include it.
The size of overhead bin space can vary by fleet type and also between aircraft in a fleet. For further information on the aircraft in your itinerary, please contact Reservations.
Travel with the musical instrument in a hard-sided case in the event the item needs to be checked.
Instruments that are too large for approved carry-on stowage locations
Instruments that are too large to be stowed in an approved carry-on stowage location, or are too fragile to be checked may still be taken in the cabin and transported in a passenger seat. To travel with a musical instrument in a passenger seat, you will need to:
Purchase an extra seat for the instrument. Cost of the seat is the applicable adult fare for the portions of the flight that the extra seat is requested, plus any applicable taxes and carrier-imposed fees.
The musical instrument must be secured in or against a bulkhead (divider) window seat (not in an Emergency Exit Row).
You must be seated in the seat directly next to the instrument.
Seat baggage must not weigh more than 165lbs/75kg and must meet seat size restrictions based on aircraft type.
Please contact Reservations for pricing and further information.