Berlin
Flights And Sights
Introduction to Berlin
With American Airlines flights to Berlin, you can discover this city's culturally and historically significant points of interest. From visiting Brandenburg Gate to admiring Berliner Dom, we'll help you plan an unforgettable trip with tips on the best things to do in Berlin.
Things To Do In Berlin
Brandenburg Gate is undoubtedly one of the most important landmarks in the city, and visiting it is one of the most popular activities in Berlin. Construction on Brandenburg Gate began in 1788 and it is the only surviving gate out of 18. At one time, people would climb to an observation point to see into East Germany. After Germany was reunified, Brandenburg Gate became a symbol of harmony.
For a glimpse of impressive baroque architecture, visit Berliner Dom (otherwise known as Berlin Cathedral). It's the largest church in the city, and touring it is one of our top things to do in Berlin. Its history reaches back to the mid-15th century, and today it is considered the gateway to Museum Island. Tours are offered during opening hours, but not during church services. You'll be awestruck by the grandiosity both inside and out, and those who climb the stairs all the way to the top of the dome will enjoy sweeping views of many of the city's most noteworthy attractions.
Once you're seen Berliner Dom, you won't want to miss the many wonders of Museum Island, which is within walking distance. One of the most delightful activities in Berlin has to be taking a day to explore the northern half of the island, home to five fascinating museums. Named a UNESCO World Heritage Site, this area is comprised of the Old Museum (which was completed in 1830) and the New Museum (completed in 1859), along with the Old National Gallery, Bode Museum and Pergamon Museum.
One of our other favorite things to do in Berlin is to visit Charlottenburg Palace, or Schloss Charlottenburg. It was built in 1699 and houses an exquisite collection of 18th French paintings -- the largest collection outside France. You'll also be able to see Chinese and Japanese porcelain collections. And, of course, you'll find splendid baroque gardens.
It's easy to discover the all the facets of this unique city when you fly to Berlin with American Airlines. Its blend of history, architecture and art make Berlin a distinctive and memorable destination, and we look forward to helping you explore it all.
Experience Germany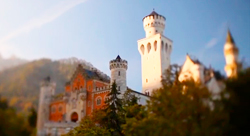 Germany Videos

Berlin Airport Information
Plan Your Travel
Travel Extras