Seville
Flights And Sights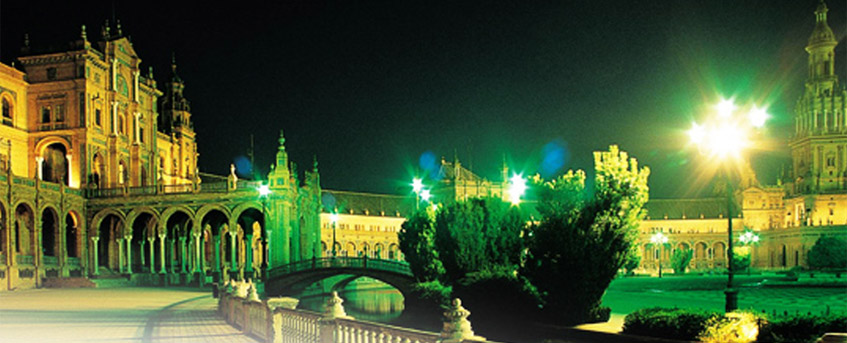 Flying To Seville With American Airlines
Find flights to Sevilla with American Airlines and plan a journey of discovery to this endlessly fascinating Spanish destination. The city's many charms are waiting, from soaring Gothic architecture to historic palaces and gardens to impressive museums. And who could overlook delectable tapas restaurants or colorful flamenco shows? We'll help you plan an unforgettable trip with tips on the best things to do in Sevilla.
Things to Do in Seville
A must on our list of activities in Sevilla is a trip to Catedral de Sevilla and Giralda Tower. The cathedral is the third-largest church in all of Europe, and it's the largest Gothic building in the world. Construction began in the late 15th century, and it holds the remains of Christopher Columbus in an elaborate tomb. There is also a vast collection of jaw-dropping artwork in Catedral de Sevilla, including gorgeous stained glass. To get to La Giralda, you'll cross the Patio of Orange Trees, a refreshing and sunny respite. La Giralda is a very recognizable symbol of the city, a tower built in the 12th century. A winding ramp leads you to the top, where you'll have an unparalleled view of the city below.
After touring the cathedral and tower, another one of our favorite things to do in Sevilla is visiting Alcazar, the 14th-century Mudejar palace. It's located just north of the cathedral, and it's the oldest royal residence still being used in Europe today. Tours are allowed, and we highly recommend taking one. You'll see truly impressive Spanish artwork and simply stunning gardens. One of our favorite sights here is the replica of the Santa Maria (yes, that Santa Maria; King Ferdinand and Queen Isabella welcomed Christopher Columbus at Alcazar when he returned from America).
If the artwork at Alcazar piqued your interest, head to the Museo Provincial de Bellas Artes de Sevilla. A stroll through this fine art museum is another one of the most popular activities in Sevilla, and with good reason. You'll find a noteworthy collection of paintings by El Greco along with many pieces by Murillo, who was a native of Sevilla.
Of course, no trip here would be considered complete without taking in a flamenco show in Barrio Santa Cruz. But don't forget to add dining in tapas bars to your list of things to do in Sevilla. Savor small plates while sipping Spanish wine and relaxing with friends — now that's the way to experience Sevilla!
Let American Airlines help you fly to Sevilla and embark on an unforgettable journey of discovery.
Seville Airport Information
Plan Your Travel
Travel Extras