American Airlines first started working with Chef Sam Choy to redesign its Hawaii Flagship dining service, and then collaborated with Choy to refresh menu offerings on flights to and from Japan, and to create new appealing entrées for customers traveling to and from Beijing.
Choy is a four-time nominee for the James Beard Best Pacific Regional chef award and in 2004, Sam Choy's Kaloko Restaurant was the recipient of the James Beard/Gallo of Sonoma American Classics Award. Choy has authored eleven top-selling cookbooks with Mutual Publishing, a local publishing company ( Cooking From the Heart with Sam Choy, Sam Choy's Cooking, The Choy of Seafood, Sam Choy's Kitchen, Sam Choy's Poke, Hawaii's Soul Food, Sam Choy's Sampler, Sam Choy Woks the Wok, Sam Choy's Cooking with Kids, A Hawaiian Luau with Chef Sam and the Makaha Sons, Aloha Cuisine and POKE). Choy also partnered with Hyperion Publishing to release a national compilation of his local books in 1999, Sam Choy's Island Flavors and released Sam Choy's Polynesian Kitchen in September 2002.
When he is not filming his weekly cooking show, Sam Choy's Kitchen or traveling to make special appearances or cooking demonstrations, Choy oversees his talented team of executive chefs for his restaurants. He handpicks each chef and collaborates together to develop a diverse menu for the different restaurants. The result culminates in perennial awards of excellence for the restaurants and a carefully honed roster of loyal local customers.
"Word will spread if you take care of your customers," says Choy. Word about Choy has extended well beyond the islands indeed. Food Network appearances include Extreme Cuisine, Emeril Live!, East Meets West with Ming Tsai, Sarah Moulton's Cooking Live, Iron Chef America, The Food Network's Luau Challenge and most recently Dinner Impossible.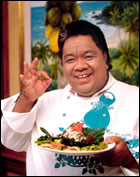 Sam Choy