Highlights
Choose from a library of movies and television shows

Check out available entertainment options on board our planes

Listen to your favorite music during the flight or enjoy our award-winning magazines
When it comes to inflight entertainment, you'll find more choices than ever before with American Spotlight. With selections of newly-released, award winning movies and TV programs, plus games and a wide variety of music, it's easy to sit back, relax, and let us entertain you.
Streaming video entertainment
Browse our inflight library of movies and television shows which can be streamed to your personal device. We have added free NBCUniversal programming and, for a limited time, a selection of six free movies available for all flights with streaming video entertainment.
How to choose your entertainment:
Connect to the "gogoinflight" signal to launch the browser (no internet purchase required)
Click on the entertainment banner and select a movie or TV show
Download plugin or app, when prompted, if you haven't already
Log in or create an account.
Movies, television and more
Entertainment available at every seat
On each of our new and refreshed planes, you will have access to the latest, personal in-seat entertainment. You can choose from various entertainment options on the seatback screen in front of you: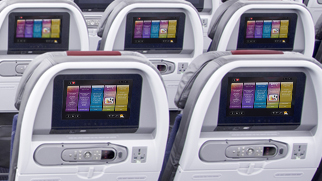 Up to 250 movies*

Up to 180 TV programs

More than 350 audio selections

18 American Airlines Radio channels

Up to 20 games
These entertainment options will be available gate to gate. Once you have taken your seat, you can begin enjoying your selection. We offer this entertainment complimentary on all international flights as well as in all First Class and Business Class cabins. The Main Cabin offers a choice of complimentary or special entertainment packages for purchase.
*Up to 250 movies on international flights and up to 150 movies on domestic flights.
See what's playing on your next flight

Overhead video screens
We also offer overhead inflight entertainment options on select flights with NBCU on American. This includes full episodes of popular NBC entertainment as well as clips from hit late night comedy shows.
See what's playing on your next flight

Tablets
The innovative Samsung Galaxy TabTM, featuring a 10.1 inch screen, allows for a customized viewing experience. Our First and Business Class passengers will enjoy this amenity on select international and transcontinental flights where in-seat entertainment is not available. You can expect a variety of entertainment options including: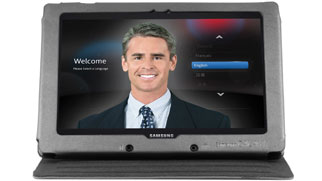 New movie releases and top classics

Hit TV shows and games

Various music selections

Best-selling book excerpts
Entertainment options by airplane
In-seat
entertainment
Tablets1
Overhead
video
Streaming
video
Inflight
radio
1Available on select routes in First Class and Business Class
2New airplanes only
3Available on airplanes without in-seat entertainment
4Business Class only
v2 = US Airways aircraft
Airbus A330
Airbus A319 v1
Airbus A319 v2
Airbus A321 v1
Airbus A321 v2
Airbus A321T
Airbus A320
Boeing 737
2
3
Boeing 757
domestic v1
Boeing 757
domestic v2
Boeing 757
international v1
4
Boeing 757
international v2
Boeing 762
Boeing 763
Boeing 772
Boeing 773
Boeing 787
MD80
Bose headphones
Enjoy the complimentary use of Bose® QuietComfort® 15 Acoustic Noise Cancelling® headphones when traveling in First or Business Class on select international and transcontinental flights. We are also beginning to offer the brand new Bose® QuietComfort® 25 Acoustic Noise Cancelling® headphones on select routes. Tune out the world or tune in to entertainment – either way, you'll love the performance of these acclaimed headsets.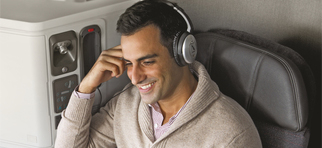 Music
Earbuds

If you're flying in the Main Cabin, enjoy improved sound quality on our new earbuds available for inflight purchase. The new earbuds are complimentary in the Main Cabin on select international flights.
We also have up to 18 channels that span classical, jazz, pop, country, alternative rock, international pop and more.
Our station names include:
Symphony Hall

Jazz Mix

Chill

The Hit List

American Jukebox

Country Roads

Showcase: Pitbull

Totally 80's

Live on American
Latin Showcase

Smooth

American Arriving

Japanese Horizons

Rhythm of Brazil

The Vault

Mandarin Mix

Metro

London Calling
Magazines and newspapers
Exclusive interviews with some of the world's most interesting people can be found in the pages of our award-winning inflight magazines. And when traveling on flights to Europe, Asia and select flights to South America, you'll also have a choice of daily newspapers to read including USA Today, The Wall Street Journal, The New York Times, Financial Times and local newspapers based on availability.