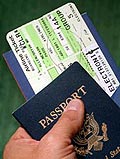 Because documentation requirements vary by country, we strongly recommend that you contact the applicable Embassy/Consulate(s) for the latest updates. Visit www.iatatravelcentre.com to assist you in determining specific documentation requirements.
Please note:
Passengers NOT in possession of valid travel documents for the destination country and/or transit points will be denied travel.
ALL American Airlines/American Eagle international passengers are required to hold a valid passport (in addition to any other required documentation) to enter or depart the United States.


Minors traveling outside of their country of residence without both parents/guardians may require additional documents. For additional details see www.aa.com/children.
The U.S. Passport Card is NOT permitted for travel by air.
Condition of Passport for International Travel
Your passport is the primary document for international travel and must be kept in good condition. American or American Eagle may deny boarding if a passport is damaged beyond normal wear and tear and/or there is evidence of intentional or material alterations or mutilations.
The list below provides a few common examples of when travel will be denied as a result of a passport's condition:
Physical damage to a passport, including significant tears, stains, holes, peeling pages
Photo identification that is no longer clear
Damage that alters the identification of the holder, such as the date of birth, name, document number or citizenship
Tape or glue holding the document together
Signs of damage caused by liquids, chemicals or fire
Faded data, chewed pages or cover
To ensure your travel plans are not interrupted, please make sure your passport is in good condition before you leave. For more information about U.S. passports, please visit the U.S. Department of State website.
For information regarding visas and the Visa Waiver Program visit our Visa And Immunization page.