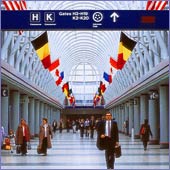 Visit the sites below to help you prepare for your trip.
U.S. Customs And Border Protection
Learn about Customs regulations and procedures that apply to travelers entering or exiting the United States.
Attention Frequent Flyers: At major U.S. airports, you can skip the paperwork and skip the lines when arriving in the U.S. Learn more about the Global Entry Program.
Centers For Disease Control And Prevention
Travel health information provided by the CDC for various countries
Advanced Passenger Information (API)
To enhance border security, electronic transmission of passenger information through the Advanced Passenger Information (API) system is mandatory as part of the U.S. Aviation and Transportation Security Act.
This advanced information about passengers leaving and entering the U.S. is sent to U.S. Customs and Border Protection, which allows the agency to review passenger data in advance of flight arrival.
API data for American Airlines/American Eagle flights is also transmitted to Customs and Immigration agencies in other countries where required by law.
All international flights arriving and departing the U.S. are required by law to provide API data.
Additionally, all visitors entering the U.S. are required to provide:
A Visiting Address for their first night's stay in the U.S.
We suggest you provide this information online to expedite your check-in process at the airport.