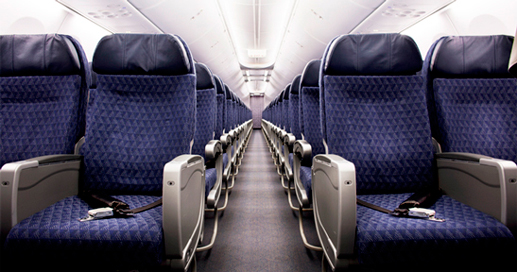 The Future of Onboard Comfort is Here
Experience the modern, all-new Next Generation Boeing Sky Interior (BSI) 737-800 planes, which will greet you with enhanced lighting the moment you step onboard. Designed to replace the existing MD-80s, these 737 deliveries are the latest addition to our overall fleet renewal plan since we began taking delivery in 2009.
Here's What's Unique About the Boeing 737-800 BSI Planes
You'll enjoy more contemporary and innovative features on our new Next Generation 737-800 BSI aircraft, including:
Enhanced lighting: Unwind below the soft blue sky lighting overhead and brighter, longer-lasting LED lighting that provides eight different lighting schemes.
More luggage space: Applaud the new overhead bin design — modeled after Boeing 787 bins — which pivots out and down, and holds 48 more bags than standard overhead bins.
Spacious atmosphere: Experience a contemporary feeling of spaciousness among the sculpted sidewalls, updated windows and updated cabin interiors.
Improved customer service: Intuitive placement of switches and call buttons and improved sound quality are innovative features that will enhance your experience.
Increased fuel efficiency: The new 737-800 BSI aircraft use 35 percent less fuel than an MD-80 on a seat-mile basis, further helping us to reduce our carbon footprint.
Other Fleet Renewal Efforts Under Way
We're updating many of our existing Boeing 737s and domestic 757s to bring you more of the enhanced features of the new Boeing 737-800 BSI planes, including:
Installation of new, customized First Class and Main Cabin seats, and on the domestic 757s, two additional First Class seats on each plane, for a total of 24 seats in the First Class cabin
Fresh, new cabin interiors
Updated inflight entertainment systems, power outlets and Wi-Fi
Bigger overhead bins for added storage
These renewal plans are in addition to the 10 Boeing 777-300ERs that will begin arriving in early 2013, along with the introduction of First Class service onboard American Eagle's fleet of 47 Bombardier CRJ-700 regional jets.
Please continue to check back for additional updates on our progress to improve and modernize your experience through the purchase of new aircraft and the refurbishment of our existing fleet.
See what else we're doing to help you Fly Better.