Looking To Renew Your Elite Status?
Now, you can maintain your AAdvantage® Platinum or Gold status through February 28, 2014!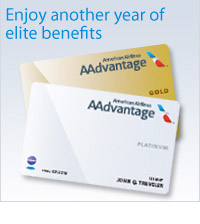 We understand that you value your elite benefits and we are offering a special one-time opportunity if you did not re-qualify for 2013. You can enjoy another full year of elite status benefits by renewing your AAdvantage Platinum or Gold membership for a one-time charge. You'll continue to receive the many benefits you've come to enjoy, which make your travel experience easier and more rewarding, including:
Flight bonuses
500-minimum mileage guarantee on most flights
Priority AccessSM privileges at check-in counters, security screening areas and boarding gates
Upgrade privileges, including earned upgrades and complimentary upgrades*
Waived checked baggage charges
Waived AAdvantage Award processing charges
Learn more about AAdvantage Platinum and Gold member benefits at www.aa.com/elitebenefits
Am I eligible to renew my elite status?
If you are currently an AAdvantage Platinum or Gold member, and you have flown at least two elite qualifying segments during 2012, and did not participate in this offer last year, then you are eligible to renew your status.
How do I renew my status?
Based on eligibility, we reached out to eligible members on January 30 inviting them to enjoy another year of elite status benefits, through this offer.
If you received an email from us inviting you to renew your status, then please select the button below. This is a limited time opportunity and you have until May 15, 2013, to renew your status through this offer.
* To receive complimentary upgrades, AAdvantage Platinum and Gold members must be traveling to and from qualifying cities on fares booked in Y or B (excluding military/government fares). Complimentary upgrades are subject to seating limitations and are only available on American Airlines or American Eagle marketed and operated flights within and between the 50 United States, Canada, Mexico, the Caribbean, The Bahamas and Bermuda, and between the U.S. and Central America. View additional details at www.aa.com/500mileupgrades