And The Winner Is…
See a short video featuring our 5 finalists and the announcement of the Grand Prize winner.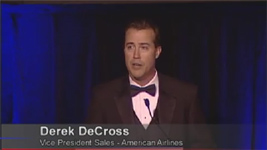 Click to view.
On behalf of American Airlines and SCORE, we'd like to thank all of our contestants for participating and making this contest shine under the bright lights!
View the rest of the Top 50 videos.
To see a list of the winners, visit www.aa.com/promowinners