Trunk Club is a new way for men to build out a killer wardrobe. They provide a personalized clothing service for men, offering designer clothing to members without any of the hassles of shopping in stores or online. Men tell stylists their style, fit, and size preferences, and the stylists ship them a handpicked selection of clothes. It is a totally risk-free trial, no sign up fee or commitment - members keep only what they want and send the rest back with a pre-paid shipping label.
Busy, hardworking guys understand the value of surrounding themselves with people who can give them great advice. Trunk Club is a trusted wardrobe adviser that makes it easy for men to look awesome without having to do a lot of work. It's an easy, risk-free way for guys to invest in themselves.
We recently chatted with Trunk Club co-founder Brian Spaly about their business journey.
Tell us about the Trunk Club team.
Our founding team is really comprised of three different people: myself, John Tucker and Kevin Price. I spearheaded the efforts based on the success and track record which stemmed from creating Bonobos, another men's apparel startup in the space. My best friend and former roommate John Tucker watched the success of Bonobos and decided he needed to be involved in the next venture, so when I left Bonobos to move to Chicago for Trunk Club, John also left his job as a design consultant at Ideo in NYC and made the move to the Midwest. Our third partner, Kevin Price, was introduced through a sailing buddy of mine and John's of Perico Yacht fame. Today Kevin is the CFO.
What did you do before Trunk Club?
Trunk Club is my second venture-backed startup. I launched Bonobos in 2007, after designing a better-fitting pair of trousers and selling them out of the trunk of my car at Stanford Business School. Together with my close friend and Stanford roommate Andy Dunn, we grew Bonobos into one of AdAge's 50 hottest brands in 2009. Late in 2009, I left Bonobos in Andy's capable hands in Manhattan to launch Trunk Club in Chicago.
How did you come up with the concept for Trunk Club?
All of the businesses I've built stemmed from my frustration buying clothes. I started Bonobos because I couldn't find trousers that fit me well. I decided to make a better pattern and manufacture them myself. With Trunk Club, I realized that guys want to look good, but hate to shop, and that we could take away some of their pain. We've built a technology-powered, personalized high-end service designed for busy guys who want and need to look good, but don't have the time or desire to go malls or stores. We also believe that men appreciate some help along the way. Our stylists are there to be a true partner in the process – fully understanding your unique and individual needs, then finding a wardrobe that is right for you, and offering honest advice and tips whenever they can.
What is the advantage for customers to use Trunk Club over similar services?
Trunk Club works however you want it to. Our stylists listen closely to your directions so the advice and clothes you get reflect who you are and where you want to go. We take the long-term view and take the time to get to know you so we can predict your needs and desires. If your first trunk doesn't exactly hit the mark, we'll keep working with you until we get it right and are regularly sending you awesome clothes you can't wait to put on. It's a process. By the second trunk, we're very confident about our hit rate, and by the third trunk we'll be giving you stuff you can't wait to put on.
Where is Trunk Club available?
We can ship trunks to you if you live anywhere in the contiguous U.S., and also have on the ground locations in Chicago, Dallas, and D.C. Guys can make an in-person appointment with their stylist if they're ever in those cities. In addition, we've opened two locations in addition to our Chicago headquarters in the past six months, and will open a handful more over the course of 2014. The in-house locations are a great opportunity to meet face to face with your stylist, and partner with them to find the right choice of clothes for your preferences, all in the relaxed comfort of a Trunk Club lounge.
How do you market Trunk Club to reach new customers?
American Airlines has been a great partner for Trunk Club. The American customer is a successful and busy guy, who needs to look good, but rarely has the time to commit to finding the perfect outfit. Trunk Club can hopefully help solve this problem in a convenient and hassle-free way. We are fortunate to have some significant expertise across our stylist team, and as part of our broader marketing efforts, we are always on the lookout for channels that allow us to share some of that insight along the way. Online campaigns such as social media have been a great avenue for this, as well as offline channels such as direct mail.
What is your biggest struggle as a startup?
We're trying to change an industry that's been around for centuries, but there's no blueprint for what we're trying to do. Wherever you turn in our business, we need our team to be problem-solvers. We hire stylists from a range of different backgrounds, we're building technology that hasn't been built before and we're encouraging guys to try our service when they have become disenchanted with traditional shopping options. It's an incredibly exciting challenge to solve, and our focus on the member is at the heart of everything we are building.
What are your goals for Trunk Club in the future?
This year, we're focused on two main things: building out technology to support our sales team and help us scale, and opening up additional offices to be able to give the full Trunk Club experience to more guys. Right now we're the fastest growing men's retailer in the U.S. and aim to keep that pace.
The next five years is a lifetime for an early business like ours. We frequently get asked about moving into the women's space or looking internationally. All exciting thoughts, but the men's market in the U.S. is a huge market, and we feel there is a lot we can improve to put on the best experience for our members. No start up failed due to being too focused.
What one piece of advice would you give someone wanting to start a new business?
Determining product market fit early on is essential for any new business. By using your minimum viable product to test and interact with customers, you can gain invaluable feedback and make changes or pivot before spending time and resources developing technology and products to enhance your MVP. At Trunk Club, we started by identifying the sales process and customer experience we wanted to deliver, and made that happen before we developed technology and other features that could help us scale. By getting our product and service out in the market, and gaining valuable insight from customers early on, we were able to have a solid grasp on our product market fit before raising capital, building technology, and growing our team to scale the business.
What advice do you have for companies that have already launched?
One tip I have for all of my fellow startups and small businesses is to enroll in Business Extra, which has been a great program for us and is all upside. As well, I suggest that companies encourage their executive teams to get the Citi AA Executive card which helps you earn status and mileage, and grants access to the Admirals Clubs – it's a fantastic product and great value. My favorite fact about the Admirals Clubs is that even though I'm a huge fan of the grocery retailer Trader Joe's (so much so that I live above one in Chicago), I am forced to admit that the apples and oranges I always reach for first in the Club are usually better than the ones I can find at TJs! Love a good orange for a snack on a flight.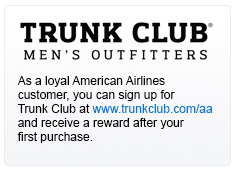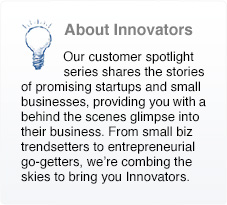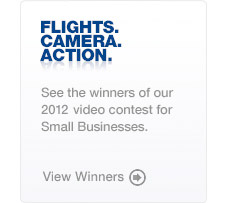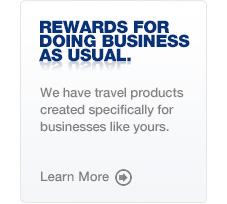 Business Testimonial
With our Business Extra program, your company earns points for employee travel, shopping, and more! Hear what a customer has to say.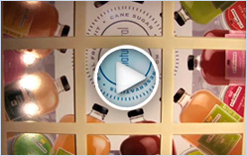 Bob Schwartz, CEO
Stirrings Cocktails
Business Extra