Get the app that knows where you're going
Download our travel app for AndroidTM and gain access to a variety of tools to help you manage, plan and enjoy each trip you take on American Airlines.

Watch Android Video
You can view personal flight details such as gate, seat, and flight status info, at a glance. Stay informed of flight updates with the introduction of Push Notifications for Android - we'll push real-time updates to you regarding gate, time and seat changes as well as cancellation notices. To receive these notifications, you must first view your mobile boarding pass on your phone. The app will save the pass and make it easy for you to find.
Also, you can log in and change or purchase a seat with either the stored credit card in your AAdvantage® profile (on the Reservation Preferences tab), or you may now enter the credit card of your choice.
And, you can still monitor your place on the standby list, track your elite status progress, play Sudoku, set parking reminders, and much more. Simply swipe and tap your way through your personalized American Airlines travel information with the app that's perfect for flying through airports.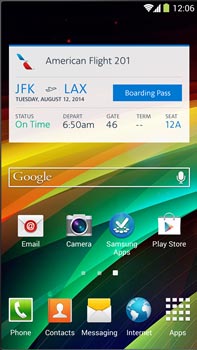 ---
Features