Save Paper. Save Time.
Once you receive your boarding pass, simply scan the barcode on the screen at airport security checkpoints and at the gate during boarding for American flights. It's fast and convenient.
Watch this video to see how to scan your mobile boarding pass at the gate.
Available at These Airports
Albuquerque (ABQ)
Amarillo (AMA)
Anchorage (ANC)
Antigua, Antigua (ANU)
Aruba, Aruba (AUA)
Aspen (ASE)
Atlanta (ATL)
Austin (AUS)
Baltimore (BWI)
Barcelona (BCN)
Baton Rouge (BTR)
Belize (BZE)
Bentonville/Fayetteville Northwest Arkansas (XNA)
Boston (BOS)
Bridgetown, Barbados (BGI)
Buenos Aires, Argentina (EZE)
Buffalo (BUF)
Cedar Rapids (CID)
Charlotte (CLT)
Charlottesville, VA (CHO)
Chattanooga (CHA)
Chicago O'Hare (ORD)
Cincinnati (CVG)
Cleveland (CLE)
Colorado Springs (COS)
Columbus (CMH)
Curacao, Curacao (CUR)
Dallas/Fort Worth (DFW)
Dayton, OH (DAY)
Detroit (DTW)
Denver (DEN)
Des Moines (DSM)
El Paso (ELP)
Fargo (FAR)
Fort Lauderdale (FLL)
Fort Myers (RSW)
Fort Walton Beach (VPS)
Fort Wayne (FWA)
Frankfurt (FRA)
Fresno (FAT)
Gainesville (GNV)
Grand Cayman (GCM)
Grand Island (GRI)
Grand Junction (GJT)
Grand Rapids (GRR)
Guadalajara (GDL)
Guatemala City (GUA)
Hartford (BDL)
Honolulu (HNL)
Houston George Bush Intercontinental (IAH)
Houston Hobby (HOU)
Huntsville (HSV)
Indianapolis (IND)
Jackson Hole (JAC)
Jacksonville (JAX)
Kahului, Maui (OGG)
Kansas City (MCI)
Kona, Hawaii (KOA)
Las Vegas (LAS)
Lexington (LEX)
Liberia, Costa Rica (LIR)
Lihue, Kauai (LIH)
Little Rock (LIT)
Lima, Peru (LIM)
London Heathrow (LHR)
Los Angeles (LAX)
Louisville (SDF)
Madison (MSN)
Managua (MGA)
Manchester (MAN)
Memphis (MEM)
Miami (MIA)
Milan (MXP)
Milwaukee (MKE)
Minneapolis/St. Paul (MSP)
Moline (MLI)
Montevideo (MVD)
Montreal (YUL)
Nashville (BNA)
Newark (EWR)
New Orleans (MSY)
New York Kennedy (JFK)
New York LaGuardia (LGA)
Oklahoma City (OKC)
Omaha (OMA)
Orlando (MCO)
Palm Springs (PSP)
Panama City, Panama (PTY)
Paris Charles De Gaulle (CDG)
Pensacola (PNS)
Peoria (PIA)
Philadelphia (PHL)
Phoenix (PHX)
Pittsburgh (PIT)
Pointe a Pitre, Guadeloupe (PTP)
Port of Spain, Trinidad & Tobago (POS)
Portland (PDX)
Puerto Vallarta (PVR)
Raleigh-Durham (RDU)
Redmond, OR (RDM)
Reno (RNO)
Roatan, Honduras (RTB)
Rochester (ROC)
Rome (FCO)
Salt Lake City (SLC)
Sacramento (SMF)
San Antonio (SAT)
San Diego (SAN)
San Francisco (SFO)
San Jose (SJC)
San Jose, Costa Rica (SJO)
San Juan (SJU)
San Pedro Sula, Honduras (SAP)
San Salvador, El Salvador (SAL)
Santa Ana John Wayne/Orange County (SNA)
Santiago (SCL)
Savannah (SAV)
Seattle (SEA)
Shreveport (SHV)
Springfield, IL (SPI)
Springfield, MO (SGF)
St. Kitts, St. Kitts (SKB)
St. Louis (STL)
St. Lucia Hewanorra, St. Lucia (UVF)
Syracuse (SYR)
Tallahassee (TLH)
Tampa (TPA)
Tegucigalpa, Honduras (TGU)
Tokyo Narita, Japan (NRT)
Tucson (TUS)
Tulsa (TUL)
Vail (EGE)
Vancouver (YVR)
Washington Dulles (IAD)
Washington Reagan (DCA)
Waterloo (ALO)
West Palm Beach (PBI)
White Plains/Westchester County, NY (HPN)
Wichita (ICT)
Zurich (ZRH)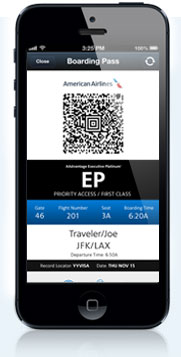 How to use the new Mobile Boarding Pass
1
Check in on aa.com (or aa.com Mobile). Choose "Email with Mobile Option" and select the appropriate email box for your mobile device. Don't forget, you can also check in from our app and your mobile boarding pass will be stored for you.
2
Check your email from your mobile device. Follow the link on the email to retrieve your Mobile Boarding Pass.
3
Save the boarding pass to your device. Click the "Save Boarding Pass" button directly below the barcode to save it to your phone for easy access at the security checkpoint (check your phone/PDA manual to locate where the Boarding Pass will save).
4
Proceed to Security. When you arrive at security, make sure the entire barcode is visible on the screen of your mobile phone or mobile device and have the backlight setting set to the brightest mode possible. If you have any problems, you will be given the opportunity to print a paper boarding pass at the Self-Service machines.
For additional information about Mobile Boarding Passes, visit FAQs.
*Other itineraries that do not match this criteria are not eligible for this service.