Get the app that knows where you're going
Download our travel app for iPhone® and gain access to a variety of tools to help you manage, plan and enjoy each trip you take on American Airlines.
You can view personal flight details such as gate, seat and flight status info at a glance. You can check-in and add your boarding pass to Passbook (remember to tap 'Add' in the top right corner of your mobile boarding pass to add it to Passbook). Your mobile boarding pass will automatically push real-time updates to you regarding gate, time and seat changes as well as cancellation notices. And, if you are TSA PreCheck approved, the TSA PreCheck logo will now appear on your Passbook Mobile Boarding Pass directly above the barcode.
Additionally, you can login and change or purchase a seat with either the stored credit card in your AAdvantage® profile (on the Reservation Preferences tab), or you may now enter the credit card of your choice.

Watch iPhone iOS7 Video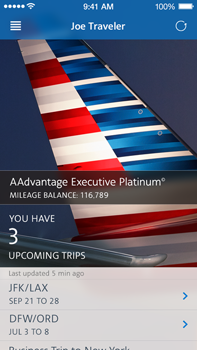 ---
Features