Get the app that knows where you're going
Download the American Airlines app for Barnes & Noble Nook Color and gain access to a variety of tools to help you manage, plan and further enjoy each trip you take on American Airlines. You can view personal flight details such as gate, seat and flight status info at a glance. You can readily access your Mobile Boarding Pass - the app saves it for you so it's always easy to find.
And, you can also monitor your place on the standby list, track your elite status progress, send your flight information to your calendar, set parking reminders and much more. Get your personalized America Airlines travel information by downloading the app that's perfect for flying through airports.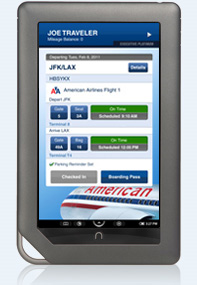 ---
Features