Get Flight Info On The Fly.
Looking for a quick and easy way to get flight information?
There are 3 different types of mobile notifications to help you stay on top of your travel.
Message and data rates may apply. For help, text "HELP" to FLYAA (35922). To cancel, text "STOP" to FLYAA (35922) at any time. Message frequency depends on account settings. Please visit our Privacy Policy to learn more.
American Airlines offers mobile notifications that enhance the travel experience so customers can be even more efficient. Access all your flight information, including gates, times and baggage claim when you're on the go.
There are three different ways American Airlines can notify you:
Simple. You text us. We text you back.
Set up a one-time notification for your flight and always be in the know on the go.
AAdvantage member? Once you set this up in your account settings, you'll receive automatic notifications every time you fly.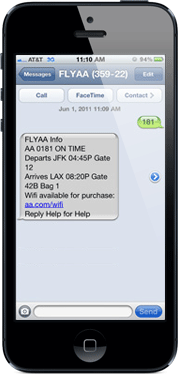 Thank you for choosing American Airlines' FLYAA text message service for your mobile device. Your use of the Service constitutes your agreement to these terms and conditions. We may amend these terms, and modify or cancel the Service or any of its features without notice. Message and data rates may apply. Check with your mobile service provider for details on specific fees and charges that may apply for you. For help, text "HELP" to FLYAA (35922). To cancel, text "STOP" to FLYAA(35922) at anytime. Click to view AA.com's Privacy Policy.
Program: American Airlines offers its customers mobile access to flight information (e.g., for tracking flight status, gate, times, and baggage claim) over Short Message Service or SMS text messages (the "Service"). The Service will be ongoing but may be cancelled by us at any time. Customers will be allowed to opt out of the Service at any time. Message & data rates may apply.
Questions: You can contact us at any time from your mobile phone by sending a text message with the word "HELP" to FLYAA (35922).
To Stop the Service: To stop the messages coming to your mobile phone, you can opt out of the Service via SMS. Just send a text that says "STOP" to FLYAA(35922). You'll receive a one-time opt-out confirmation text message. After that, you will not receive any future messages.
Agreement to Terms & Conditions: Your use of the Service constitutes your agreement to these terms and conditions.
You agree to provide us with a valid mobile number. You agree that we may send you text messages through your wireless provider. We do not charge for the Service, but you are responsible for all charges and fees associated with text messaging imposed by your wireless service provider.
Notify us immediately of any changes to your registered Device. In case of unauthorized access to your Device or Service, you agree to cancel enrollment associated with the Device immediately.
You agree to indemnify, defend, and hold us harmless from any third party claims, liability, damages or costs arising from your use of the Service or from you providing us with a phone number that is not your own.
You agree that we will not be liable for failed, delayed, or misdirected delivery of, any information sent through the Service; any errors in such information; any action you may or may not take in reliance on the information or Service. WE WILL NOT BE LIABLE TO YOU FOR SPECIAL, INDIRECT OR CONSEQUENTIAL DAMAGES.
Our participating carriers include (but not limited to) AT&T, Sprint, Verizon Wireless, U.S. Cellular®, and T-Mobile®.
Any failure of American Airlines to assert any rights it may have hereunder does not constitute a waiver of its right to assert the same or any other right at any other time or against any other person or entity. If any provision of these terms and conditions is found to be invalid or unenforceable, then the invalid or unenforceable provision will be stricken without affecting the validity or enforceability of any other provision.