Enjoy A Premium Travel Experience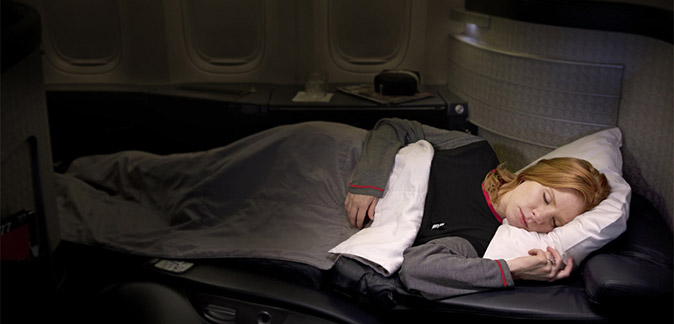 Relax and get some rest while you fly with our full suite of products now available on long-haul international flights operated by Boeing 777s and 767-300s, and select flights to and from Europe operated by Boeing 757s.
Only U.S. Airline to Offer Suite of Amenity Products in First Class
You can feel more comfortable than ever while you lounge with our soft, quilted bed topper, cozy duvet, two pillows, new closed-toe slippers and comfortable pajamas.
Wrap up in a light-weight day blanket onboard our Boeing 777 while you watch movies on demand and then enjoy our turndown service when you're ready to get some shut-eye.
Plus, our seat design provides you the personal freedom to comfortably recline or lie flat to sleep.
Premium Cabin Comfort
Enjoy our redesigned amenity kit packed with items for your health and comfort. Our First Class amenity kits conveniently double as a tablet case and are stocked with rejuvenating skincare products. We've even included full-size lotions in the First Class lavatories on all Boeing 777-300 planes.
If you're in Business Class, enjoy a pillow and a duvet that offers less bulk while still providing the warmth you've come to expect, and freshen up with skin care products in your amenity kit. And, lie all the way back with fully lie-flat seats with all-aisle access in the newly redesigned Business Class Cabin, beginning with the Boeing 777-300ER on flights to London and Sao Paulo.
Unwind Before You Fly
First and Business Class travelers can escape to our relaxing Admirals Club® lounges to enjoy personal service and exceptional amenities in locations around the world.
Our Flagship Lounge® offers a complimentary buffet, personal travel assistance and business services. If you're looking for VIP travel assistance and a faster and more enjoyable trip from curbside to boarding, try our Five Star ServiceSM and we'll take care of the details.
Learn about other ways we're modernizing your travel experience to help you fly better.