Priority Access Privileges

Boarding Privileges - And More - For American's Top Customers
AAdvantage elite status members and other select customers enjoy more control and ease when they travel with our Priority Access privileges. From check-in to boarding, Priority Access benefits help you speed through the airport.
Exclusive Boarding Lanes at Every Gate
Priority Access lanes are available at American Airlines gates system wide, offering a fast track to board the aircraft.
Customers with Priority Access privileges are among the first to board the plane. Our AAdvantage® Executive Platinum members will board with either First Class or Business Class passengers* followed by our AAdvantage® Platinum and Gold members, and then all other Priority Access customers. Should you arrive at the gate after Priority Access customers have been called, you may bypass the General Boarding lines and enjoy the convenience of boarding anytime via your new dedicated boarding lane.
Simply look for the Priority Access sign in the gate area.
Convenient Designation on Boarding Pass
"Priority Access" is noted on the boarding pass, so there is no need to show a membership card or other documentation.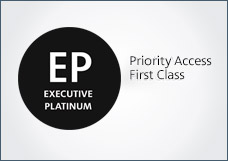 Your AAdvantage® status or boarding group will now be identifiable via the circle in the bottom left corner of your boarding pass. If your circle is shaded black, this indicates Priority Access boarding. Otherwise, your boarding group number will be listed in the circle. Simply show your boarding pass, and you're on your way!

Expedited Check-in and Security Screening, Too
Priority Access benefits also include the use of exclusive security screening lanes (where available) and dedicated check-in areas at ticket counters. Look for the distinctive Priority Access signs to speed your way through check-in and the security screening process.
Who's eligible for Priority Access?
First Class and Business Class passengers
Advantage Executive Platinum, AAdvantage Platinum and AAdvantage Gold members
AAirpass® travelers
Customers traveling on a full fare Economy Class ticket booked in Y
oneworld® Emerald, Sapphire, and Ruby members
Alaska Airlines MVP Gold 75K, MVP Gold and MVP members
Look for Priority Access signs at check-in counters, in the security screening area and at the gate