Three Airlines. Added Convenience.
Travel the World with Ease and Comfort
...you will be too
Our enhanced relationship with British Airways and Iberia gives you access to more than 125 cities throughout Europe, with nonstop service between 27 gateways in the United States, Canada, Puerto Rico and Mexico across the pond to London.
Learn More
Moving toward the future
Experience the future of travel as we introduce hundreds of new planes and refresh existing ones to bring you a more modern, comfortable and connected experience – beginning with the 777-300ER, coming soon.
Learn More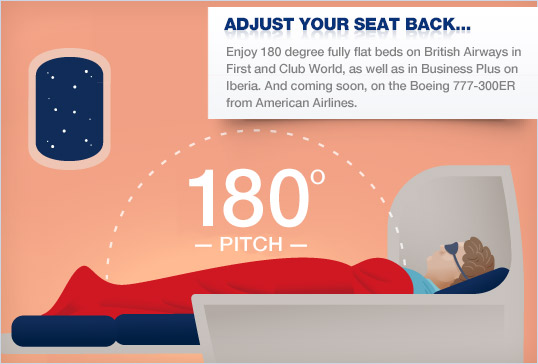 ...or plug in and catch up
In addition to the 777-300ER, fully lie-flat seats will also be rolling out across our international dual-aisle planes in First and Business Class, with aisle access at every seat. If rest is not your thing, catch up on work with our international Wi-Fi, universal AC power outlets and USB jacks, or get lost in our top-of-the-line in-seat entertainment.
Learn More
Providing you rewarding travel benefits
We are expanding your ability to use your miles to upgrade all eligible British Airways and Iberia tickets – even if you booked with a travel agency. Plus, AAdvantage® members can earn and redeem AAdvantage miles on all eligible American Airlines, British Airways and Iberia flights*, and the miles earned for travel on all three airlines count toward elite status qualification.
*Flights to/from Cuba are not eligible for mileage accrual or redemption.
Experience More Europe as you enjoy the ease and convenience of our enhanced global network with British Airways and Iberia.
Learn More
»