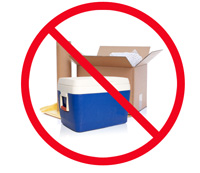 Whether you're traveling to visit loved ones or making one last business deal, we want to make sure that your checked bags arrive with you at your destination this busy travel season. For that reason, American Airlines and American Eagle will implement limitations on checked baggage and boxes for all southbound flights during certain dates. There are currently no embargos except for the year round embargos on the destinations listed below.

What is embargoed?
For the destinations identified below, boxes, excess, overweight (more than 70 lbs/32 kgs), or oversized pieces will not be accepted for transportation. Bags weighing 51-70 lbs. (23.1-32 kgs) will be accepted with the collection of an applicable charge.

What can you bring?
You are welcomed to check a maximum of two pieces which must be within the size and weight limits as follows:
1st piece - up to 62 dimensional inches and 50 lbs. (70 lbs. for Brazil) or up to 157 cms and 23 kgs (32 kgs for Brazil)
2nd piece - up to 62 dimensional inches and 50 lbs. (70 lbs. for Brazil) or up to 157 cms and 23 kgs (32 kgs for Brazil)
To determine the dimensional measurement, add the length, width and height of an item.
You may bring one carry-on bag and one personal item onboard unless otherwise stated. Carry-on items may only be up to 45 dimensional inches not exceeding the following dimensions 22" long x 14" wide x 9" tall or 115 cm (56 x 36 x 23 cm) and must fit comfortably into the bag sizer. For more information, please see our Carry-on Allowance page.
First and Business Class Customers
We are pleased to offer customers traveling in First and Business Class the ability to check three bags at no charge.
What is a Box?
A "box" is defined as a six-sided container of any size, constructed of cardboard, wood, plastic or metal, which is either square, rectangular or cylindrically shaped and is not normally used for the transportation of items associated with air travel. Plastic tubs/containers and/or coolers are also considered to be boxes.
American Airlines Cities With Oversize and Overweight / Excess Bag Limitations

Caribbean
Grenada (GND)
Kingston, Jamaica (KIN)
Port au Prince, Haiti (PAP)*ˆ
Santo Domingo, Dominican Republic (SDQ)
Santiago, Dominican Republic (STI)
St. Kitts (SKB)

Mexico
Guadalajara (GDL)
Mexico City (MEX)

Latin America
Asuncion, Paraguay (ASU)*
Brasilia, Brazil (BSB)*
Cali, Colombia (CLO)
Caracas, Venezuela (CCS)
Guatemala City, Guatemala (GUA)
La Paz, Bolivia (LPB)**
Manaus, Brazil (MAO)
Managua, Nicaragua (MGA)
Maracaibo, Venezuela (MAR)
Medellin, Colombia (MDE)
Quito, Ecuador (UIO)
Recife, Brazil (REC)*
San Pedro Sula, Honduras (SAP)
San Salvador, El Salvador (SAL)
Salvador de Bahia, Brazil (SSA)*
Santa Cruz, Bolivia (VVI)**
Tegucigalpa, Honduras (TGU)
* A permanent embargo on boxes as well as excess, oversize and overweight baggage is in place.
** A permanent embargo on excess boxes and baggage is in place.
ˆ Only one excess bag per passenger allowed.

American Eagle Cities With Oversize / Excess Bag Limitations

Mexico

The Caribbean

The Bahamas

Customers traveling to Mexico are only allowed one checked bag.

Aguascalientes (AGU)
Chihuahua (CUU)
Guadalajara (GDL)
Hermosillo (HMO)
Mazatlan (MZT)
Morelia (MLM)
Puebla (PBC)
Queretaro (QRO)
San Luis Potosi (SLP)
Torreon (TRC)
Zecatecas (ZCL)

La Romana, Dominican Republic (LRM)

Freeport (FPO)
Georgetown (GGT)
Marsh Harbor (MHH)
Nassau (NAS)
North Eleuthera (ELH)

Please note:
Any standing, more restrictive baggage allowance for American Eagle flights to other destinations not listed above still apply and are not replaced by the guidelines shown above.
Additional Information
Sports equipment, such as golf bags, bikes and surfboards, can be accepted as part of the total checked bag allowance, although additional charges may apply. For more information, see our Baggage Allowance page.
Walkers, wheelchairs and any other assistive devices are also welcomed for customers with disabilities. Visit our Special Assistance section for more details.
US Airways embargo information is available for customers traveling on US Airways flights.
Do you need to know the easiest way to check in at the airport or information about traveling with children or pets?

We've assembled travel tips to make your journey a snap!