Learn about the fleet
Continuing its focus on providing customers – and especially premium customers – with greater comfort, flexibility and privacy, American Airlines has completed the standardization of its Boeing 777-200 fleet.
The standardization included the installation of its Boeing 777-200 Business Class seat to all 47 aircraft and the installation of the customer-favorite Flagship® Suite – meaning all American's 777-200 fleet has the Flagship Suite.
You can enjoy our Boeing 777-200 aircraft to/from all Asia/Pacific routes.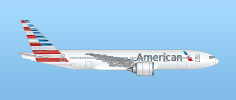 Boeing 777-200 retrofit
Our planes from/to Asia will be refreshed in 2015.
Find out more »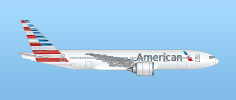 Boeing 777-200
To learn more about all the aircraft in our fleet and to view seating charts, click on the "GO" button below. You will be redirected to aa.com U.S. Use the back button on your browser to return to aa.com Japan.