Make big things happen
We all know that everything's bigger in Texas, and a trip to Dallas definitely lives up to this expectation. Big D is the gateway to The Lone Star State and with 'six-flag' influences from its historical sovereignty, it's a convergence of many different sights, smells, tastes and sounds. From fantastic shopping and upscale restaurants, to a growing arts scene, a trip to Dallas will keep the foodies, shopaholics and culture fanatics happy.
And that's not all. Beautiful countryside and National Parks are within easy reach, as well as world famous ranches, rodeos and theme parks – there really is something for everyone.
Nobody knows America like American, and we can fly you there with daily direct flights to Dallas from Frankfurt. We also offer convenient connections from Germany to Dallas via London or Chicago.
Explore downtown
It's always amazing taking a stroll in a big city, and Dallas is no exception. Explore the Arts District in search of sculpture, architecture and performance with Dallas Museum of Art, Nasher Sculpture Centre and many theatres such as the Winspear Opera House. After, hop on the vintage M-Line trolley cars to the upscale shops in The West End with the best designer labels and high-street names to choose from. As dusk descends, head to Reunion Tower and dine at the rotating restaurant Five Sixty, with breathtaking views of Dallas at over 560 feet.
Commemorate American history
On 22nd November 1963, John Fitzerald Kennedy, the 35th President of the United States, was assassinated in Dealey Plaza, Dallas. Now, over 50 years on, The Sixth Floor Museum examines the life, times, death and legacy of President Kennedy. It is located at the very spot from where Lee Harvey Oswald fired the fatal shot. Immerse yourself in this event that rocked the world and changed America forever.
Howdy partner!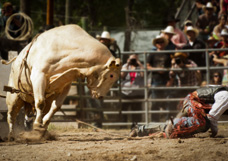 Texas is the home of the cowboy, so a visit to Fort Worth Stockyards is a must. Push through saloon doors into a traditional bar for a cool beer and then head to the weekly Rodeo Championships and experience bull riding, tie down roping, barrel racing and even mutton scrambling for the kids! You can also watch the traditional Cattle Drive, get lost in the Cattlepen Maze, visit the Petting Zoo or buy Texan Cowboy boots and hat as souvenirs in one of the many shops.
A day of family thrills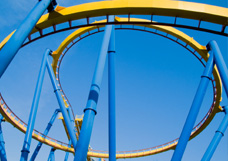 Why not spend a day at the original Six Flags park. Opened in 1961, Six Flags Over Texas has over 35 thrilling rides such as the Texas SkyScreamer, Titan and New Texas Giant, as well as exciting shows and concerts! Set in 212 acres of beautifully landscaped gardens, there's something for every member of the family – from thrills to chills, Six Flags Over Texas is a must-do when in Dallas.
Dive into nature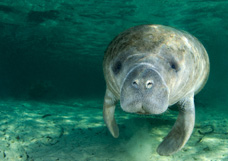 As soon as you enter the Dallas World Aquarium and Zoo, you'll be amazed by the five living exhibits; from the 200-foot tall Orinoco rainforest to the botanical beauty of South Africa. With hundreds of native species roaming free, this is a great place to get up-close and personal with some of nature's most interesting creatures. Furthermore, the aquarium features a coral reef and kelp forest ecosystems as well as a 20,000-gallon walk-through exhibit.
Get your head in the game
Head to the American Airlines Centre in Victory Park, home to NBA champions Dallas Mavericks, and ice hockey's Dallas Stars. Wander around the plaza and soak up the pre-game atmosphere, or grab a drink in one of the many bars surrounding the Centre. During the game, immerse yourself in the passion and excitement of the players and the fans – but make sure you're cheering for the Mavs or Stars! After you've calmed down, check out the House of Blues for some live music, or the W Hotel's Living Room for cocktails and people-watching.
A world of opportunity
Our daily direct flights from Frankfurt to Dallas can also open up easy flight connection opportunities to hundreds of destinations across the U.S. and extensive connections to Mexico, Brazil and Argentina as well as other South American destinations.
When you fly with American Airlines, you will benefit from a leading network across the United States and beyond. We are also upgrading our fleet with hundreds of new planes and refreshing our existing aircraft to bring you a more modern, comfortable and connected experience.
Flying to Dallas couldn't be easier, with our daily direct flights to Dallas. Get ready to explore Big D and the Lone Star State, and begin your American adventure.
Looking for more flexibility? Our relationship with oneworld® partners British Airways and Iberia offers you more flight and schedule options.