Flying or connecting to US Airways?
US Airways has different policies on baggage. Learn more about their carry-on and checked bag policies before you book. Visit usairways.com
Baggage cannot be checked prior to the day of departure
Your baggage will only be checked to your final destination
All checked baggage will be screened. Transportation Security Administration (TSA) conducts all screenings for all U.S. airports. For more information about the TSA, www.tsa.gov*
All carry-on baggage is subject to inspection
Your name and address must be on the outside of your baggage. Name tags are available at all airport baggage check-in locations
View tips on how you can avoid injuries while transporting your baggage
(PDF file size: 302KB †Adobe Acrobat Reader* required)
Baggage Acceptance Cutoff Times
For flights originating outside the U.S., you must check in 60 minutes before departure, and be present at the departure gate and ready to board at least 30 minutes prior to scheduled departure time to retain your reservation and a seat. Standard baggage acceptance cutoff for flights originating in all airports outside the U.S. is 60 minutes before departure.
For international departures from a U.S. city, standard baggage acceptance cutoff time is 60 minutes.
Customers arriving in the U.S. from an international city must claim checked bags at their first stop within the U.S. and proceed through Immigrations/Customs. Customers connecting to another airline Internationally should check the applicable country's Customs procedures to determine whether checked baggage needs to be re-checked with the other airline upon arrival into that country.
For more information, see Suggested Arrival Times.
Checked Baggage Recommendations

Do not lock your baggage due to Transportation Security Administration screening of every checked bag.
Place your name and address on the inside as well as the outside of your baggage
Carry valuable items such as electronic equipment, cameras, film, cash and jewelry with you on board the aircraft
Carry necessary items such as medication, prescriptions and keys with you on board the aircraft
Claim your baggage immediately upon arrival
Although we recommend that you do not lock your baggage due to Transportation Security Administration (TSA) screening of every checked bag, there are now locks available at retail outlets which can be used to secure your luggage without creating the need to break the lock or damage your bag.
Look for locks that identify the use of a "TSA-recognized locking mechanism." Only locks that state this use of a TSA-recognized locking mechanism are recommended for use in locking your baggage. For more information, please visit the TSA Web site at www.tsa.gov.*
Guidelines For Lithium Batteries
As of January 1, 2008, travelers may no longer pack spare lithium batteries of any kind in checked baggage. Passengers wishing to carry spare lithium batteries for devices such as laptops, cell phones and cameras are now required to pack them in their carry-on baggage with the terminals covered/insulated. Travelers may check bags that contain batteries, as long as they are installed in electronic devices.
Please see the following Web site for tips on traveling with spare batteries:
http://safetravel.dot.gov/tips.html*
When you check your luggage, the airport agent will put a bag tag on each bag that indicates your name, the flight number(s), and all cities in your ticketed itinerary. This information comes from our Sabre® computer reservation system.
Tip: If you are deviating from your ticketed itinerary, please advise the airport agent before checking your luggage.
You will be given a numbered claim check for each bag that is checked. These serve as proof of checked baggage. It is important that you keep the claim check(s) until your trip is completed and you have received all of your checked baggage.
Tip: Please check to ensure that the number of claim checks you were given corresponds to the number of bags you checked.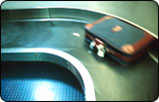 How Your Luggage Travels
From the ticket counter, your baggage is placed on a series of conveyor belts. The conveyor belts transport baggage to a location where bags are loaded into carts according to flight number and destination. In our large airports, automated scanners read the code on the bag tag and direct the bag to the correct loading area. Your bag will go through a series of conveyor belts, chutes, and other mechanisms before reaching the point where it is loaded into a cart and taken out to the aircraft.
Tip: Please remove any straps, hangers and protruding objects from your bag before checking it. These may get caught in the baggage system and cause damage to your bag. Bags that are bulging or are not sufficiently constructed to support the weight inside may split during the trip through the bag belt system.
The baggage is loaded in the cargo compartment of the aircraft, usually using another conveyor belt. Due to the amount of space in the compartment, bags may have to be placed flat and stacked on top of each other. Although the baggage compartments are secured with nets or straps, bags can shift during flight due to the plane's angle during take-off.
Tip: As this is the standard or normal way all bags are transported, breakage or damage to fragile items may be unavoidable. Do not pack fragile items inside your checked luggage.
Please consider the trip your bag will take when you are choosing and packing your luggage. The Luggage & Leather Goods Manufacturers of America, American Luggage Dealers Association, and International Luggage Repair Association have provided some helpful suggestions. Please see Tips To Help Reduce The Risk Of Damaged Luggage
In the unlikely event your baggage is damaged, it must be reported in person to an American Airlines Baggage Service Representative within 24 hours for domestic itineraries and within 7 days for international itineraries after the arrival of the flight on which the bag was checked. Please see Damaged Baggage for detailed information.
*When accessing a partner or information site, a new browser window or tab will open. To return to AA.com, close the browser window or tab.