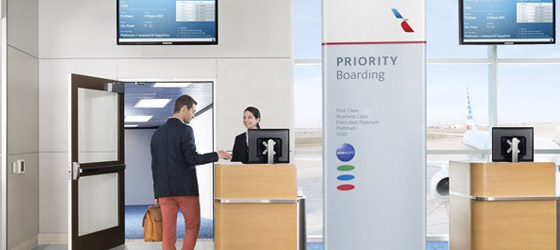 The world of benefits you receive as an AAdvantage® Platinum member start well before you ever board a plane.
As an AAdvantage Platinum member you are eligible for many benefits throughout the airport, from special lines and the ability to stand by for a different flight to waived checked baggage charges.
| Airport Benefits | Executive Platinum | Platinum | Gold |
| --- | --- | --- | --- |
| Priority Access Check-in | | | |
| FIagshipTM Check-In at London Heathrow | | | |
| Priority Access Security Screening | | | |
| Priority Access Boarding Privileges | | | |
| Same Day Standby | | | |
| Priority Baggage Delivery | | | |
| Complimentary Checked Baggage Allowance on American Airlines, American Eagle, the American Connection carrier and Alaska Airlines | | | |
| oneworld® Alliance Travel Benefits | | | |
| oneworld® Extra Baggage Allowance* | | | |
| oneworld® Partner Lounge Access | | | |
| Discounted Admirals Club® Membership | | | |
*As a benefit of the oneworld alliance, Executive Platinum members (oneworld Emerald) are entitled to one additional bag, for a total of three checked bags on American.
For full details, visit www.aa.com/elitebenefits
Priority Access Privileges
It means we'll get you through the airport as quickly and smoothly as possible with benefits like expedited check-in, exclusive security screening lanes at select airports and earlier boarding through a reserved Priority Access lane at the gate.
The check-in process has become even easier with the option to check-in from the convenience of home or via your mobile device on aa.com. You can also use our Self-Service Check-In machines, where you may check in for your flight, check bags or change seats. Should you need additional assistance, you are welcome to use our First Class check-in counters, regardless of the class of service in which you are traveling. We also invite you to use Priority Access security screening lanes at select airports. Just look for Priority Access signs in the security screening areas.
| | | | |
| --- | --- | --- | --- |
| Atlanta, GA (ATL) | Detroit, MI (DTW) | New York, NY (LGA) | San Diego, CA (SAN) |
| Boston, MA (BOS) | Fort Lauderdale, FL (FLL) | Newark, NJ (EWR) | San Francisco, CA (SFO) |
| Baltimore, MD (BWI) | Honolulu, HI (HNL) | Santa Ana/Orange County/John Wayne, CA (SNA) | San Jose, CA (SJC) |
| Chicago, IL (ORD) | Kansas City, MO (MCI) | Philadelphia, PA (PHL) | San Juan, PR (SJU) |
| Cleveland, OH (CLE) | Las Vegas, NV (LAS) | Phoenix, AZ (PHX) | Seattle, WA (SEA) |
| Columbus, OH (CMH) | Los Angeles, CA (LAX) | Portland, OR (PDX) | St. Louis, MO (STL) |
| Dallas/Fort Worth, TX (DFW) | Miami, FL (MIA) | Raleigh/Durham, NC (RDU) | Washington Dulles, DC (IAD) |
| Denver, CO (DEN) | New York, NY (JFK) | Reno, NV (RNO) | |
You'll be among the first to board. We invite our First and/or Business Class passengers onboard, along with AAdvantage Executive Platinum members, followed by AAdvantage Platinum members and then all remaining Priority Access customers. If you arrive at the gate after general boarding has begun, bypass the line and board immediately via the dedicated Priority Access lane. For more details on Priority Access privileges, visit www.aa.com/priorityaaccess.
Checked Baggage Benefits
You may check two bags free of charge (within current size and weight limits, of course). Plus, those traveling with you on the same reservation can also enjoy two free checked bags. Find details about checked baggage here.
As a Platinum member, you receive complimentary Priority Baggage Delivery. That means whenever you check bags, they will be tagged as Priority. Once you land, Priority bags are the first ones delivered to baggage claim so you can be on your way more quickly.
Standby Privileges
As a Platinum member, you can stand by for a different flight on the same day you were planning to travel — at no charge. In addition, those traveling with you on the same reservation can enjoy the same benefit. This benefit applies to travel within and between the U.S., Puerto Rico, the U.S. Virgin Islands, Canada and international points in the Caribbean.
Special Recognition on oneworld Airlines
Your special treatment extends to our oneworld member airlines, where you'll be recognized with oneworld Sapphire status. As such, you are entitled to priority check-in, preferred seating, priority boarding, stand by and wait listing privileges – the same perks the carrier you are traveling with gives to its own Sapphire status customers.
You'll also enjoy day-of-travel access to all oneworld Business Class airport lounges when traveling internationally*, as long as your continuing flight is on a marketed and operated oneworld airline. As an added benefit, we invite you to bring one guest with you provided the guest is also traveling on a oneworld marketed and operated flight and is accompanied by you.
To ensure you receive your oneworld Sapphire perks, be sure to provide your AAdvantage number when making reservations. Learn more about elite member benefits on oneworld airlines.
You also have access to priority check-in, priority boarding, access to expedited security screening lanes and two checked bags at no charge when traveling on Alaska Airlines. Learn More about benefits on Alaska Airlines.
Admirals Club® Membership Options
You receive a special reduced rate on an annual Admirals Club membership thanks to your Platinum status. You also have the option of using AAdvantage miles to purchase an Admirals Club membership. Our Admirals Club lounges provide members with complimentary snacks and beverages, private showers, computers with Internet access, complimentary Wi-Fi, children's rooms, conference rooms with full business amenities and more. Learn more at aa.com/admiralsclub.
*Lounge access is not available when travel is wholly within the U.S., Canada, Mexico (except Mexico City), Bermuda, the Bahamas and the Caribbean.
AAdvantage Program Terms and Conditions
American Airlines reserves the right to change the AAdvantage® program and its terms and conditions at any time without notice, and to end the AAdvantage program with six months' notice. Any such changes may affect your ability to use the awards or mileage credits that you have accumulated. Unless specified, AAdvantage miles earned through this promotion/offer do not count towards elite-status qualification or Million MilerSM status. American Airlines is not responsible for products or services offered by other participating companies. For complete details about the AAdvantage program, visit aa.com/AAdvantage.
American Eagle® service is operated by American Eagle Airlines, Inc., SkyWest Airlines, Inc., ExpressJet Airlines, Inc., or Republic Airline Inc. American Connection® service is operated by Chautauqua Airlines, Inc.
American Airlines, American Eagle, American Connection, AAdvantage, AAdvantage eSummary, Million Miler, and the Flight Symbol logo are marks of American Airlines, Inc.
oneworld is a registered trademark of oneworld Alliance, LLC.
© 2013 American Airlines, Inc. All Rights Reserved.