LGBT equality in the workplace
Perfect rating in the Corporate Equality Index every year from the start

We're proud to be the first and only airline to receive perfect marks every single year from the Human Rights Campaign (HRC) for lesbian, gay, bisexual, and transgender (LGBT) equality in the workplace.
Leading the way in equality
We've been a pioneer in equality for our LGBT customers and employees for nearly two decades. In addition to being the first airline to achieve a perfect CEI record, we've accomplished many other firsts, including being the first major airline to:
Implement same-sex partner benefits, offering equal health benefits and travel privileges to the same-sex partners of LGBT employees.
Include sexual orientation and gender identity in our workplace nondiscrimination policies.
Form a company-recognized LGBT employee resource group, GLEAM, which continues to advise management on business practices as it enters its 20th year.
Endorse the Employment Non-Discrimination Act and advocate for equal tax treatment for same-sex partner benefits.
Include LGBT-owned businesses in our supplier diversity program.
Committing to diversity
We're dedicated to being champions of equality, fairness, and inclusion and are always searching for new ways to provide a safe and welcoming environment for our people and our customers. Learn more about our commitment to LGBT equality, our other diversity efforts, and our many awards and recognition.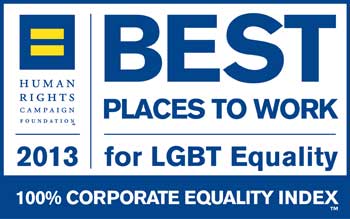 Best places to work
Over the past 11 years, we've achieved the highest possible ranking in HRC's Corporate Equality Index (CEI), which scores the top workplaces in the U.S. for their inclusion of LGBT employees and their allies. We are one of only nine companies – and the first and only airline – to achieve a perfect score each year, earning the title of one of America's "Best Places to Work for LGBT Equality."