Earn Miles
Earn 1,000 AAdvantage® miles for every $10,000 you finance with Wells Fargo Home Mortgage. Whether you close on a new purchase, refinance your current home, or open a home equity loan or line of credit, you're eligible for these miles. Just turn to Wells Fargo Home Mortgage for your home financing needs.
To be eligible to earn AAdvantage miles you must call and close your loan through 1-866-324-8127. Offer valid for U.S. residents only.
Program is NOT available through Wells Fargo Retail Branches
Website: Wells Fargo Home Mortgage
Call 1-866-324-8127 to speak with a home mortgage consultant or visit us online to get started with a pre-approval decision or to check out today's rates.
Request Mileage Credit
Allow six weeks after your funding date for AAdvantage miles to post to your account. For questions regarding your mileage credit, please use the contact information below. Please be prepared to provide your AAdvantage number.

Phone Number: 1-866-324-8127

Terms and Conditions
1.To be eligible for The American Airlines AAdvantage Mileage program, you must apply for your loan through the Wells Fargo Home Mortgage team via 1-866-324-8127. At time of application, you must state your intention of applying through the American Airlines AAdvantage Mileage promotion and request to earn miles at that time. This program is not retroactive. If the AAdvantage number is not provided at application, AAdvantage miles will not be awarded.
AAdvantage miles cannot be combined with any existing Wells Fargo Home Mortgage promotion. AAdvantage miles do not apply to the following:
The Wells Fargo Three-Step Refinance SYSTEM® program
Modification or assumption loans
When you apply through any Wells Fargo retail branch, online, or other third party
AAdvantage miles awarded on closed mortgage and home equity transactions only and miles will post to your account within 6 weeks after your funding date and will not exceed 50,000 AAdvantage miles per transaction.
2.Home equity loans and lines of credit are available through Wells Fargo Home Equity Group, a division of Wells Fargo Bank, N.A.

3.A PriorityBuyer® preapproval is based on our preliminary review of credit information only and is not a commitment to lend. We will be able to offer a loan commitment upon verification of application information, satisfying all underwriting requirements and conditions, and providing an acceptable property, appraisal, and title report. Not available on nonconforming products.

Wells Fargo Home Mortgage is a division of Wells Fargo Bank, N.A. NMLSR ID 399801 01/15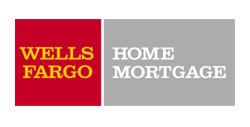 Enjoy home financing benefits
Wells Fargo Home Mortgage has a wide variety of home financing programs and options to help you with your home buying needs, including:
Get started today by contacting a home mortgage consultant to determine your buying power with a PriorityBuyer preapproval.2