Earn Miles
Earn 250 miles per stay
To earn your AAdvantage miles please join Best Western Rewards® at goldcrownclub.bestwestern.com and update the earning preference on your Membership Overview to American Airlines
Phone Number: 1-800-782-9422
Convert Best Western Rewards to AAdvantage Miles
To transfer your Best Western Rewards® into AAdvantage miles visit www.bestwesternrewards.com.
Request Mileage Credit
Allow six to eight weeks for AAdvantage miles to post to your account. For questions regarding your mileage credit, please use the contact information below. Be prepared to provide your AAdvantage number and receipt copies.
Best Western International, Inc.
PO Box 42007
Phoenix, AZ 85080-2007
Phone: 800.237.8483
Fax: 623.780.6988
Email: gcc@cs.bestwestern.com

Terms and Conditions
A stay is defined as one or more consecutive nights at the same hotel regardless of the number of check-in/check-out occurrences. The AAdvantage member must reserve the room in the member's name and stay overnight. Only one member per room will be credited with AAdvantage miles.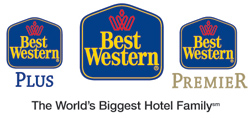 Best Western International, Inc. is THE WORLD'S BIGGEST HOTEL FAMILY℠, with over 4,000* BEST WESTERN®, BEST WESTERN PLUS® and BEST WESTERN PREMIER® hotels in 80* countries and territories worldwide. Each Best Western-branded hotel is independently owned and operated. Now celebrating 65 years of hospitality, Best Western has grown into an iconic brand that hosts 400,000* worldwide guests each night. Best Western is equally committed to the business and leisure traveler.
*Numbers are approximate and can fluctuate.