In the best loyalty program
The possibilities are endless
As a member of the AAdvantage® program, you'll earn miles when you fly on American, oneworld® and other participating airlines, as well as over 1,000 partners. Then, you can use your miles for:
Flights to nearly 1,000 destinations worldwide

Upgrades

Car rentals and hotels

Other retail products

Earn miles
We make it easy to earn miles when you fly or when you engage with any of our partners.
Fly to earn miles
Earn miles when you fly with American, oneworld® and other participating airlines.
Earn miles with partners
There are over 1,000 ways to earn miles with
our partners – from car rentals and hotel stays, to dining out and using credit cards.
Buy, share or gift miles
Don't wait any longer for that trip you've been longing to take. Buy the miles you need and be on your way.
Use your miles
Flight awards
With AAnytime® Awards there are no blackout dates and if a seat is available, you can book it with miles. And if your travel plans are flexible, MileSAAver awards are available for fewer miles.
Upgrades
Use your miles to upgrade to First or Business Class on American and select partner airlines. You can use your miles for yourself or for anyone else!
Hotels, cars and more
Redeem your miles for hotel stays, rental cars and other retail products.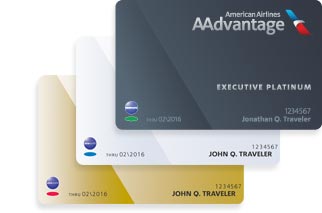 Discover the perks of elite status
The more you travel the more you earn – upgrades, bonus miles, airport privileges and more
Qualify for Executive Platinum, Platinum or Gold status with Elite Qualifying Miles (EQMs) or Elite Qualifying Segments (EQSs). When you fly with us or participating partner airlines, your travel will count toward elite status qualification.
The oneworld alliance: More destinations around the globe
oneworld offers convenient service on the world's leading airlines across nearly 1,000 destinations worldwide. And as an AAdvantage member, when you travel on oneworld airlines, your eligible activity will count toward AAdvantage elite status qualification. Plus, enjoy:
Smooth transfers between partner airlines

Earning and redeeming miles across the oneworld alliance

Recognition of AAdvantage elite status across all member airlines