Codeshare Partners
To connect you to even more of the world, we rely on valuable codeshare agreements with other airlines to bring you easy access to more destinations as smoothly and seamlessly as possible.
WHAT IS A CODESHARE?
A codeshare agreement allows us to directly sell a flight on another carrier using an American Airlines code and flight number. In other words, through a codeshare agreement, airlines can sell seats on flights operated by the other carrier. We codeshare on select quality carriers, including most oneworld® member airlines. See below for a complete list of our codeshare partners.
OUR CODESHARE WITH US AIRWAYS
As part of our merger with US Airways, we are bringing you an expanded worldwide network with even more opportunities to earn miles. To offer easy access to the combined company's global network, we have a codeshare with US Airways, allowing each airline to sell seats on each other's flights.
Through our codeshare, you can book travel for flights operated by the other carrier and easily combine select flights operated by each airline on a single itinerary when booking travel on aa.com, usairways.com or through travel agencies. This provides you with a more convenient travel journey when booking or checking in for flights. Plus, if you're connecting on codeshare flights, you can seamlessly transfer bags when traveling on an itinerary that includes flights operated by both carriers.
To learn more about the benefits of our codeshare, visit aa.com/arriving.
*Visit aa.com/arriving for a complete list of select flights pending government approval.
ENJOY MORE BENEFITS
You can benefit from codeshare agreements by enjoying a large, global network – more flights and more destinations. Plus, travel with ease with:
One-stop reservations and ticketing
The ability to check your baggage and obtain a boarding pass to your final destination
The option to pre-reserve a seat, when applicable
Coordinated schedules for easier connections
The opportunity to earn AAdvantage® miles based on the policies that apply to American Airlines flights. A flight sold as an American Airlines flight also earns elite status qualifying miles.
TIPS FOR TRAVELING ON A CODESHARE FLIGHT:
Check in with the airline operating your initial flight.
Baggage policies may vary and other carrier charges may apply, so check with that carrier to learn about baggage limits, weight and size requirements and any baggage charges.
To book or change a codeshare flight, you may visit www.aa.com or contact your local American Airlines reservations office.
To determine if you are on a codeshare flight and to find the carrier operating the flight, check your booking details, which will indicate the operating carrier (the airline that will fly the plane), as in the example below: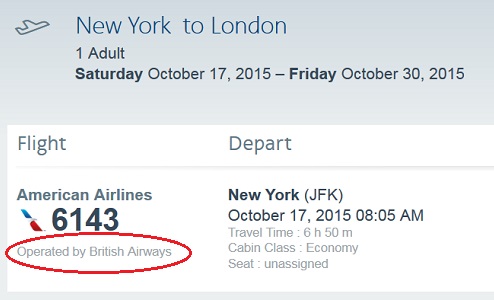 Connecting through London or Madrid?
Check your ticket before you fly through our busiest hubs to make sure you know where to go. Even if you have a connecting boarding pass issued by American Airlines, you may be connecting on a flight operated by a oneworld® or codeshare airline. To find out, simply look for the words "operated by…" on your ticket.
Learn more about codeshare connections through London and Madrid.
one
world

MEMBER AIRLINES

airberlin
Service between North America and Germany, Austria, Italy, Spain and Switzerland.
American Airlines and US Airways
Through our merger with US Airways, we offer service to more than 330 destinations in more than 50 countries from our hubs in Charlotte, Chicago, Dallas/Fort Worth, Los Angeles, Miami, New York, Philadelphia, Phoenix and Washington, D.C.

British Airways
Service for the U.S. and Canada to/from the United Kingdom and points beyond in Europe, India, Africa and the Middle East.

Cathay Pacific
Service between the United States and Hong Kong, Indonesia, Japan, Malaysia, Singapore and Thailand.

Finnair
Service between the United States and Finland, Belgium, France, Germany, Lithuania, Norway, Poland, Sweden and Switzerland.

Iberia
Service between the United States and Spain, plus other destinations in Europe and Africa via Spain.
CODESHARE PARTNERS



Cape Air Airlines
*Please see note about discontinued codeshare to the Caribbean only.

EL AL
**Service includes only El Al's codeshare on flights operated by American Airlines.

Etihad Airways
Service between the United States and Abu Dhabi, United Arab Emirates (UAE) and select services between Europe and Abu Dhabi, UAE.


Gulf Air
Service between the United States and Abu Dhabi, U.A.E.; Bahrain; Doha, QATAR; Kuwait; and Muscat, Oman.
*Effective March 1,2014, American Airlines will no longer codeshare on Cape Air flights to the Caribbean, including travel from San Juan, Puerto Rico (SJU) to Anguilla (AXA), Mayaguez, Puerto Rico (MAZ), Nevis (NEV), Tortola, British Virgin Islands (EIS) and Vieques, Puerto Rico (VQS). As a result of this change, mileage accrual will no longer be offered in these markets.
All award travel on Cape Air must be booked and ticketed by February 28, 2014. Travel is valid one year after ticket date and all award travel must be completed by February 28, 2015. All previously ticketed reservations prior to February 28, 2014, must complete travel within one year or by February 28, 2015, whichever is earlier. No changes to the Cape Air flight segments will be allowed during that period.
** Effective November 1, 2014, El Al's codeshare on flights operated by American Airlines will be limited to transatlantic service.