AMR Employees, Customers And Partners Unite In Japan Earthquake/Tsunami Relief
Within hours of the massive earthquake and tsunami that devastated Japan on March 11, 2011, AMR stakeholders launched multiple initiatives to deliver aid to the stricken region.
American Airlines announced an official dedicated relief partnership with the American Red Cross, and American's Cause Marketing arm launched an AAdvantage incentive program, offering bonus miles in return for contributions to the Red Cross. With thousands of AAdvantage members responding, the program raised more than $1.7 million in its first month. Meanwhile, the AA Credit Union jumped into action to facilitate international efforts to raise funds.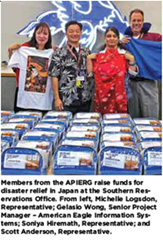 Employees came together in numerous groups and locations to raise funds and provide assistance to earthquake and tsunami victims. Almost as soon as the news of the disaster broke, AMR's Asia/Pacific Islander Employee Resource Group (APIERG) started planning fundraising events and other efforts. Far surpassing its original goal of $7,000, the group eventually raised more than $22,000.
From merchandise and bake sales to raffles, payroll deductions and cash collections, various employee groups and departments at airports and other American facilities, from Los Angeles to Zurich, London and New Delhi, raised thousands of dollars, pounds and Euros. Flight Attendants and Premium Service employees in a group known as Champions for Children, who raise money to support the UNICEF's Change for Good program year-round, participated in a dedicated effort in March and April, encouraging American customers to donate unused U.S. and foreign currencies to benefit UNICEF's relief and recovery efforts in Japan. Japan-based employees donated goods and provided logistical support for the delivery of relief supplies from the U.S. through Narita, Japan.
"These contributions from American Airlines customers and employees are critically important as we work to provide help and hope to survivors of the Japan earthquake and Pacific tsunami," said Michael J. Brown, Vice President of Corporate and Foundation Giving at the American Red Cross, in the first weeks following the calamity. "In times of disaster, assistance from our corporate partners is key to our ability to fulfill our humanitarian mission."
For more information or to donate, please visit www.aa.com/DisasterRelief.
Puerto Rico Raises $70,000 For The United Way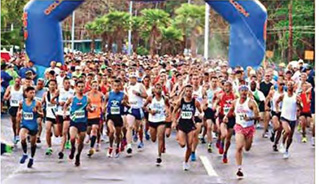 In May 2011, members of the American Airlines and American Eagle teams in Puerto Rico staged the sixth annual 5K Corre, Camina o Vuela de American Airlines (Walk, Run or Fly), a road race supporting the United Way of Puerto Rico. More than 1,900 participants competed in the event, representing towns from across the island, and raising $70,000 for the United Way.
Since the inaugural Corre, Camina o Vuela race in 2006, more than $420,000 has been raised for the United Way.
"Our employees volunteer their time and talents to make sure the race runs smoothly and to ensure we are able to raise a significant amount of funds for the United Way of Puerto Rico," said Jose Rucabado, General Manager — Puerto Rico.