It is our mission to enhance our customer's entire travel experience from start to finish through ongoing enhancements to our products and services. Based on our past successes and customer feedback, we are working to enhance our product and service offerings in key areas, including:
Fleet modernization – Updating our fleet to provide customers with the most modern aircraft available
Customization – Continually expanding our customers' ability to tailor travel experiences to their specific needs and preferences
Connected – Engaging our customers in meaningful interactions with American's people while providing seamless connectivity to the digital world
Consistency – Providing a positive, reliable travel experience for all of our customers
Fleet modernization
Most fundamental to the service we provide is the quality and scale of our fleet. In 2012, American took delivery of 30 new aircraft (28 Boeing 737-800s and two Boeing 777-300ERs), with nearly 60 additional aircraft scheduled for delivery in 2013. We are particularly excited to expand our international fleet with the introduction of the new 777-300ER, featuring exceptional inflight amenities such as fully lie-flat seats with all-aisle access and a walk-up bar for First and Business Class customers. In our domestic fleet, all new aircraft delivered later in 2013 will feature leather seats, Wi-Fi access, 110v power outlets, USB jacks and personal entertainment systems at every seat, as well as Main Cabin Extra seating with an additional four to six inches of legroom.
American's fleet modernization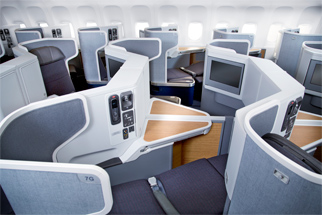 Boeing 777-300ER Business Class cabin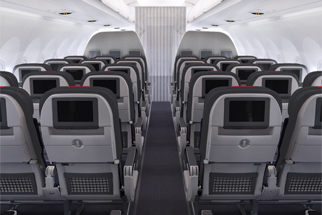 Airbus A321 Main cabin
These latest fleet additions represent a major step toward our goal of operating the youngest fleet in the sky among the five largest U.S. airlines.
Your Choice travel bundles
In recent years American has responded to increasing customer demand for customized travel options and pricing. In 2012, we continued to expand Your ChoiceSM travel options, which offer clearly-priced, á-la-carte service options, including "bundled" packages. Your Choice options give our customers confidence that their needs will be met, while allowing for greater control of travel costs. Options include:
Priority Boarding
Inflight Wi-Fi connection
Main Cabin Extra seating with additional legroom
Admirals Club® access
AAdvantage® Mileage MultiplierSM
Same-day flight change options
AAdvantage travel awards program
Since 1981, American has rewarded customer loyalty through the AAdvantage program. In 2012, AAdvantage members redeemed more than 175 billion miles to claim more than 7.4 million awards for flights, upgrades and other rewards.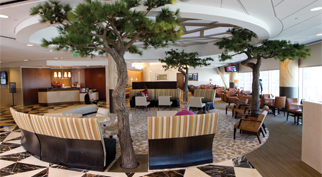 Your Choice includes an Admirals Club one-day pass option
Admirals Club lounges provide unique atmospheres for travelers to work or relax at the airport
Connectivity during travel
An important theme in the evolution of our service offerings has been our customers' ability to feel connected—personally and electronically—throughout their travel experiences. We have placed increasing emphasis on a service model that provides our people with greater latitude in accommodating our customers' needs. The result has been a higher degree of customer satisfaction, especially in difficult situations such as flight delays or cancellations.
Leaders in innovation
With its prowess in creating new solutions to business and customer needs, American leads the airline industry in innovation. American has been issued more than 40 U.S. patents since 1994, for inventions that are helping to provide higher quality and more consistent levels of customer service.
Solutions include:
a proprietary visual touch-screen application called Vantage Point that puts critical information on arrivals, departures, connections and customer data at the fingertips of tower control employees so they can make better decisions;
a Crew Recovery application that automatically realigns crew flight schedules to ensure flights are appropriately staffed in case of weather delays or other disruptions, while observing FAA and contractual work rules; and
the customer menu system, Remember Me, which instantly pulls up registered customers' reservations and anticipates information needed, such as gate assignments or changes to upcoming flights.
We have seen a positive response to the release of the American Airlines mobile app—allowing customers to keep boarding passes, flight information and AAdvantage account information at their fingertips. We've also increased inflight Wi-Fi access on domestic and select international routes, and have expanded our real-time customer engagement through social media platforms such as Twitter (@AmericanAir), Facebook and YouTube.
Service consistency and dependability
Among other travel priorities, our customers want to know that we will get them—and their bags—to their destination on time. We focus on ensuring that our flight scheduling, boarding and deplaning procedures are as efficient as possible so that we maintain high levels of flight dependability. We have also instituted multiple processes and technologies to facilitate proper and timely baggage delivery.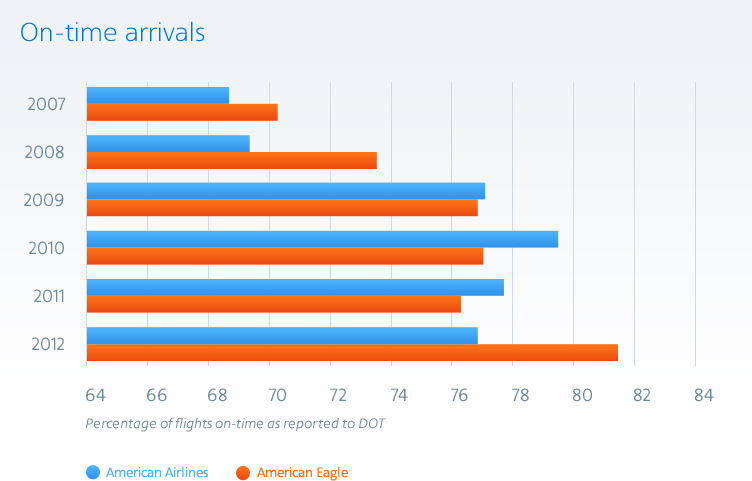 In 2012, we saw a slight decrease in overall on-time service at American Airlines while American Eagle saw a significant increase in dependability. Eagle's performance improved because of aircraft modifications and reliability improvements, along with favorable weather that enhanced operational performance.
Both carriers achieved record baggage handling performance as we continue to roll out automation to better track and manage bags from acceptance to final delivery. Over the past five years, the rate of mishandled bags dropped 40 percent at American and more than 50 percent at American Eagle.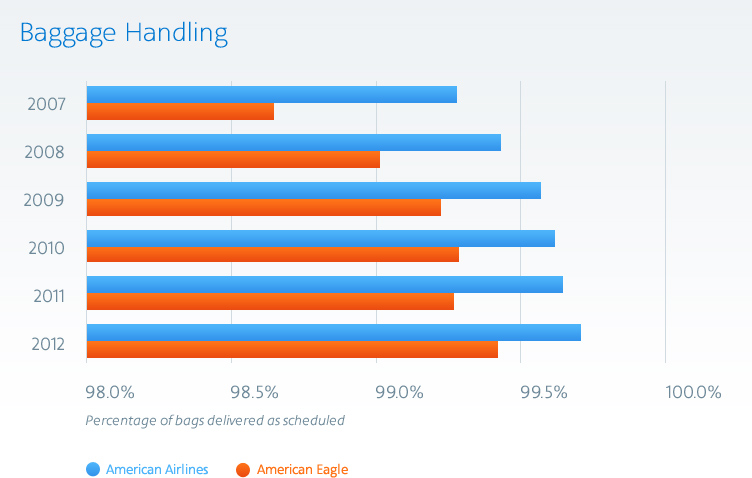 In the coming year, we plan to revise the metrics we use to assess our dependability performance, placing stronger emphasis on our pre-departure process flow. We will focus on reviewing some of our travel and rescheduling policies, which, in the cases of storm delays or flight cancellations, would allow our customers greater flexibility to change their travel plans without incurring extra fees.
New Self-Tag option available
Self-Tag helps customers save time by letting them print their own bag tags from several self-service kiosks and place them directly on their luggage. Self-Tag is now available at several domestic stations including Austin-Bergstrom International Airport (AUS), Orlando International Airport (MCO), Reagan National Airport (DCA), Chicago O'Hare International Airport (ORD) and in the newly-renovated portion of Dallas Fort Worth International (DFW) Terminal A. Agents will continue to be available during the baggage check-in process should customers need assistance.