Delivering an Exceptional Customer Experience
American Airlines is focused on creating an exceptional customer experience throughout the entire travel journey. We continue to find new ways to listen to our customers as we seek to deliver what they value most – a more comfortable travel experience, the ability to stay connected and entertained, and seamless access to a large, global network. At the heart of all we do is continuing to earn the satisfaction and loyalty of our customers.
Highlights from our customer engagement and satisfaction initiatives in 2011 include:
Strengthening Our Safety Management System
Through close cooperation with the Federal Aviation Administration (FAA) and Department of Homeland Security, we enhanced our SMS to maximize flight safety for our customers, improve collection of safety data, and streamline airport security measures.
Addressing Customers' Concerns And Interests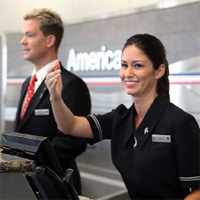 American has improved performance in several areas important to our customers, including:

Automation of services to make traveling less stressful
Improved bag handling
More seamless travel experience with alliance partners

For the second year in a row, American Airlines was ranked among the most innovative companies in the U.S. by InformationWeek for delivering automation solutions that improve the customer experience.
Expanding Our World-Class Product And Service Offerings
We announced a significant investment in fleet renewal, placing an order for 460 new Boeing and Airbus narrowbody planes – the largest aircraft order in U.S. aviation history. These new aircraft will enable us to offer customers improved reliability and state-of-the-art amenities, such as inflight entertainment, increased overhead storage, reduced noise and more spacious cabins.
We have increased our global reach through strengthened alliances and partnerships. In 2011, American commenced our joint business with Japan Airlines, further strengthening our presence in Asia. Additional alliance agreements were announced in 2011, including formal government approval of our joint business with Qantas Airways, broadening American's connectivity throughout North America, China, Europe, the Middle East, South America and the South Pacific. For more information on our routes and networks, please visit the AMR Corporation at a Glance section of this report.
Customers can personalize their trip with more options than ever before through the Your ChoiceSM menu. Options such as Preferred Seats, Inflight Wi-Fi and Priority Boarding, Five Star Service and Admirals Club® one-day pass or memberships may be purchased online, a la carte or in packages.
Our customers redeemed more than 166 billion AAdvantage® miles to claim awards for flights, upgrades, car rentals, hotel stays, auctions and merchandise.
Building Upon Our Culture Of Service
We brought more personalized travel experiences tailored to American Airlines and American Eagle customers through the work of our Customer Experience teams.
We recognized employee achievement by paying $8.6 million in rewards to 67,000 employees for their exceptional customer service.