American Airlines and American Eagle remain highly responsive to market demand and customer feedback. In fact, many of our product strategy and service enhancements are a direct result of these key inputs. In recent years, our customers' priorities have included automation to make traveling less stressful, improved bag handling and a more seamless travel experience with alliance partners.
Our product strategy is aligned with market demand and our customer priorities, which is why we strive to be competitive in our markets by providing:
an extensive global network, in collaboration with our oneworld alliance partners
one of the largest, newest and most advanced aircraft fleets in the world
exceptional inflight amenities
highly personalized service offerings
excellent value and an array of product offerings for cargo customers
An Extensive Global Network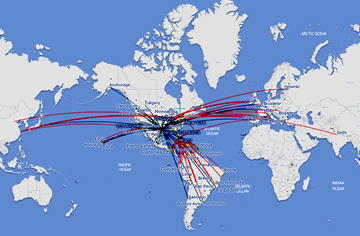 American Airlines and American Eagle, together with its oneworld alliance members, offer one of the most extensive global flight networks in the airline industry. Every day, we operate more than 3,300 flights carrying 300,000 passengers and 2.7 million pounds of cargo to destinations around the world.
The strength of our network is based upon the volume and diversity of business we attract in our five key markets: Dallas/Fort Worth, Chicago, Miami, Los Angeles and New York. Through our oneworld alliance network, American Airlines takes the reach of our business even further, and provides our customers with access to hundreds of global destinations and beyond.
For more information on our network and the oneworld alliance, please see the Profile section of this report.
One Of The Largest, Newest And Most Advanced Aircraft Fleets In The World
With the largest aircraft order in aviation history, American announced plans to replace and modernize its narrowbody fleet with acquisition of 460 narrowbody jets over the next five years. With new agreements with Airbus and Boeing, customers will enjoy the latest technology and features including enhanced lighting options, additional overhead bin space, a modern, contemporary atmosphere, and an improved environmental footprint resulting from great fuel efficiency and reduced noise. Learn more about our fleet renewal efforts.
We are also updating our existing Boeing 737 and domestic Boeing 757 aircraft to bring customers many of the enhanced features of new aircraft such as increased overhead bin storage, updated entertainment and powerport options, inflight Wi-Fi and refreshed cabin interiors. Our investment in new aircraft and ongoing refurbishment projects for our existing fleet will help improve reliability, consistency and predictability in our operations.
Exceptional Inflight Offerings
American Airlines keeps customers connected when flying by bringing cutting-edge technology and the latest inflight entertainment to the travel experience.
Inflight Wi-Fi
We're helping to keep our customers connected and productive, even at 30,000 feet. In 2008, we became the first U.S. airline to offer inflight Wi-Fi By the end of 2011, American had extended Wi-Fi access to almost 300 aircraft in its domestic fleet including all 767-200 and select MD80 and 737 aircraft We recently announced plans to offer Wi-Fi on international flights operated by 777-300 aircraft. Learn more about inflight Wi-Fi.
Entertainment on Demand
In August 2011, American became the first North American airline to offer a new Entertainment on Demand service allowing customers to purchase wirelessly streamed movies and TV shows from a robust inflight library to their Wi-Fi enabled laptop. Entertainment on Demand is currently available onboard American Airlines flights operated by 767-200 and select MD80 aircraft. The remainder of the Wi-Fi-enabled fleet, including additional MD80 and Boeing 737 aircraft, will be equipped with streaming video by the end of 2012. Learn more about Entertainment on Demand.
Industry-Leading Premium Cabin Entertainment
The new innovative, Samsung Galaxy Tab™ 10.1 Android platform tablet, featuring a 10.1 inch screen, enables a customized viewing experience for customers traveling in a premium cabin on select transcontinental flights served with 767-200 and 767-300 aircraft, as well as international flights served with the 767-300 aircraft between the U.S. and Europe and South America. Customers can enjoy complimentary movies or TV shows, including sports, comedy and dramas. Learn more about new tablets.
New and Refreshed Inflight Amenities
Responding to increased demand for premium flight services, we have introduced a suite of new inflight amenities in First Class and Business Class between the U.S. and Europe and Asia on 777 aircraft, and 767 aircraft to South America. Customer will enjoy our newly upgrade amenity kit containing top skincare products and other comfort essentials such as slippers and a lighter weight duvet. First Class customers traveling on a Boeing 777 will appreciate an added lightweight day blanket and a new turn-down service, complete with a quilted bed topper and comfortable pajamas. Learn more about new amenities.
American Eagle Named Best Regional Airline
American Eagle was named Best Regional Airline in North America in the annual World Airline Survey by Skytrax, a London-based research organization that conducts the annual poll. The World Airline Awards, voted on by airline customers, are based on results from 18.8 million questionnaires, covering more than 200 airlines worldwide. Award winners are determined by measuring more than 35 aspects of passenger satisfaction for product and service standards, covering the experience across both airport and onboard environments.
Highly Personalized Offerings
To ensure ease and convenience throughout the travel experience, we continue to focus on developing products that are adaptable to meet the specific needs and individual preferences of our customers.
Your ChoiceSM Personalized Flight Options
It is now simpler than ever for American Airlines and American Eagle customers to create travel experiences that satisfy their particular needs. During the reservation process, customers can select travel option packages such as Preferred Seats, Group 1 Boarding, inflight Wi-Fi and access to Admirals Club lounges. Learn more about Your Choice.
Deals and Fare Alerts Delivered Directly To Customers
In 2011, we launched DealFinderSM 2.0, the latest version of our automated fare-search application. Users simply enter the destinations they wish to visit, as well as their preferred airfares, and DealFinder will automatically search for matching deals, sending fare alerts and discount options as appropriate. This technology significantly reduces the time required to search for airfares and is personalized to the needs of our customers. Learn more about DealFinder 2.0.
American's Mobile Apps Lend Convenience to Travel
American Airlines leads the industry with its mobile apps and offerings and keeps customers connected from their favorite smartphones and tablets. The application's intelligent data display allows American to provide the most relevant day-of-travel information. This means that once a customer logs into the app, it knows and displays who the customer is and where they are going — from where and what gate they are departing, to where they will sit and where they are on the standby list. Learn more about American's Mobile Apps.
AAdvantage Loyalty Program
Our passionate team, together with our outstanding AAdvantage members, made 2011 a record year. Members redeemed more than 166 billion miles to claim awards for flights, upgrades, car rentals, hotel stays and auctions. We celebrated the 30th anniversary of the AAdvantage program and thanked our members with a month of exclusive offers and prizes. We also found new ways to talk to our loyal customers and share the latest program offers by implementing AAdvantage Facebook and Twitter channels – another industry first among U.S. airline loyalty programs.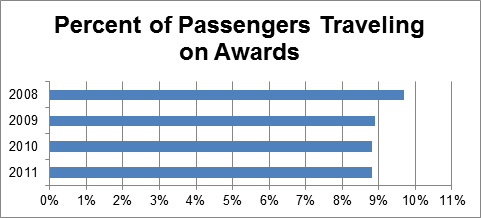 In 2011, AAdvantage members claimed more than 7.5 million awards for flights, upgrades and other rewards. AAdvantage members are also able to participate in a number of charitable causes that our company supports, by donating travel miles to those in need. Learn more about AAdvantage
Products For Cargo Customers
American Airlines operates one of the largest air cargo services in the world. We offer air cargo transportation on almost all of our flights, with options including:
Priority Parcel Service - our fastest transport option
Expeditefs - a priority service offering flight-specific routing
Confirmedfs - providing real-time cargo traceability, while packages are en route
ExpediteTC Passive - an advanced, temperature-controlled cargo system
We are able to reach virtually any country in the world with our cargo service by leveraging agreements through our oneworld alliance partners. American in 2011 was named "Best Cargo Airline from The Americas" by the London-based publication Air Cargo News. This marks the fourth consecutive year that American has received the award. To learn more about our cargo services, visit AA Cargo.