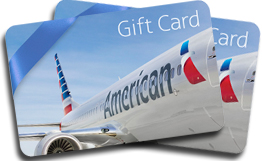 Looking for the perfect gift idea? Consider the gift of travel the next time you need a birthday, wedding or graduation gift for someone special. American Airlines Travel gift cards are available for purchase and redemption on aa.com in any denomination between $50 and $1,500. You can buy either a plastic gift card and have it mailed or a virtual gift card with your personal message delivered via email. You can use up to eight (8) gift cards at one time toward the purchase of a ticket to hundreds of exciting destinations throughout the world. And, with no expiration date or fees, American Airlines gift cards are perfect for any occasion. Terms and Conditions apply.
Note: Effective March 1, 2014, US Airways will no longer sell US Airways gift cards. Those gift cards sold prior to March 1, 2014, do not expire and will be honored by US Airways. You can redeem your US Airways gift cards through US Airways Reservations at 800-428-4322 for no ticketing fee. US Airways does not accept US Airways gift cards at US Airways ticket counters or on usairways.com. You can buy American Airlines gift cards that are valid for US Airways codeshare flights on this site or by calling 800-677-9555.
Shipping Rates for Plastic Gift Cards
All shipping provided by

Standard 3-4 business days ($4.95 USD) per order. Priority 2-3 business days ($15 USD) per order.
Note: During the holiday period between Thanksgiving and January 1, please allow 1 to 2 more days for delivery.
Note: Gift cards are redeemable toward the purchase of air travel wholly on flights operated by American Airlines or Envoy Air Inc. and carriers for itineraries sold and originating in the U.S., Puerto Rico and the U.S. Virgin Islands. Travel must be on AA, AE, AX, oneworld®, and/or AA, AE, AX codeshare flights. For a complete list of American Airlines codeshare partners as well as other codeshare information, visit aa.com/codeshare. Gift cards cannot be used for payment of air travel on any other airline. In addition if a credit card is used in conjunction with gift card(s), the credit card must have a United States, U.S. Virgin Islands or Puerto Rico billing address. Gift cards may not be used for upgrades, Admirals Club® memberships enrollments, Admirals Club One-Day passes, AAdvantage® Award Travel or other non-flight products and/or services sold on aa.com. Gift cards purchased from sources other than American Airlines and participating retailers may not be valid or may have less redeemable value than promised by an unauthorized seller. American Airlines is not responsible for honoring invalid gift cards or values.
Gift Cards
Buy a Gift Card
You can purchase an American Airlines Gift Card online.
Check Your Balance
You can check your American Airlines Gift Card balance online.
Using Gift Cards
Learn how to use the American Airlines Gift Card.
Other Ways to Buy Gift Cards
See how to buy gift cards by phone.
Terms and Conditions
Please review the Terms and Conditions that apply to the American Airlines Gift Card.
FAQ
Answers to your questions about the American Airlines Gift Card.
Other Products and Gifts
Try some of our other great travel Products and services such as our Admirals Club Membership, a One-Day Pass to an Admirals Club or Trip Insurance.


Interested in other business programs by American Airlines?
Visit the AmericanAirlines Business SuiteSM on AA.com today!