Guadalajara
Flights And Sights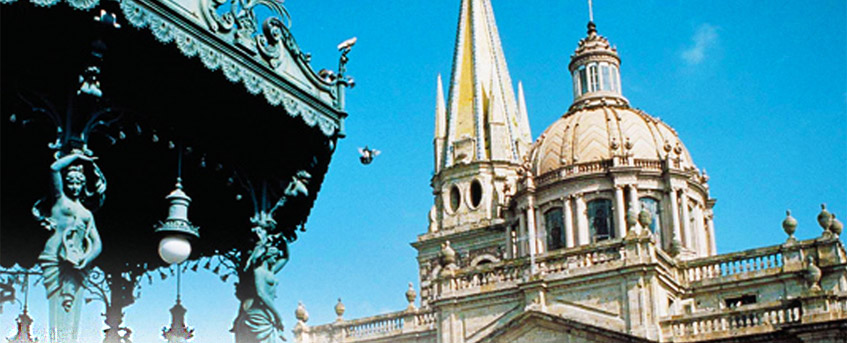 Introduction to Guadalajara
Find American Airlines flights to Guadalajara and plan a trip of discovery to this vibrant destination in Mexico. Located in the state of Jalisco, it's known as the capital of tequila and fine mariachi bands, but you'll also find a range of things to do in Guadalajara that include museums, galleries and colonial architecture.
Things To Do In Guadalajara
One of the best-known activities in Guadalajara involves its fields of agave, from which fine tequila is made. Outside the city, between the foothills of the Tequila Volcano and the Rio Grande River valley, lies a field of blue agave that has been named to the World Heritage List by UNESCO. Tequila aficionados won't be disappointed by the fine selection available in Guadalajara's many restaurants, and it's also an ingredient in some delectable dishes. After all, tequila is the official drink in the state of Jalisco. There's no better way to spend an evening here than sampling outstanding cuisine while listening to the sounds of a talented mariachi band.
Another of our favorite things to do in Guadalajara is viewing the city's beautiful architecture. Don't miss the 19th-century Metropolitan Cathedral and Degollado Theater (where the city's Philharmonic Orchestra performs) in the heart of the city. You also will want to see the neoclassical Municipal Palace and the Colonial-era Church of San Sebastian de Anaico. The city's Colonial Center features beautiful plazas and monuments, including the Rotundade los Hombres Ilustres, which is a city landmark.
Visiting the city's many museums and galleries is one more of the activities in Guadalajara that you'll want to try. The City Museum, or Museo de la Ciudad, covers Guadalajara's history and is a great place to start your tour. The University Art Museum's permanent collection is also impressive, and you can see a comprehensive collection at the Regional Museum of Guadalajara. The Regional Museum is housed in a 17th-century building whose architecture alone is worth the visit.
And don't forget to add shopping to your list of things to do in Guadalajara, too. There are modern shopping malls as well as markets and plazas (plus individual street vendors) offering everything you could imagine, from handcrafted items to jewelry to colorful textiles. It will be easy to find souvenirs here!
Let American Airlines help you fly to Guadalajara so you can experience all the city's diverse attractions for yourself. Browse flights and start planning your getaway today.
Guadalajara Airport Information
Plan Your Travel
Travel Extras